Japan's largest Irish event in 2011! THE WILD ROVER
room
Address
東京都渋谷区円山町1-8
turned_in_not
Advance Sale
3300
turned_in_not
Tickets for today
3800
description
Event Details
Location
Clubasia VUENOS Glad LOUNGE NEO
OPEN: 15: 00 / START: 15: 00
ADV: 3300yen / DOOR: 3800yen
BAND
JOHNSONS MOTORCAR
JUNIOR
OLEDICKFOGGY
COOL WISE MAN
Little fats & Swingin 'hot shot party
copa salvo
Los Lancheros
Asakusa Jinta
MOHIKAN FAMILY'S
Jackie and the Cedrics
The Hot Shots
THE AUTOCRATICS
THE 69YOBSTERS
SEKILA
County
MoDERN B Beard
CABALLERO POLKERS
the rich
Kaurisumaki
ALLY BAND
SUGARFOOT STOMP
ZYDECO KICKS
Hi-HOPES
John John Festival
Drakskip
MOONSTOMPERS
celtechadenza

DJ
the WILD ROVER
(HIDETO / KAKEI / KIRK / asuka)

GUEST DJ
Dr. IHARA (CLUB SKA)
ISHIKAWA (DISK UNION / a.k.a.TIGER HOLE)
Dabis-que? (T ¥ $ X)
MICCYAN (FRANTIC BROWN BEAT!)
Katsuya Kanno (Tequila Production)
fuminn (Drink 'Em All)
MILKY (Drink 'Em All)
YAGI (SEKILA / PLEASURE SPACE)
BU $ HI (PLEASURE SPACE)
susie (PUB ROCK NIGHT)
Oguri (ONE)

... and more

FOOD
Irish Pub THE DUBLINERS Shibuya

supported by
Kirin Brewery Co., Ltd.
Kirin Diagio Co., Ltd.
(GUINNESS, BAILEY'S)
HOT STUFF PROMOTION
the WILD ROVER
Clam-Bake
MOONSTOMP
THE CLURACAN
THE DUBLINERS Shibuya, Shinjuku
UNCLEOWEN
Irish Network Japan

Sponsorship
Embassy of Ireland

【Inquiry】
Hot Stuff Promotion 03-5720-9999

【Notes】
■ Free entry and exit at the same time at each venue.
■ Because all venues are held at the same time, it is not possible to see all the performers.
■ Entrance restrictions apply when exceeding the capacity of each venue.
■ Exchange tickets and wristbands at the wristband reception desk from 13:00 on the day of the performance.
■ When replacing wristbands, drink fee of ¥ 500 will be charged.
■ You cannot accumulate on roads, facilities, etc. around the venue. Please follow the guidance of the staff.
■ Entrance order will be on a first-come, first-served basis at each venue after redeeming the wristband.
■ Exchange of wristbands on the day may be crowded. Please exchange as soon as possible.

description
Performer details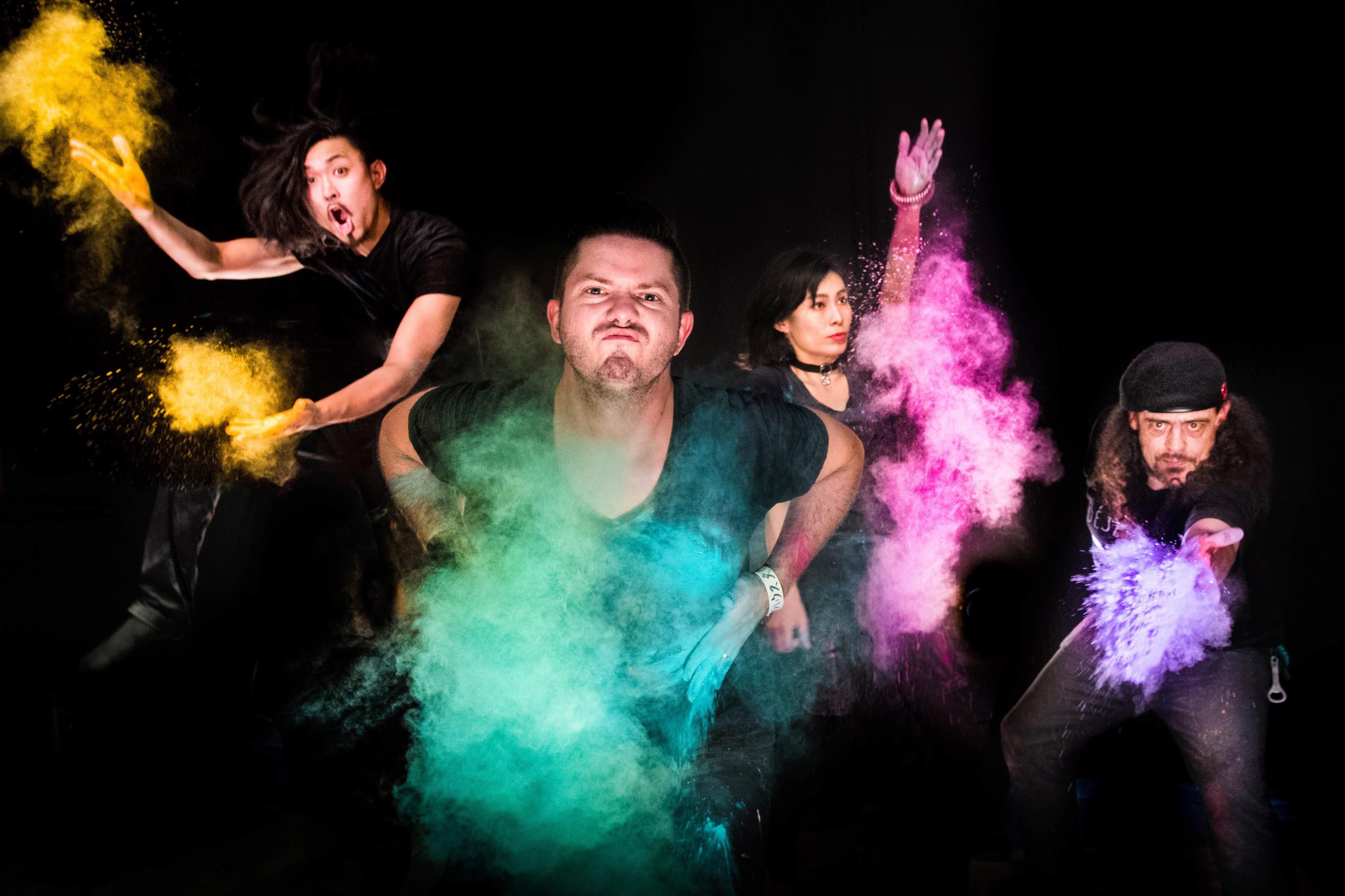 Johnsons Motorcar/ジョンソンズモーターカー
BLACKO: GUITAR / CHORUS
MARTIN: VIOLIN / VOCAL
RINAMAME: DRUMS / CHORUS
COLEMAN: BASS / CHORUS

American MARTIN who grew up in a music family and Scottish blood and a cheerful and pure liquor-like Irish BLACKCO, Australian COLEMAN with a quiet appearance and punk spirit behind it, a small but powerful Japan that binds big men Man woman RINAMAME. "Johnsons Motor Car" is a multinational band born in Tokyo that combines these four super personalities. They blast out on the stage with a celtic, gypsy tic, and free traditional rock that mixes many traditionals! Even a girl, a grandmother, a working bartender, a kitchen chef, and dancing with the music of a Johnson's motor car will undoubtedly dance with singalong! !
 
Released his first full album "Hey Ho Johnny !!" in 2014. In addition to activities at the live house, he has appeared in many festivals including FUJI ROCK FESTIVAL. From the spring of 2016, the drum RINAMAME will be maternity leave, and BRAHMAN's RONZI will temporarily participate as a support drummer. The second full album "ROCKSTAR CIRCUS" will be released in spring 2017.

Johnsons Motorcar/ジョンソンズモーターカー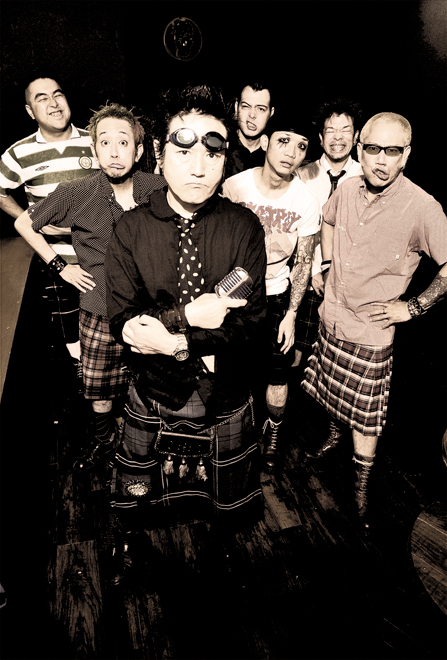 JUNIOR/ジュニア
Formed in 1996.

A pioneer who boldly incorporates Irish music taste in Japanese punk rock.

A fascinating world where one song and one song written in Japanese on Irish folk and Scottish folk melody and delightful melody are depicted as a story with a story.

Pay attention to the world of lyrics drawn by vocal KAZUKI! Add stage and sound!

Plays a variety of unusual instruments such as bagpipe, accordion, tin whistle (Irish whistle), bowlon washboard, banjo, mandolin, etc. on the existing band form, and all members wear themselves in quilt skirts Wrapping colorful and fun, sometimes awkward, adults and children (a lot of children come to the live venue) is a must-see live!

Celebrating the 20th anniversary of this year's formation, participating in events such as Shinjuku LOFT One-Man and various events, and working actively at their own pace!

JUNIOR/ジュニア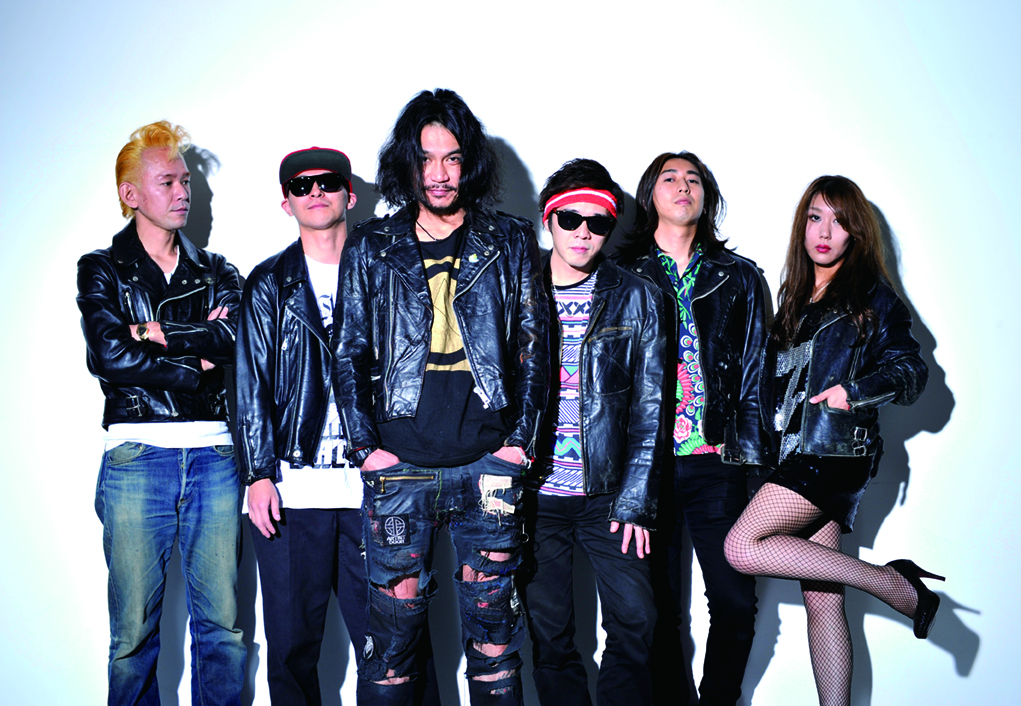 OLEDICKFOGGY/オールディックフォギー
A rustic band from Tokyo. There are 6 members: Yukazu Ito (vo, mand), Susie (g, cho), TAKE (b), Mirai Shijo (banjo), yossuxi (key, acd), Jundo Okawa (ds, cho). Country and bluegrass-based "Rustic Stomp" sounds with emotional and political Japanese lyrics, Japanese folk from the late 1960s and early 70s, warm melody and hard sounds like new music. Since its formation in 2003, it has spread its name with an average of 100 live shows a year and has performed with various bands.
In March 2017, released "Old Dick Foggy Masterpiece Demonstrative Edition" & "Same Sea Hen".

OLEDICKFOGGY/オールディックフォギー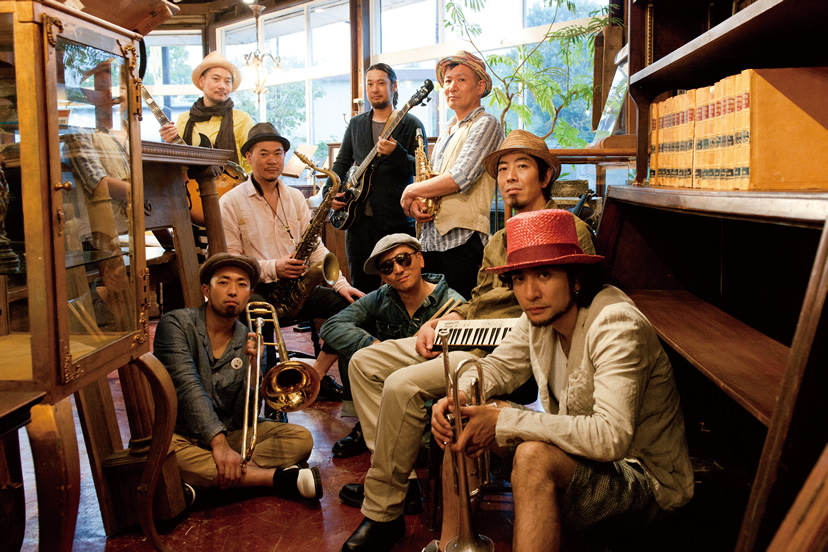 COOL WISE MAN/クールワイズメン

Tomita Shinoda (B) Makoto Takeuchi (Dr) Tomoyuki Ichimura (Key) Junji Hiraide (Tsax)
Hikaru Hamada (Tp) Makoto Owada (G) Hiroshi Asami (Tb) Toru Nishiuchi (Asax)

Formed in 1993, the performance with various roots music including Jamaican music as the backbone is full of originality while protecting the essence of SKA, and if you listen to it, everyone will be able to move their bodies. Give me.
He has co-starred with legendary Jamaican musicians.
One of the best instrumental ska bands in Japan that has appeared in many festivals in Japan and abroad, including Australia's largest rock festival "BIG DAY OUT".

COOL WISE MAN/クールワイズメン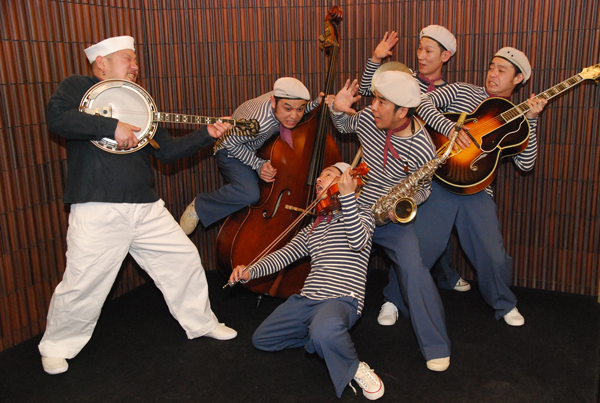 Little Fats & Swingin' hot shot party/リトルファッツアンドスウィンギングホットショットパーティー
In the winter of 1999, I started with vo. & Banjo's AtsushiLittle Fats and wash board Yokoyama. Initially, the other members were different each time and started with an interesting half. Members gathered while working mainly on the street, and they changed their members several times, becoming members in early January 2005. 4 original CD albums were released and Kyoko Koizumi participated in many other recordings. Appeared in many events from the street to FUJI ROCK FESTIVAL, regardless of size. Superb street entertainment where Banjo, Guitar, Violin, and sax sing on a hilarious rhythm played by a wash board and a wash tub bass !

Little Fats & Swingin' hot shot party/リトルファッツアンドスウィンギングホットショットパーティー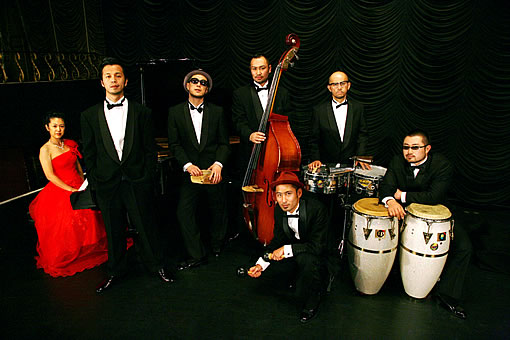 copa salvo/コパ・サルーヴォ
"Copa salvo" is an acoustic Latin American music group that has been released from , an affiliate of Osaka's , known for its ego rappin label . Tadahiro Masuda (vocals / guitar), Eri Konishi (piano / pianica), Hironori Kobayashi (bass), Peach Iwasaki (percussion), Yo Sato (percussion), Pyon Nakajima (percussion) Activities centered around cafes, clubs and streets. A group that is expected to play dance music that adds the sensibility of club generations to Latin and Latin American music such as Latin, Cuba and Brazil.


After being debuted in 2000, without being caught up in Latin music
He continued his activities widely and in 2004, he successfully performed in Korea.

On January 30, 2005, the first one-man live was successfully delivered at the Daikanyama unit.
National live tours scheduled thereafter

copa salvo/コパ・サルーヴォ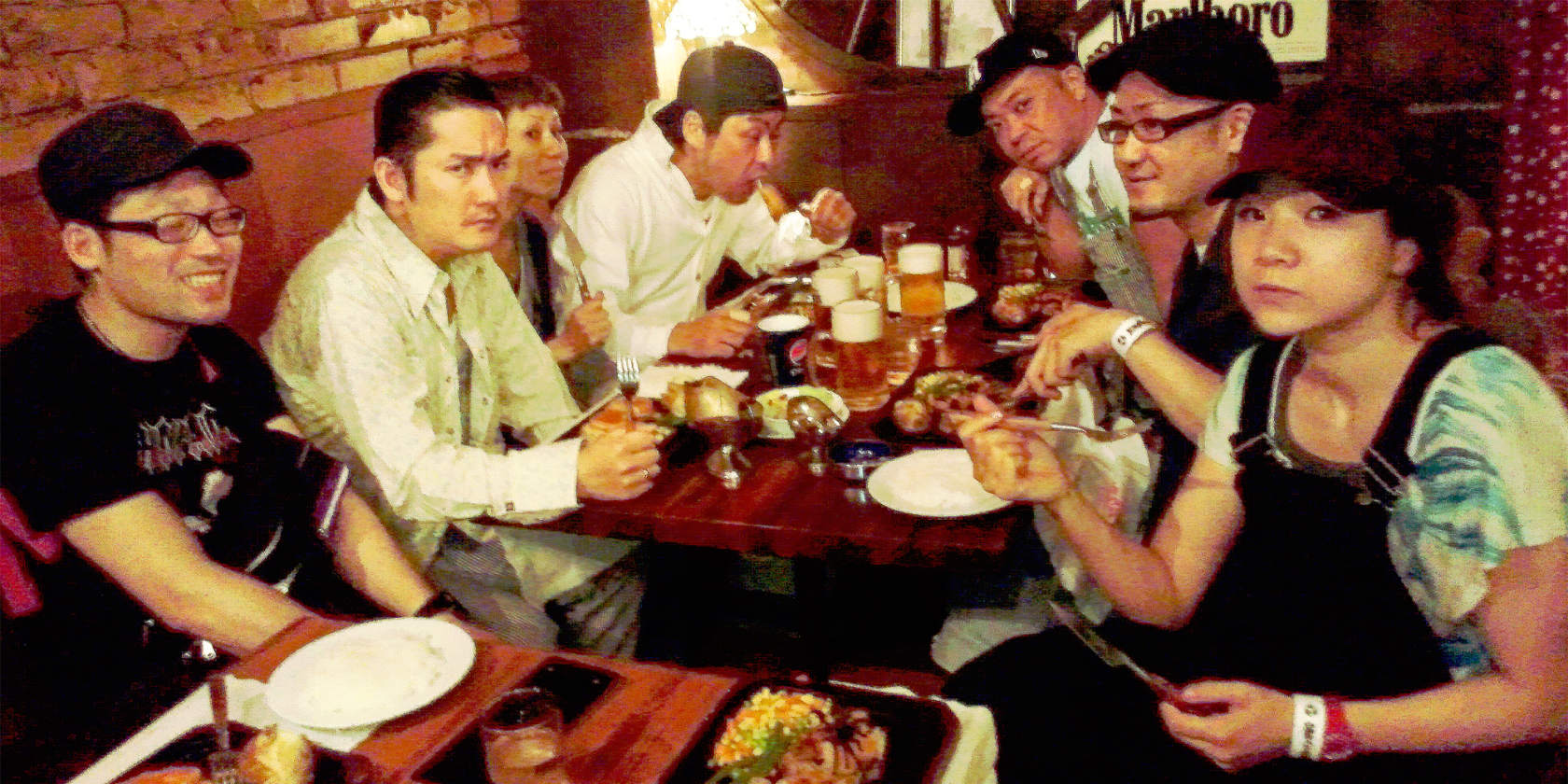 ロス・ランチェロス
Rustic stomp band formed in Hachioji in 1992. Based on Psychobilly, a variety of folk songs such as bluegrass and Irish Trad are mixed, beautifully gathered, and drunk wildly.
At the end of Kanaya Sake, there are now six people: wood bass, banjo, mandolin, piano, electric guitar, and drums. Looking for acoustic guitar, violin, etc.
In 1995, when there were only three members at the time of formation, the number of members increased to six. In 1996, he became active after participating in "Rustic Dawn / Japanese Rustic Band Collection | Rustic Stomp 1996" released by King Records.
In 2000, they released their first album on their own and sold out in 3 days. Since then, he has been continuously active, including participating in singles and various omnibuses.

ロス・ランチェロス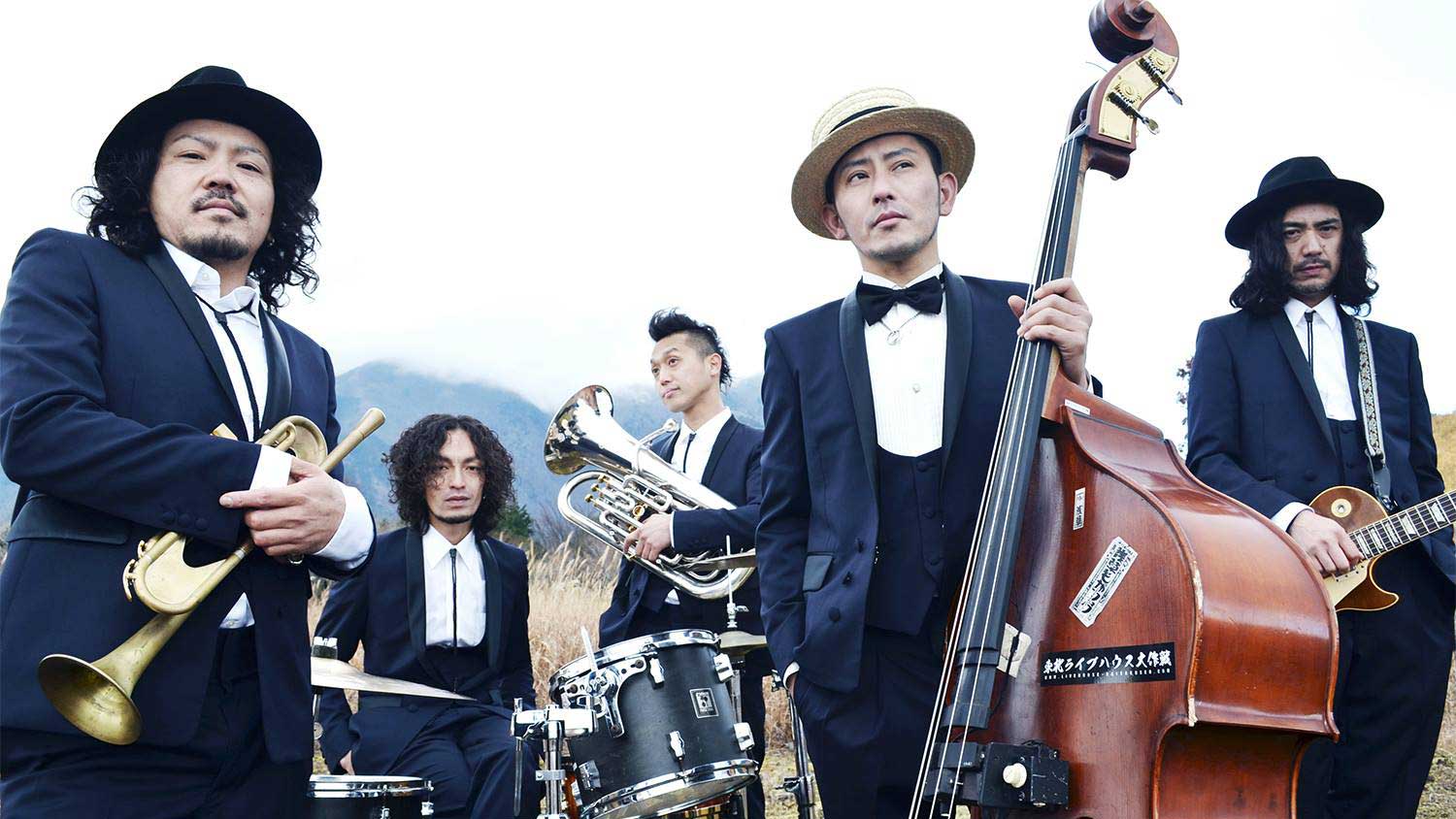 浅草ジンタ
The fastest slap base in the world, the horn corps that penetrates. Brave native melodies and lyrics. Enthusiastic groove that feels the festival. A unique band form called Neojinta (Japanese hard march, polka, waltz).
Formed as a solitary indigenous rock band in Asakusa, the Far East in 2004, named Asakusa Jinta by Asakusa Jinta. Member of Rakugo Art Association as a guest. While always collaborating with members such as Koyuzo, Master Utaru, Beat Takeshi, Kazuo Umezu, and other activities rooted in local Asakusa (the main theme at the Town Comedy Film Festival organized by Taito-ku, Tokyo) "You come to this city"), participated in important domestic festivals such as Fuji Rock Festival and Asagiri JAM, and is highly evaluated on the international stage.
So far, after performing tours in the US, Sweden, Finland, LOWLANDS in the Netherlands, UK tour, etc., in 2013, she performed at the world's best festival, Glastonbury. We will continue to practice "local & global activities" which is the driving force and policy of the band. In 2014, we will celebrate the 10th anniversary of our activities. Currently, while working on the latest album, he is more active in Japan and abroad as a live band that has matured.

浅草ジンタ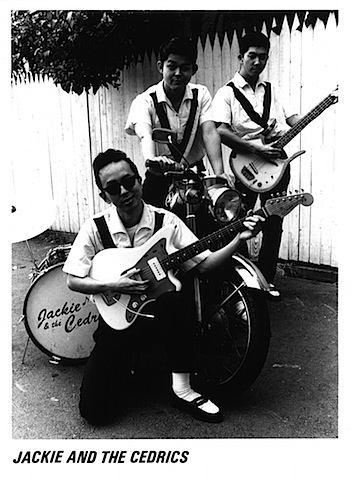 Jackie and the Cedrics/ジャッキー・アンド・ザ・セドリックス
Formed in 1990.
A three-piece instrumental band led by JACKIE T-BIRD (Dr).
ROCKIN '"THUNDER BOLT" ENOCKY of the guitar is also active in solo, ROCKIN'JELLY BEAN who is bassist & MC has been working as an illustrator, working on flyer, T-shirts and other artwork since the beginning of Jackie & The Cedrics .

Along with the original songs, 50's garage, surf, R & R, etc. are covered, and they are highly regarded not only in Japan but around the world for their overwhelming live performance and musicality. *
MC has a good reputation for lively humor, and the performance technique that sets it apart from other garage bands is also excellent. DMBQ, Yura Yura Empire, THE NEAT BEATS, GUITTER WOLF, MAD3, 5,6,7,8'S, SUPER SNAZAZ Has been successful several times.

Jackie and the Cedrics/ジャッキー・アンド・ザ・セドリックス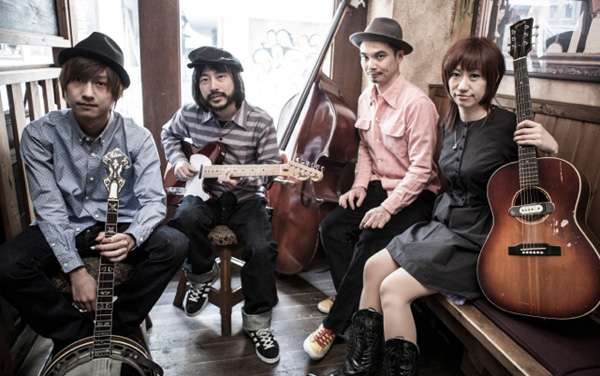 The Hot Shots/ザ・ホット・ショッツ
"A super cute and stylish road house jazz in the countryside! ]
There are sunny days and rainy days. And tonight, The Hot Shots' long-awaited new work that swings under the moonlight!
Chie, Shimomachi daughter, who loved 50 's R & R, formed a long-awaited band. Traveling in and out of the country by pulling a 7-inch board produced independently. Soon, NRBQ's Terry Adams caught his eye and made his national debut with his produce. While basing on roots music that he loves, he gradually opened up new fields.

The Hot Shots/ザ・ホット・ショッツ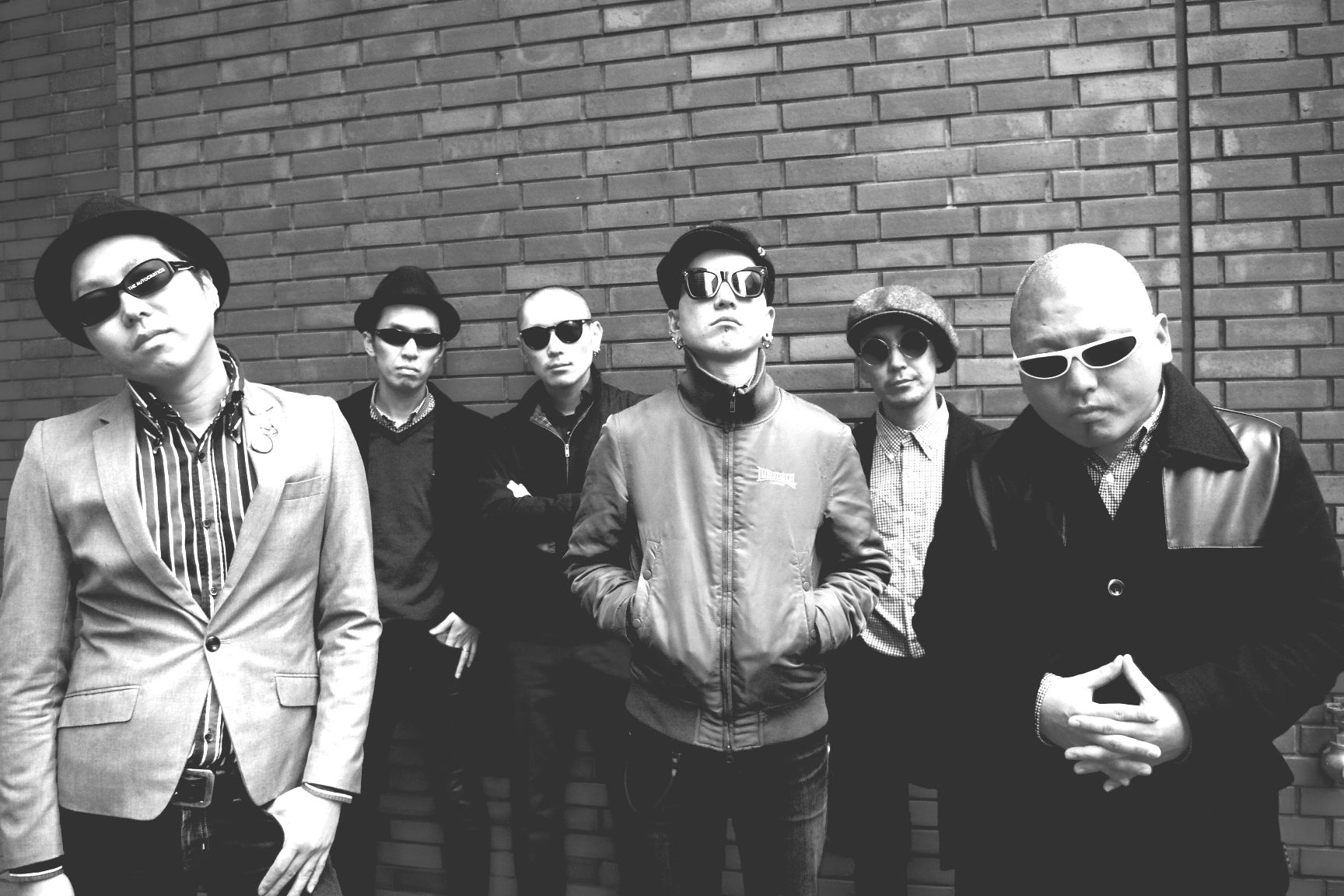 THE AUTOCRATICS/ジ・オートクラティックス
Formed in 2007. From Tokyo, POST 2 TONE SKA band.
The base of activities is not limited to Tokyo, but vigorously tours throughout the country,
"TOKYO SKA JAMBOREE" "SKAViLLE JAPAN" "MODS MAYDAY"
Appeared in big events such as "Hoppin '& Steppin' SHOW CASE".
The original and progressive style that pays tribute to the 70-80's UK culture,
Has earned a great reputation not only from RUDE BOY & GIRL but also from a wide range of people.

THE AUTOCRATICS/ジ・オートクラティックス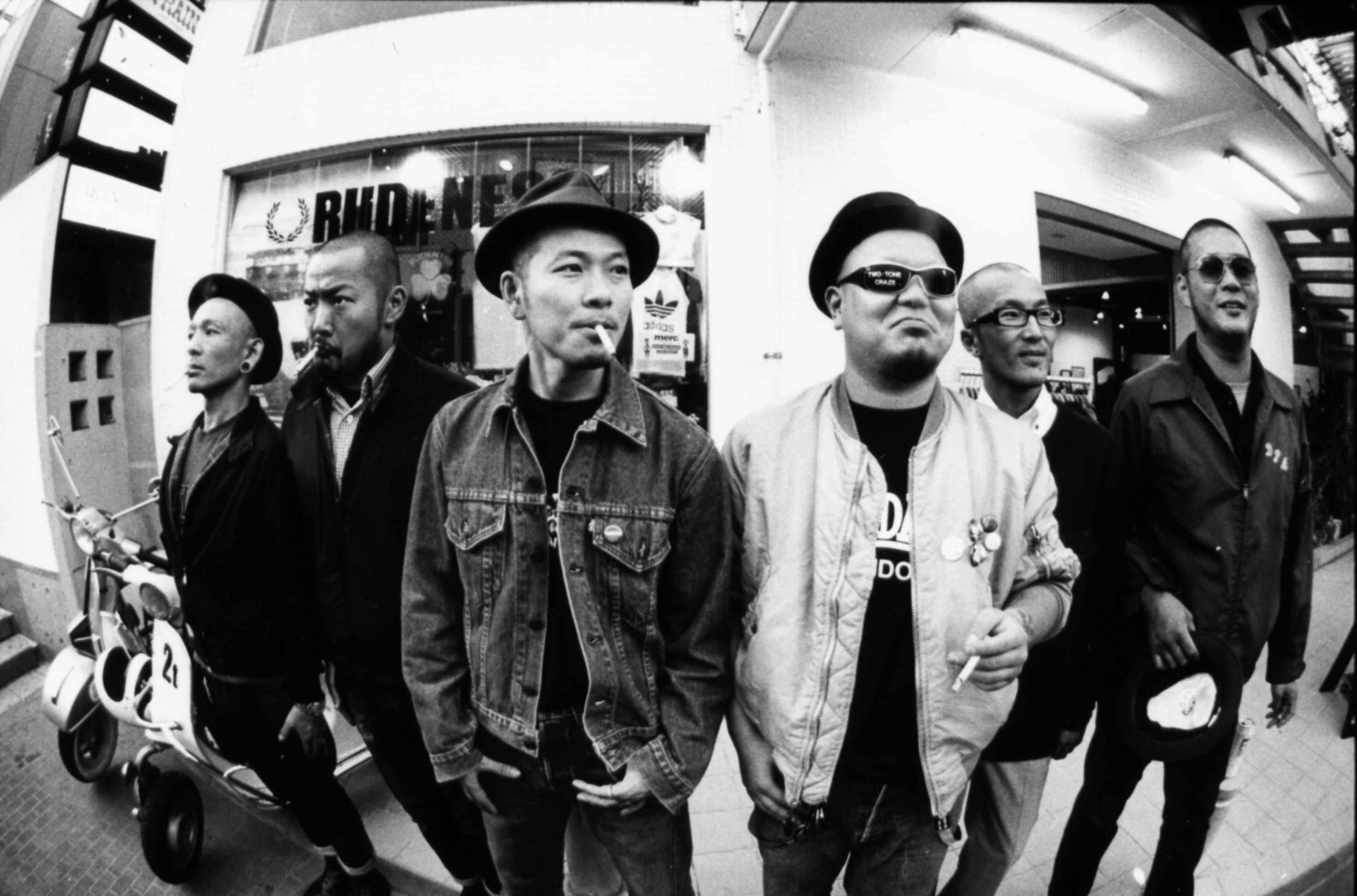 THE 69YOBSTERS/ザ・シックスティーナイン・ヨブスターズ
HARDSTOMPER 69, the predecessor band of skinheads gathered at Harajuku RUDENESS (a shop run by a former member who manages a ludoboy purveyor), was formed in December 2003. After changing the members, it became THE 69YOBSTERS in December 2004.

Of course, the band's theme is consistently "SKINHEAD REGGAE".

In the 1970s, he plays reggae that emphasizes the beaty organ sound that was popular among skin-heads, a white youth of the UK working class. Since then, she has been active in live performances with a rough style. It is one and only skin head reggae band in Japan, and its sound has attracted attention not only from skins but also from music genres such as mods, ska, reggae and punks.

In addition, each member has a character and the staging is fun, the number of fans increases with each live, and the popularity is soaring that the next live offers from people who always liked it!

By the way, the origin of the band name is "69", from 1969 when the skin head reggae was born, "YOBSTER" was slang "YOB" and spelled "BOY" from upside down "YOB ( It 's something that says "bad").

THE 69YOBSTERS/ザ・シックスティーナイン・ヨブスターズ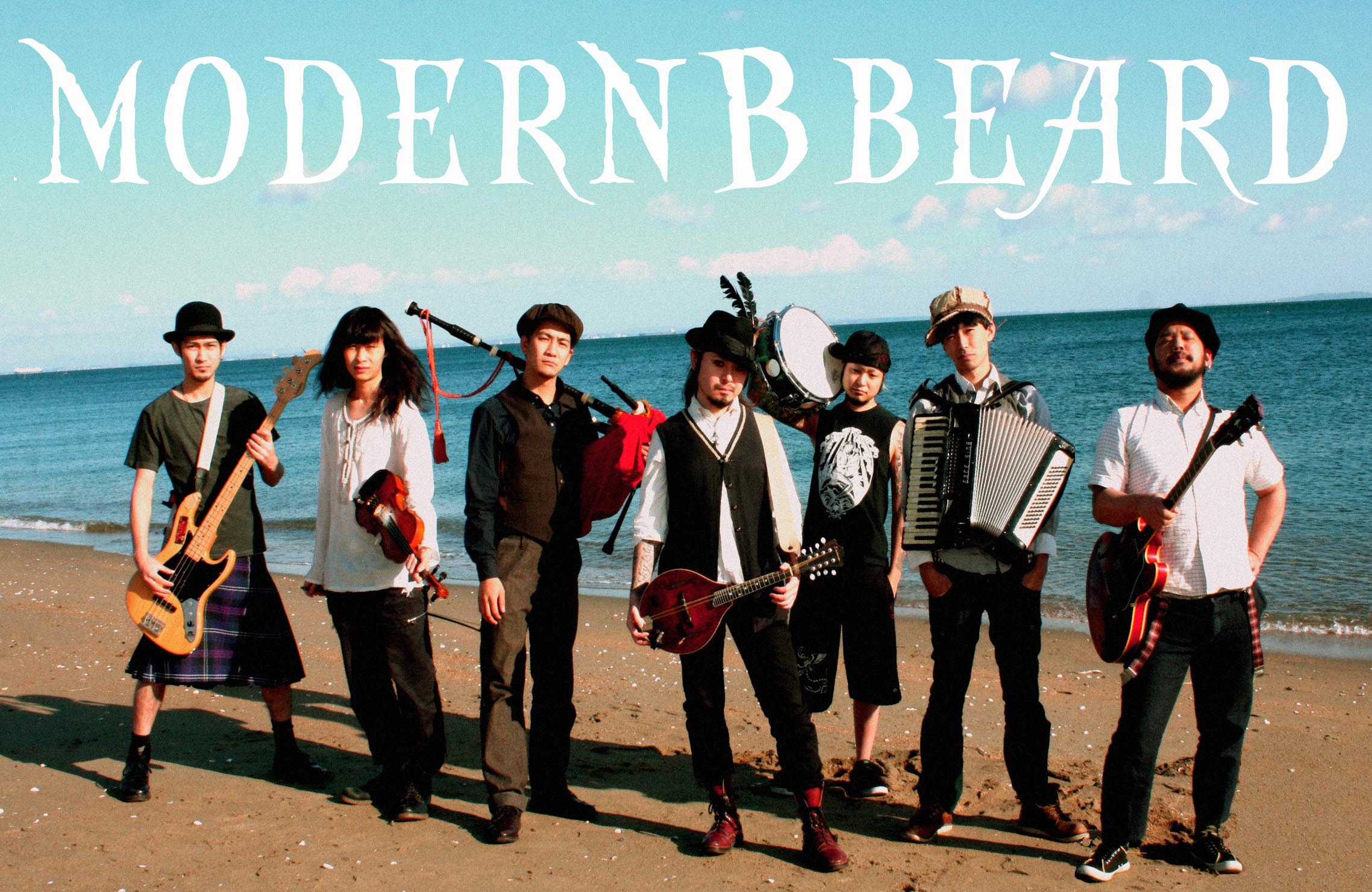 MoDERN B Beard/モダンブラックビアード
A seven-member Irish punk band formed in 2008.
The sound of MoDERN B Beard is a vocal and punk rock organization with vocals such as mandolin, fiddle, accordion, bagpipes, tin whistle, electric guitar, bass and drums.
Based on the concept of pirates and drunks, the Irish Trad is the basis, and all the original songs are tailored to pirate songs that describe the voyage.
The activity has so far centered on the Tokyo metropolitan area, and has traveled all over Japan. In 2011, from May to June, the 1st full album "1ST LOG BOOK" was pulled across Europe, crossing Germany, the Netherlands, Belgium and Switzerland. A tour is executed.
As an Irish punk band, all 11 performances including one-man were delivered in great success on the first European tour in Japan.
The following year, in November 2012, a Korean tour was also held. From 2013 to 2014, the range of activities has been further expanded, and the name has been expanding throughout the country through vigorous regional expeditions.
Currently, while continuing live activities, new songs are being produced for new album production. Scheduled to be announced within 2015.
A pirate ship of MoDERN B Beard, a seven-membered black panther pirate group who does not know the momentum, continues to make a leap forward in search of a new sea.
This voyage has just started

MoDERN B Beard/モダンブラックビアード

CABALLERO POLKERS/キャバレロポルカーズ
Active in Tokyo (Shinjuku, Shibuya, Shimokita). However, when called, the weapon is the lightest footwork going anywhere in the country. Rustic-stomp band with mandolin, bouzouki, banjo, accordion, wood bass and drum organization.
Stir the elements of folk music such as Irish, Gypsy, Middle East, Mestiso and so on!

CABALLERO POLKERS/キャバレロポルカーズ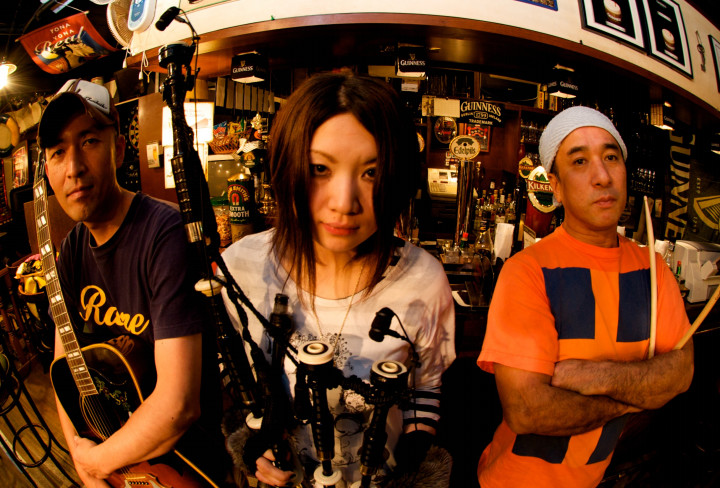 Ally Band/アリー・バンド
Formed in 2008.
Nakabayashi and YAHIRO gather together under ally who studied the traditional performance technique of bagpipes called the Great Highland Bagpipes in Scotland.

Lives mainly in Tokyo, leading to the current rock sound.
The band is still changing today.


Members:
ally (Great Highland Bagpipes)
YAHIRO (Drums & Percussion)
Keiji Nakabayashi (Guitar & Drink'ing Beer)

Ally Band/アリー・バンド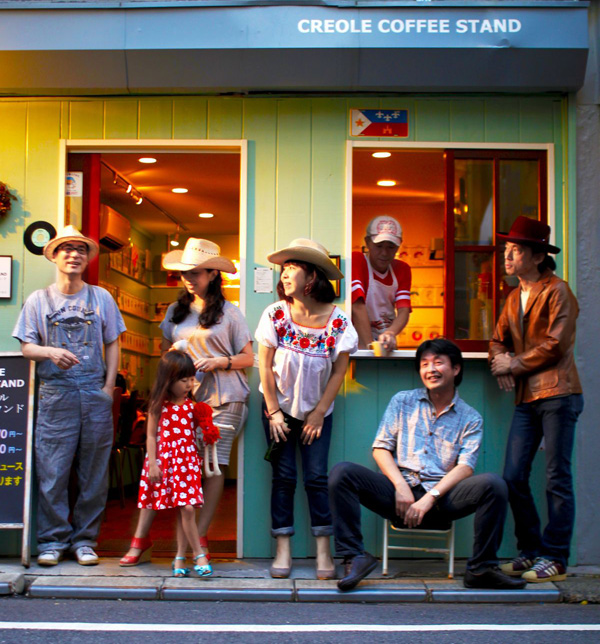 ZYDECO KICKS/ザディコ・キックス
"Zydeco", a button-type accordion and a loveboard that squeals wavy iron plates with a fork.
Zadico Kix is ​​Japan's first Zedico band that plays this music that has developed in Southwest Louisiana.
The self-produced 1st album has a high reputation in the hometown as it was recommended for the Grammy Award through his local Zedico site.
 
About Zydeco
Happened in the southwestern part of Louisiana in the early 20th century,
Folk music performed mainly by French-speaking Creole blacks.
A button-type or keyboard-type accordion is used as the main instrument, and in addition to drums, a love board (a wooden washing board changed to a metal instrument) plays a major role as a percussion.

Yoshi-take / Accordion, Vocal
Keke / Bass, Fiddle
Nishida / Guitar, Fiddle
Moro / Drums
Fumica / Rub board
Marico / Rub board

ZYDECO KICKS/ザディコ・キックス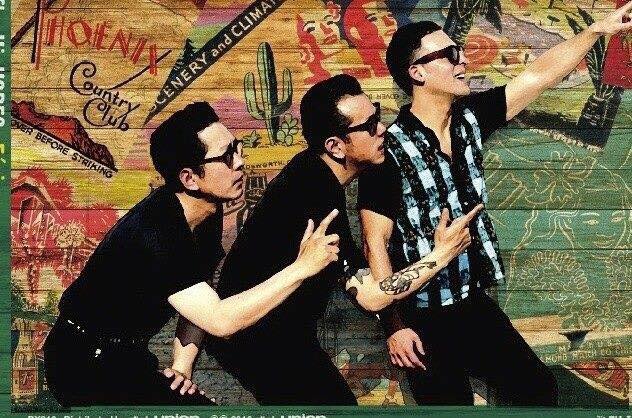 The Hi-Hopes/ハイホープス
Initially started as a solo unit of KUBO (guitar / vocal).
(The sound source at that time was released by VIVID SOUND.)
Later, he met KAZUMA, a pianist who came back from Cuba, and became the current BAND style mainly for two people.
Currently, the band consists of KUBO, ERNESTO (Drum / Percussion / Vocal), 44 (Bass / Backing Vocal), KEN (Guitar / Backing Vocal / Percussion)

A rock band based on South American music that mixes rockabilly and various ROOTSMUSIC and REBELMUSIC.
Mix the music and the race of the members!
Error while parsing data!

The Hi-Hopes/ハイホープス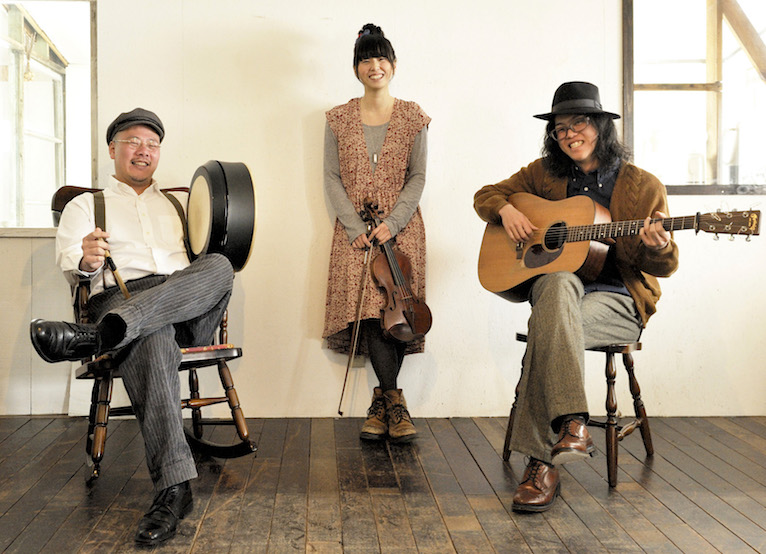 John John Festival/ジョンジョンフェスティバル
A trio of music from Ireland, a small island country next to England.
The music played with fiddle (violin), singing, guitar, Irish drums, and baulons is rhythm, groove,
Kindness, fun, and sometimes sadness.
Music that touches the air, adjusts breathing and climbs as high as possible, adjusts breathing, and whips quietly everywhere.
John John Festival is what makes both the player and the listener happy. Formed January 2010.
1st album "John John Festival" released in October of the same year.
Released 2nd album "Song and Tune" in March 2012.
In August 2013, she released a collaboration album "trek trek" with singer Shinsuke Sakura.
At the end of each year, a self-planned "JJF Thanksgiving Day" at Aoyama CAY was held.
He has also appeared in many outdoor festivals such as Mori no Cafe Fes in Niseko, Life is beautiful, Tokyo Flea Market, and Morinichi Market.
In January 2014, the Australian tour will be successful.
After two years of inactivity from June 2014, activities resumed in 2016.
In October 2016, he appeared in Celtic Colors, the world's best Celtic music festival.
In November, released a new album produced by Shinsuke Sakura.

John John Festival/ジョンジョンフェスティバル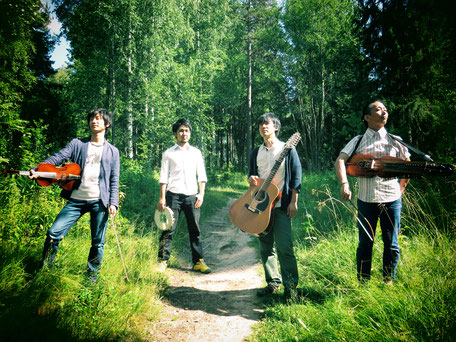 Drakskip/ドレクスキップ
Drakskip's music incorporates music from all over the world, especially in Northern Europe, and its sound is dynamic and avant-garde, but nostalgic.
With a rare combination of Swedish traditional instrument Nickel Harpa, Norwegian-born string instrument Hardanger D'Amore, 12-string guitar, and percussion, it creates a grand scale of music that you wouldn't expect from four people.
The Scandinavian melody, which is produced by four people who are co-starred with many famous overseas artists, has gained the sympathy of various people across lands and generations.
Performed at traditional music festivals in Finland and Sweden, and received high acclaim.

Drakskip/ドレクスキップ