The largest Irish event in Japan, THE WILD ROVER 2014! The venue is Shinkiba STUDIO COAST
room
Address
東京都江東区新木場2丁目2−10
turned_in_not
Advance Sale
3800
turned_in_not
Tickets for today
4300
description
Event Details
Location
@Shinkiba STUDIO COAST
OPEN: 13: 00 / START:-
ADV: 3800 / DOOR: 4300
THE WILD ROVER
Error while parsing data!

First announcement
St.Patrick's Day [THE WILD ROVER] 10th Anniversary
@ Shinkiba STUDIO COAST
* 6 stages held simultaneously

OPEN & START 13:00
TICKET adv ¥ 3800 / door ¥ 4300 (Drink fee not included)

BAND
THE CHERRY COKE $
OVERGROUND ACOUSTIC UNDERGROUND
OLEDICKFOGGY
Humbert humbert
Selfish
SUPER CLASSIC CHIMES
JUNIOR
16TONS with ALLY
JOHNSONS MOTORCAR
COOL WISE MAN
T-junction
Los Rancheros
Uncaba Authentic Band
ONE TRACK MIND
copa salvo
Hi-HOPES
Little Fats & Swingin 'hot shot party
John John Festival
THE AUTOCRATICS
THE RODEOS
OINK
Yanagiya & THE RATBONES
MoDERN B beard
Pinch of snuff
The Hot Shots
O'Phan
Revili'O
MOHIKAN FAMILY'S
JUGGLING DUB'S
Stellamira
yashka
... and more

DJ
THE WILD ROVER
HIDETO / KAKEI / KIRK / YASU

GUEST DJ
Dr.IHARA (CLUB SKA)
ISHIKAWA (DISK UNION / a.k.a.TIGER HOLE)
Dabis-K (T ¥ $ X)
INAMI (Tokyo London plan)
MICCYAN (FRANTIC BROWN BEAT!)
Fumitaka Nakajima aka DJ FUMINN (Drink 'em All / BalkanBeats Tokyo)
NAKANO (Drink 'em All)
YAGI (PLEASURE SPACE)
BU $ HI (PLEASURE SPACE)
Masafu (checkered and clover)
zacico (CAVE GAZE WORLD)
Kyosuke
… And more

Ticket info
Ticket PiaTEL: 0570-02-9999 (P code 221-002)
Lawson ticket TEL: 0570-084-003 (L code 76006)
Eplus
HOT STUFF PROMOTION HP
http://www.red-hot.ne.jp/live/detail/19365Irish Pub The Cluracan store

description
Performer details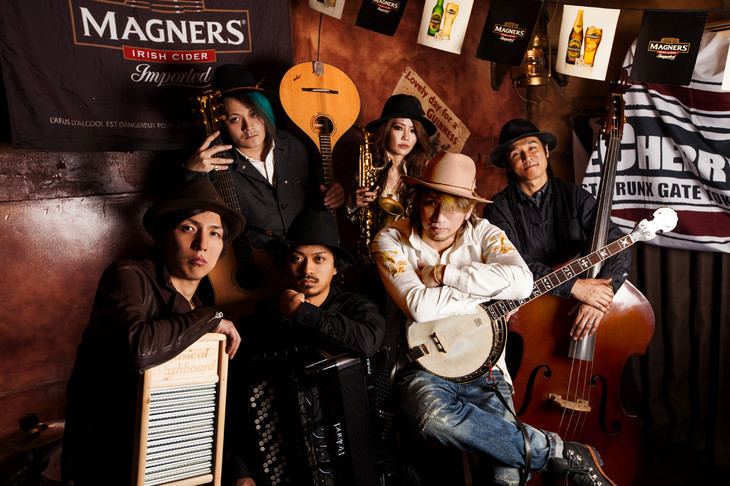 THE CHERRY COKE$/ザ・チェリーコークス
6 popular PADDY BEAT BAND (IRISH PUNK BAND) representing Japan with high popularity

Formed in 1999 in Ota-ku, Tokyo.
While creating a number of demo tapes, repeated live activities and member changes, expanding the field of activity nationwide, and reaching the current sound while making new attempts.
In addition to vocals, drums, guitars, bass, accordion, tin whistle, mandolin, banjo, boran, saxophone, trumpet, blues harp, etc.
From that sound, he will be selected for many overseas artists such as Rancid, FLOGGING MOLLY, VOODOO GLOW SKULLS, THE SUICIDE MACHINES and STREET DOGS.
Appeared in large festivals such as FUJI ROCK, PUNK SPRING, and Countdown Japan.
He has worked energetically both in Japan and abroad, and has released 7 albums, 1 mini album and 1 single.

In March 2008, FLOGGING MOLLY sponsored "GREEN 17 TOUR" received the first Japanese invitation and performed a cross-American tour from Miami to Los Angeles and received a great response.
After returning to Japan, I received an offer directly from the booking manager of the prestigious New Orleans live house "HOUSE OF BLUES".
In 2010, "MY STORY -Tomorrow I haven't seen yet" was selected as the theme song for the NHK anime "Giant Killing".
In 2012, he released his first full album "BLACK REVENGE" (5th in total). It attracted not only rock kids but also live musicians and musicians and attracted attention throughout the country.
In June 2013, the second major album "COLORS" was released.
In December 2013, Akasaka BLITZ One-Man was devoted to the stage, and a set imitating a huge pirate ship created by the members themselves was assembled on the stage, including lighting, special effects, dancers, etc. Entertainment beyond the punk band range Created a live performance. (This pattern is included in the DVD "Hoist the colors tour2013 THE FINAL)
HIROMITSU and KOYA withdraw from a one-man live at Tokyo Kinema Club in May 2014, but the band didn't stop their activities. He showed the strength of the band called OUT.
In July 2015, the accordion tomo withdrew due to pregnancy, but at this time the band continued to perform vigorously throughout the country without loosing activity.
Held independent project "BEER MY FRIENDS" for 6 months from January 2016.
In February 2016, new member MUSTUMI joined as an accordionist.

The music and activities of THE CHERRY COKE $ that stick to its own style are very precious in the modern scene and continue to be loved by many music listeners regardless of age or gender as a unique existence.

THE CHERRY COKE$/ザ・チェリーコークス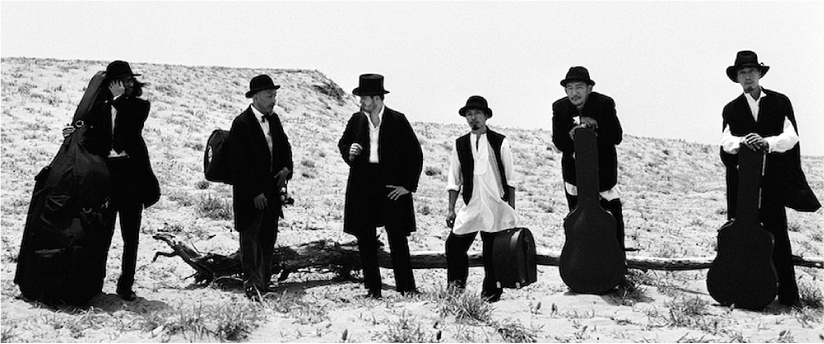 OVERGROUND ACOUSTIC UNDERGROUND/オーヴァーグラウンド・アコースティック・アンダーグラウンド
MAKOTO – BASS
KAKUEI – PERCUSSIONS
MARTIN – VOCAL, VIOLIN, ACOUSTIC GUITAR
RONZI – DRUMS
TOSHI-LOW – VOCAL, ACOUSTIC GUITAR
KOHKI – ACOUSTIC GUITAR

An acoustic band consisting of four members of BRAHMAN, Scottish American MARTIN (Vo, Violin, G) and KAKUEI (Per).
It was formed in June 2005 when TOSHI-LOW (BRAHMAN) and MARTIN met.
In 2005, the first sound source "Dissonant Melody" was provided for the omnibus board "The Basement Tracks-10YEARS SOUND TRACK OF 7STARS". In 2006, it made its debut on the 1st album "OVERGROUND ACOUSTIC UNDERGROUND".
After that, he performed regular live tours in parallel with BRAHMAN and individual activities. From 2010, he has been the organizer of the outdoor festival "New Acoustic Camp".
In September 2014, they released their first full album "FOLLOW THE DREAM" in about 5 years.

OVERGROUND ACOUSTIC UNDERGROUND/オーヴァーグラウンド・アコースティック・アンダーグラウンド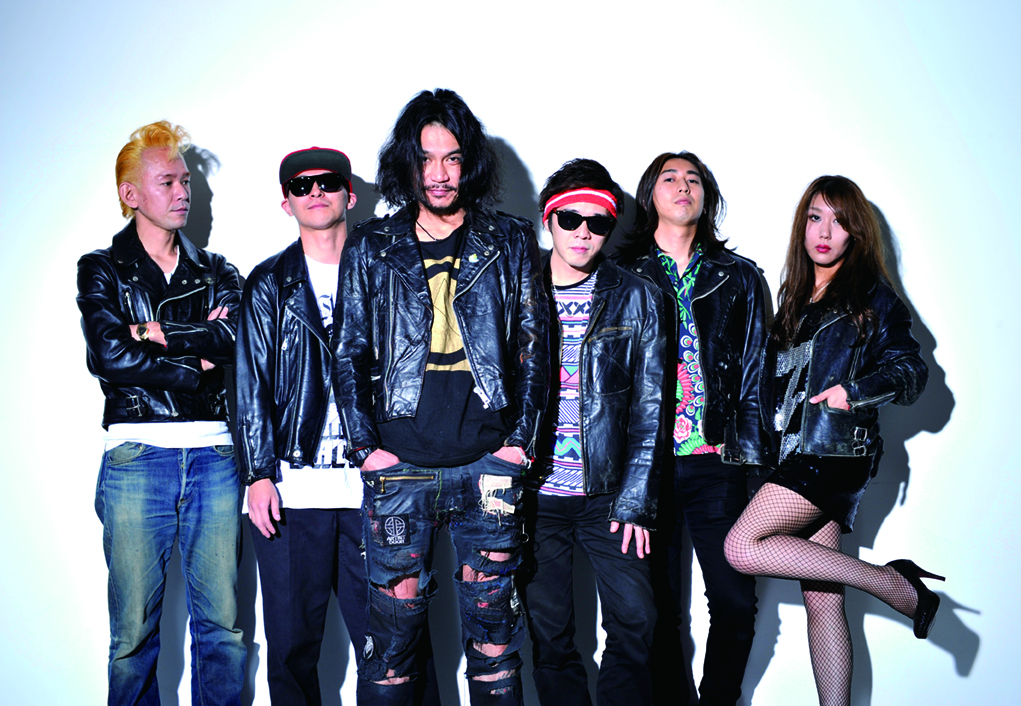 OLEDICKFOGGY/オールディックフォギー
A rustic band from Tokyo. There are 6 members: Yukazu Ito (vo, mand), Susie (g, cho), TAKE (b), Mirai Shijo (banjo), yossuxi (key, acd), Jundo Okawa (ds, cho). Country and bluegrass-based "Rustic Stomp" sounds with emotional and political Japanese lyrics, Japanese folk from the late 1960s and early 70s, warm melody and hard sounds like new music. Since its formation in 2003, it has spread its name with an average of 100 live shows a year and has performed with various bands.
In March 2017, released "Old Dick Foggy Masterpiece Demonstrative Edition" & "Same Sea Hen".

OLEDICKFOGGY/オールディックフォギー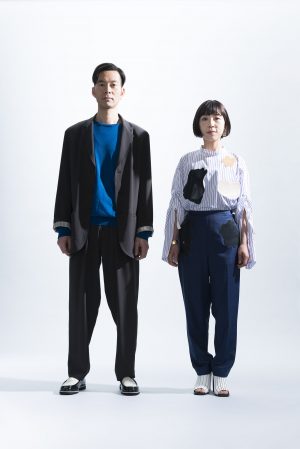 ハンバート ハンバート
Formed in 1998, a duo by Yoshinari Sato and Yuho Sano.
2001 CD debut. After the 2005 single "Onajimonogatari" became a power play at various FM stations, the activities based in Tokyo were expanded nationwide. Many music offerings for TV, movies and commercials.
2007 Music in the movie "Bandage Club" / Music in the stage "Gravel"
2008 Released a co-produced single with Danish duo Howgo & Whirop / Odakyu Electric Railway commercial song "Meeting" / NTV "2 Cool" ending theme "Taste of Sin"
2009 The theme song for the movie "Pool" "Taiyou" (Yuho Sano) / AC Japan CM "You are good. 』Music and narration (Ryosei Sato) / CD + DVD co-produced with Scottish group Fiddlers Bid / Radio program" Hanbert Humbert's What Jolly Hour "(Hokuriku Broadcasting / Sanyo Broadcasting)
2010 Suntory Nichirei Acerola CM song "Acerola Gymnastics Song"
2011 Scottish festival "Celtic Connection" appearance / "Group" April issue (Kodansha) Sato Yoshinari's short story "Babanuki" published / NHK E-tele "Shakin! "Music provided" Honmatsu ladybug "
2012 NHK E-TV "Heart Net TV" Narration (Ryosei Sato) / Murata Manufacturing CM Narration "Rounding Love" (Ryosei Sato) Hen "Rounding Reaching" (Yuho Sano)
2013 NHK E-Tele "Okasan to Issho" music provision "Ponneuf no Tamago" / CD review blog "Ryosei Sato CD Original" opened
Cover of the April issue of Crayon House (Crayon House) 2014
2015 Misawa Home CM Corporate Song "Don't Stop" / NHK E-Tele "Mimi Crees" Song "Ookisa no Uta" (Lyrics / Composition: Tokumaru Shugo) Tour in Tokyo and Saitama)
2016 TOKYO MX and other anime "Bless this wonderful world! "Providing music" Ending theme song "Little Adventurer" / First solo solo performance in Shanghai, China / NHK ETV "Shakin! Singing and Lyrics "Dice Songs" (Ryosei Sato) / JR Kyushu CM Song "Hello! Free Time Club" Singing (Yuho Sano) / Rinnai CM Song "DELICIA" Singing / Performing / Composition / First Overseas Tour in China (Shenzhen / Beijing / Shanghai)
2017 TOKYO MX and other anime "Bless this wonderful world! 2] Music provided Ending theme song "I want to go home" / Toyosaki Aki "Landne" music provided / Guest participation in the Chieftains performance in Japan (planned)

ハンバート ハンバート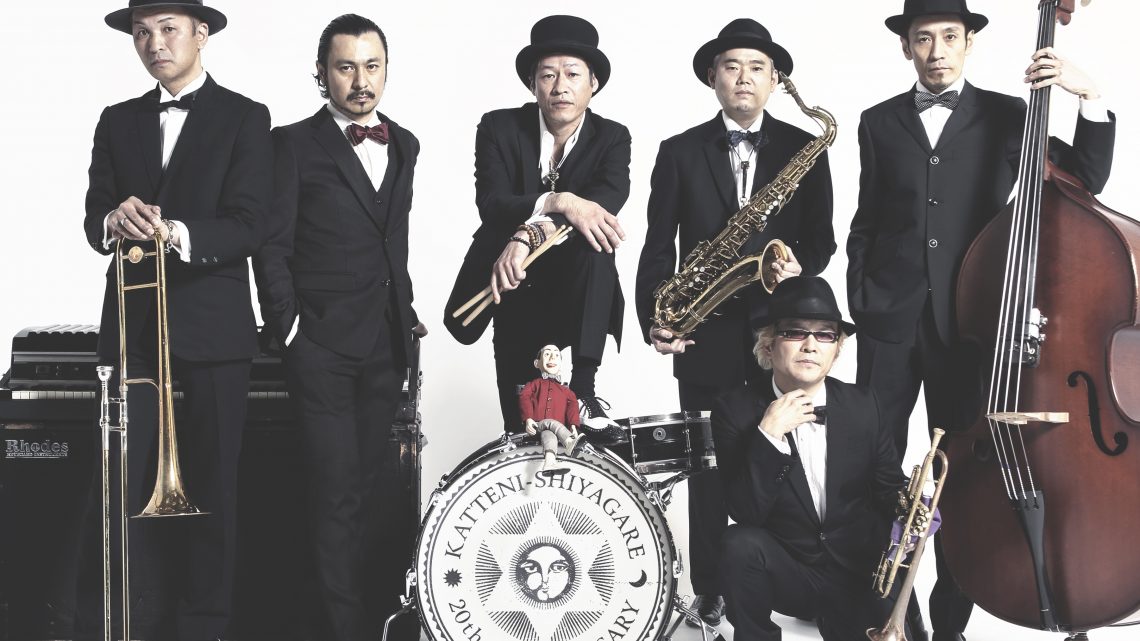 勝手にしやがれ
The Japanese title of the Sex Pistols album? Jean-Luc Godard movie? Kenji Sawada's hit song?
The band was formed in 1997, and its name is "Take it for yourself".

The drum takes the main vocal, and the ensemble, which consists of a thick horn section, bass, and piano, raises jazz into punk rock.
Also, the lyrics of the leader, drum vocal, bard, Shohei Muto invite the audience to a foreign country.
Members include Shohei Muto (Ds. During.

If you hate jazz. If you hate rock. If you hate music. Do it yourself! !

勝手にしやがれ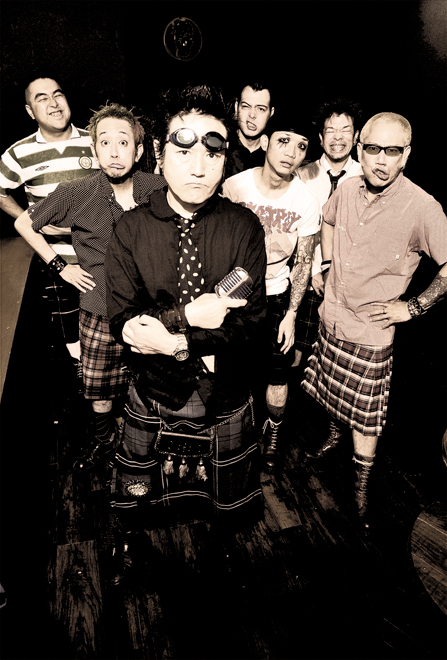 JUNIOR/ジュニア
Formed in 1996.

A pioneer who boldly incorporates Irish music taste in Japanese punk rock.

A fascinating world where one song and one song written in Japanese on Irish folk and Scottish folk melody and delightful melody are depicted as a story with a story.

Pay attention to the world of lyrics drawn by vocal KAZUKI! Add stage and sound!

Plays a variety of unusual instruments such as bagpipe, accordion, tin whistle (Irish whistle), bowlon washboard, banjo, mandolin, etc. on the existing band form, and all members wear themselves in quilt skirts Wrapping colorful and fun, sometimes awkward, adults and children (a lot of children come to the live venue) is a must-see live!

Celebrating the 20th anniversary of this year's formation, participating in events such as Shinjuku LOFT One-Man and various events, and working actively at their own pace!

JUNIOR/ジュニア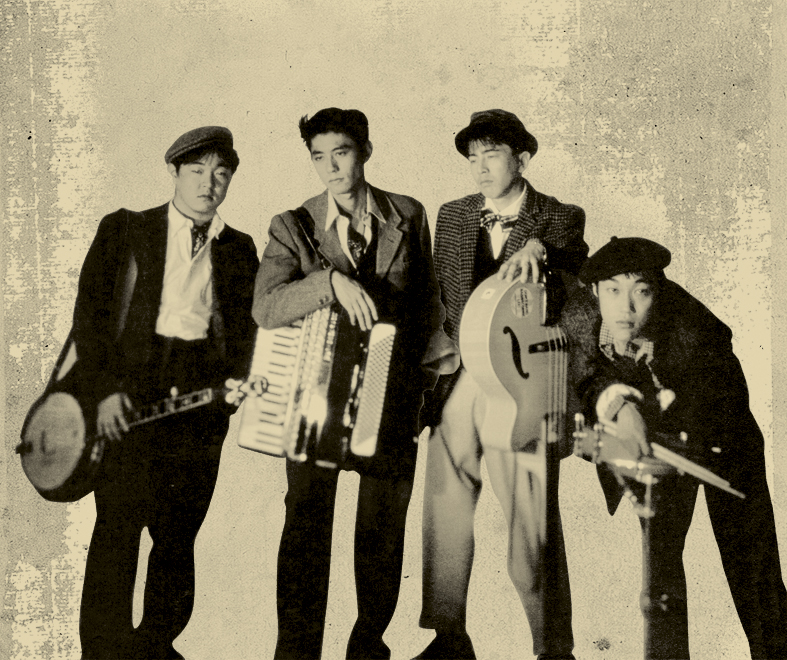 16TONS/シックスティーン・トーンズ
1986 16TONS formed. 1989 "Adventurers" released from UK label Edison.
1990 "Mountain Christmas" release from UK project.
1991 Epic Sony released "16TONS", major release, 1992 2nd album "SURF" released. Moved to MCA Victor and released "Skater's Waltz" in 1993.
1994 7inch single "Psycho Boogie Woogie" 1996 album "GET THE TONS" released from UK project.
2008 16TONS reorganization label "Adventurers" reappears from LOVE 2 SKULLS.
In 2013, the label CHAOS & ANARCHY released "16TONS with ally" as a "16TONS with ally" label, and released a 7-inch record "Rentan Locomotive" CD album "Safari" CDsingle "Last Birth and Darkness".
On March 26, 2017, THE WILD ROVER reunited with members of 1st ALBUM for the first time in 20 years.

16TONS/シックスティーン・トーンズ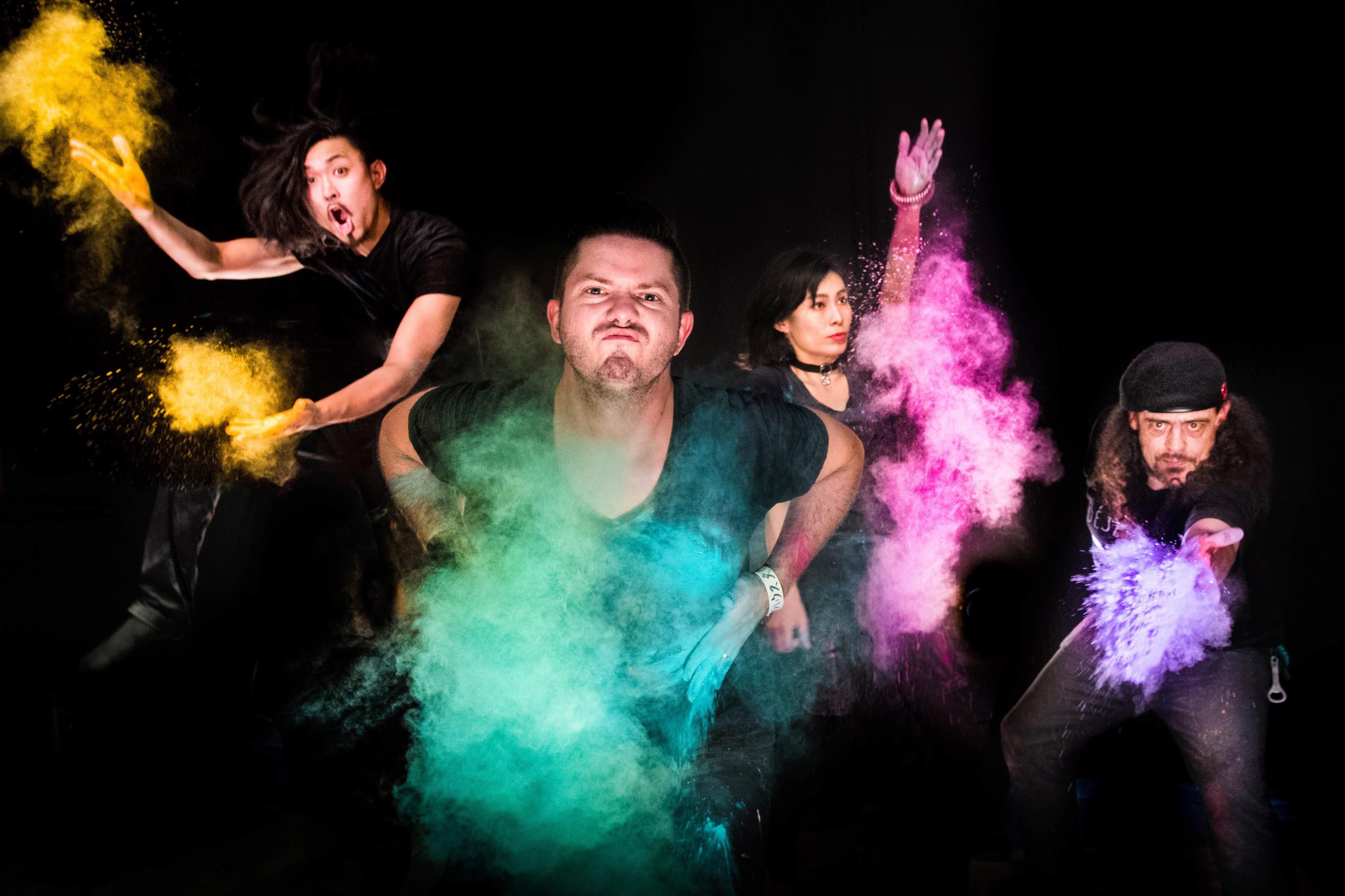 Johnsons Motorcar/ジョンソンズモーターカー
BLACKO: GUITAR / CHORUS
MARTIN: VIOLIN / VOCAL
RINAMAME: DRUMS / CHORUS
COLEMAN: BASS / CHORUS

American MARTIN who grew up in a music family and Scottish blood and a cheerful and pure liquor-like Irish BLACKCO, Australian COLEMAN with a quiet appearance and punk spirit behind it, a small but powerful Japan that binds big men Man woman RINAMAME. "Johnsons Motor Car" is a multinational band born in Tokyo that combines these four super personalities. They blast out on the stage with a celtic, gypsy tic, and free traditional rock that mixes many traditionals! Even a girl, a grandmother, a working bartender, a kitchen chef, and dancing with the music of a Johnson's motor car will undoubtedly dance with singalong! !
 
Released his first full album "Hey Ho Johnny !!" in 2014. In addition to activities at the live house, he has appeared in many festivals including FUJI ROCK FESTIVAL. From the spring of 2016, the drum RINAMAME will be maternity leave, and BRAHMAN's RONZI will temporarily participate as a support drummer. The second full album "ROCKSTAR CIRCUS" will be released in spring 2017.

Johnsons Motorcar/ジョンソンズモーターカー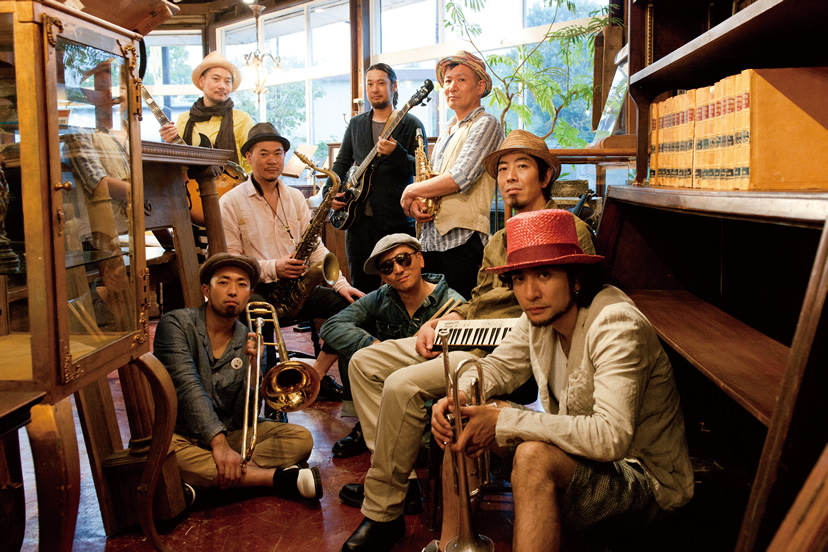 COOL WISE MAN/クールワイズメン

Tomita Shinoda (B) Makoto Takeuchi (Dr) Tomoyuki Ichimura (Key) Junji Hiraide (Tsax)
Hikaru Hamada (Tp) Makoto Owada (G) Hiroshi Asami (Tb) Toru Nishiuchi (Asax)

Formed in 1993, the performance with various roots music including Jamaican music as the backbone is full of originality while protecting the essence of SKA, and if you listen to it, everyone will be able to move their bodies. Give me.
He has co-starred with legendary Jamaican musicians.
One of the best instrumental ska bands in Japan that has appeared in many festivals in Japan and abroad, including Australia's largest rock festival "BIG DAY OUT".

COOL WISE MAN/クールワイズメン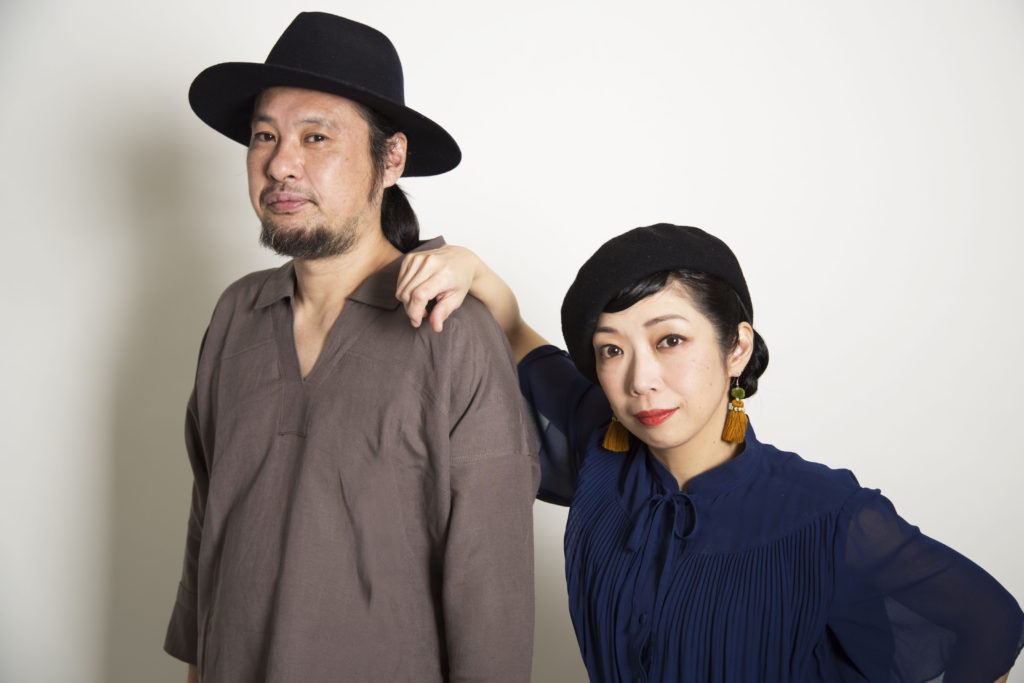 T字路s
Formed in May 2010.
Taeko Ito (Gt, Vo)
Guitar vocal and bass duo by Tomohito Shinoda (Ba / COOL WISE MAN).

Since 2010, he has consistently created works, and in 2015 he released his first full-length cover album, "T's Song". In 2016, the theme song "Hakidame no Ai" was written and provided in the movie "The Love of the Lower", and it attracted much attention along with the movie. In addition, NHK's E-TV "Shakin!" Continues to be widely supported by offering songs, performances and singing.

The music that they weave swallows blues, folk, rock and roll, and transcends the genre of the genre. The music that expresses the sound of human beings grabs the hearts of fans.

T字路s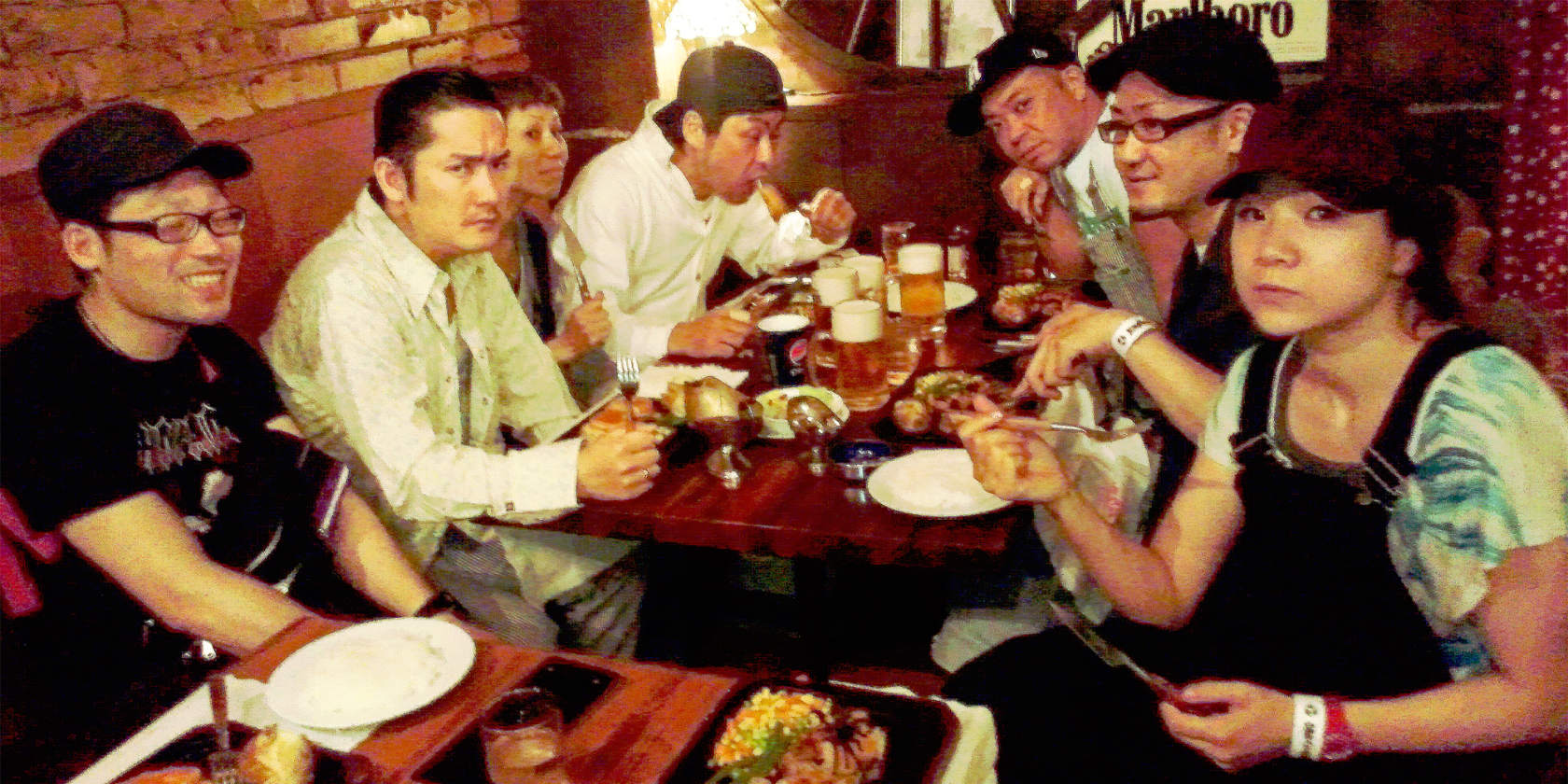 ロス・ランチェロス
Rustic stomp band formed in Hachioji in 1992. Based on Psychobilly, a variety of folk songs such as bluegrass and Irish Trad are mixed, beautifully gathered, and drunk wildly.
At the end of Kanaya Sake, there are now six people: wood bass, banjo, mandolin, piano, electric guitar, and drums. Looking for acoustic guitar, violin, etc.
In 1995, when there were only three members at the time of formation, the number of members increased to six. In 1996, he became active after participating in "Rustic Dawn / Japanese Rustic Band Collection | Rustic Stomp 1996" released by King Records.
In 2000, they released their first album on their own and sold out in 3 days. Since then, he has been continuously active, including participating in singles and various omnibuses.

ロス・ランチェロス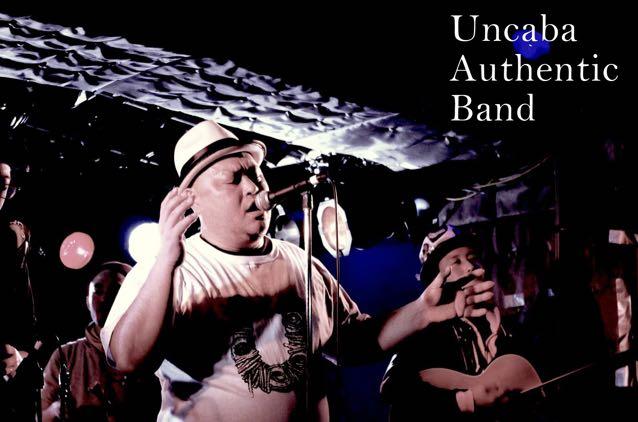 Uncaba Authentic Band/アンキャバオーセンティックバンド
Formed in 2011, mainly by vocalist Hirokazu Ise.
We are active mainly in live houses in Tokyo.
Faces all kinds of musical elements such as standard ska reggae and creates a warm space with sorrowful sound.
There is also a small acoustic version, and you can feel the "sound" from time to time. He holds his own presidency event "BLOOM" in Asakusa irregularly.

Uncaba Authentic Band/アンキャバオーセンティックバンド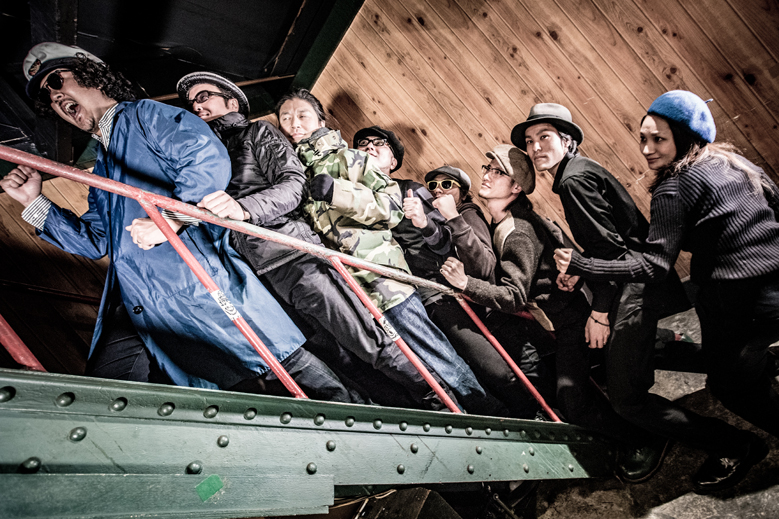 ONE TRACK MIND/ワントラックマインド
1996 Formed mainly by BA of ex RED HOT ROCKIN 'HOOD.
It is a sound influenced by Ska, Rock, Punk, Psychobilly, R & B, and 80's, and is characterized by the heavy use of slap playing with a contrabass used in rockabilly.
Due to the tune of the slap bass and the wide range of musicality, it is rarely categorized as a ska band, but a band that features a slap base and a horn ensemble in front of the so-called Billy music Is it the first time? Is that true? ?
The band name comes from the song name of Johnny Thunders.

ONE TRACK MIND/ワントラックマインド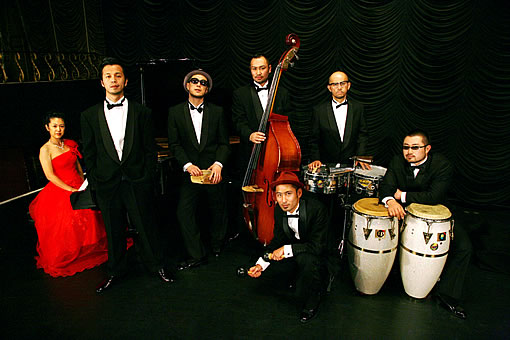 copa salvo/コパ・サルーヴォ
"Copa salvo" is an acoustic Latin American music group that has been released from , an affiliate of Osaka's , known for its ego rappin label . Tadahiro Masuda (vocals / guitar), Eri Konishi (piano / pianica), Hironori Kobayashi (bass), Peach Iwasaki (percussion), Yo Sato (percussion), Pyon Nakajima (percussion) Activities centered around cafes, clubs and streets. A group that is expected to play dance music that adds the sensibility of club generations to Latin and Latin American music such as Latin, Cuba and Brazil.


After being debuted in 2000, without being caught up in Latin music
He continued his activities widely and in 2004, he successfully performed in Korea.

On January 30, 2005, the first one-man live was successfully delivered at the Daikanyama unit.
National live tours scheduled thereafter

copa salvo/コパ・サルーヴォ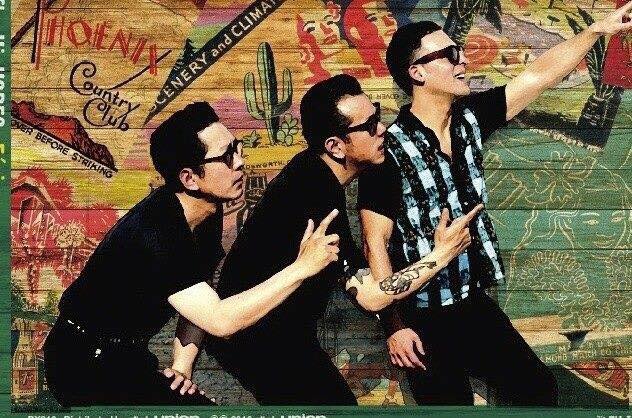 The Hi-Hopes/ハイホープス
Initially started as a solo unit of KUBO (guitar / vocal).
(The sound source at that time was released by VIVID SOUND.)
Later, he met KAZUMA, a pianist who came back from Cuba, and became the current BAND style mainly for two people.
Currently, the band consists of KUBO, ERNESTO (Drum / Percussion / Vocal), 44 (Bass / Backing Vocal), KEN (Guitar / Backing Vocal / Percussion)

A rock band based on South American music that mixes rockabilly and various ROOTSMUSIC and REBELMUSIC.
Mix the music and the race of the members!
Error while parsing data!

The Hi-Hopes/ハイホープス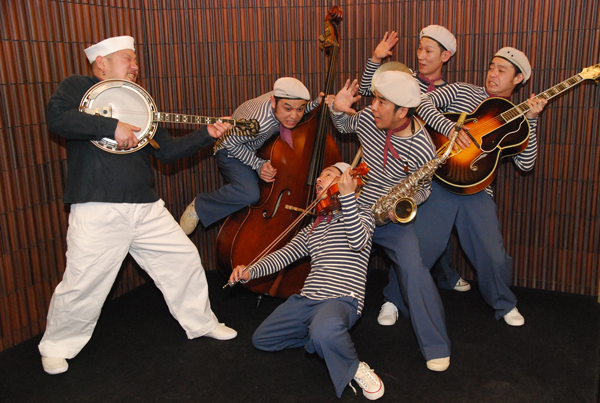 Little Fats & Swingin' hot shot party/リトルファッツアンドスウィンギングホットショットパーティー
In the winter of 1999, I started with vo. & Banjo's AtsushiLittle Fats and wash board Yokoyama. Initially, the other members were different each time and started with an interesting half. Members gathered while working mainly on the street, and they changed their members several times, becoming members in early January 2005. 4 original CD albums were released and Kyoko Koizumi participated in many other recordings. Appeared in many events from the street to FUJI ROCK FESTIVAL, regardless of size. Superb street entertainment where Banjo, Guitar, Violin, and sax sing on a hilarious rhythm played by a wash board and a wash tub bass !

Little Fats & Swingin' hot shot party/リトルファッツアンドスウィンギングホットショットパーティー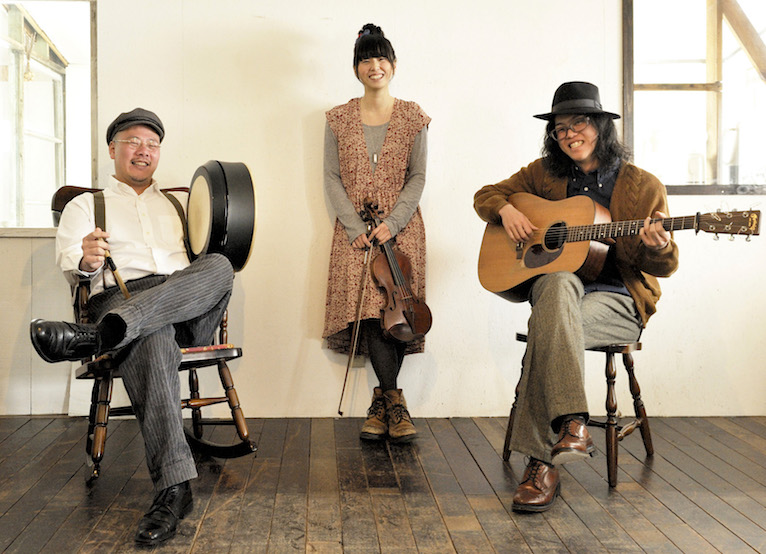 John John Festival/ジョンジョンフェスティバル
A trio of music from Ireland, a small island country next to England.
The music played with fiddle (violin), singing, guitar, Irish drums, and baulons is rhythm, groove,
Kindness, fun, and sometimes sadness.
Music that touches the air, adjusts breathing and climbs as high as possible, adjusts breathing, and whips quietly everywhere.
John John Festival is what makes both the player and the listener happy. Formed January 2010.
1st album "John John Festival" released in October of the same year.
Released 2nd album "Song and Tune" in March 2012.
In August 2013, she released a collaboration album "trek trek" with singer Shinsuke Sakura.
At the end of each year, a self-planned "JJF Thanksgiving Day" at Aoyama CAY was held.
He has also appeared in many outdoor festivals such as Mori no Cafe Fes in Niseko, Life is beautiful, Tokyo Flea Market, and Morinichi Market.
In January 2014, the Australian tour will be successful.
After two years of inactivity from June 2014, activities resumed in 2016.
In October 2016, he appeared in Celtic Colors, the world's best Celtic music festival.
In November, released a new album produced by Shinsuke Sakura.

John John Festival/ジョンジョンフェスティバル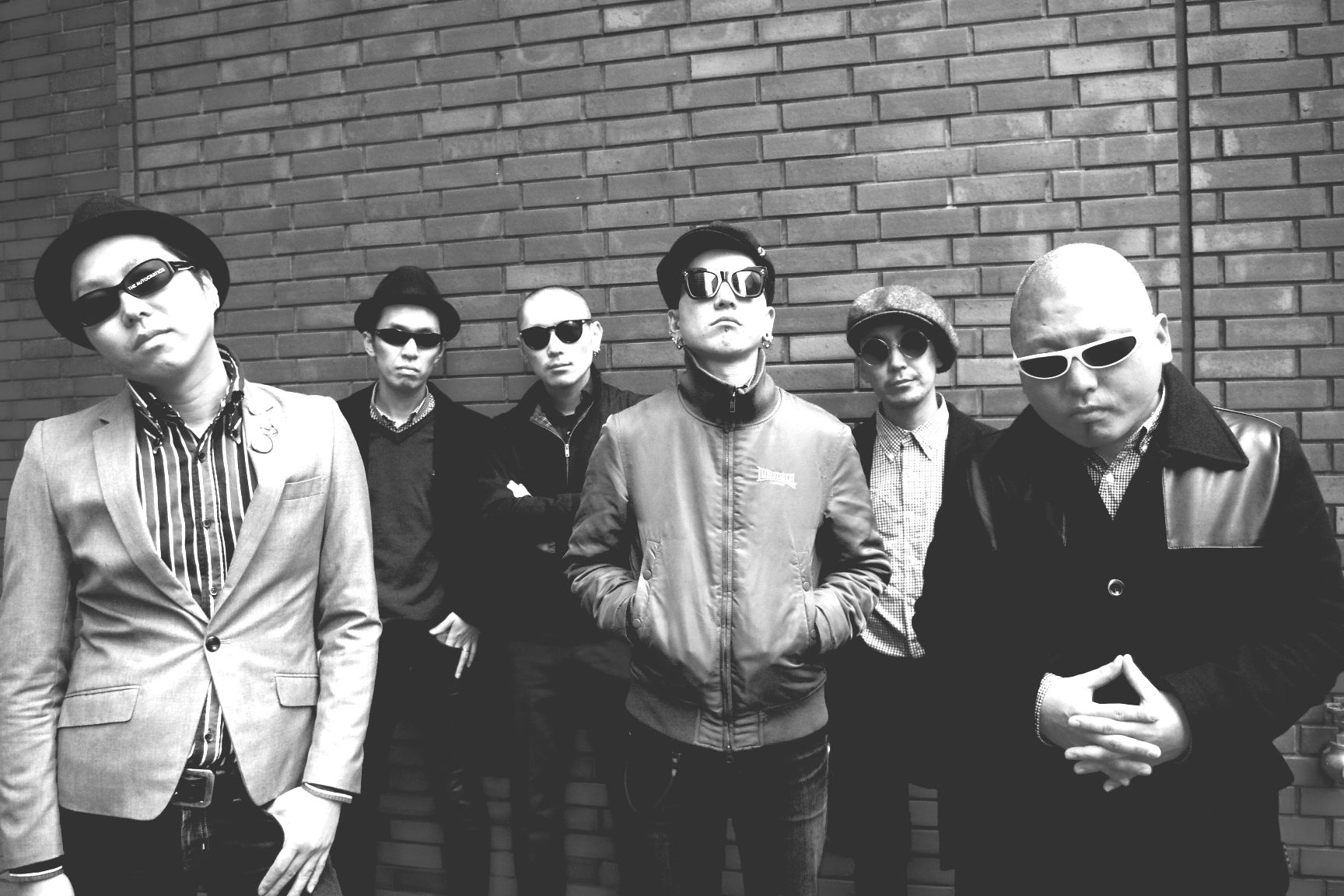 THE AUTOCRATICS/ジ・オートクラティックス
Formed in 2007. From Tokyo, POST 2 TONE SKA band.
The base of activities is not limited to Tokyo, but vigorously tours throughout the country,
"TOKYO SKA JAMBOREE" "SKAViLLE JAPAN" "MODS MAYDAY"
Appeared in big events such as "Hoppin '& Steppin' SHOW CASE".
The original and progressive style that pays tribute to the 70-80's UK culture,
Has earned a great reputation not only from RUDE BOY & GIRL but also from a wide range of people.

THE AUTOCRATICS/ジ・オートクラティックス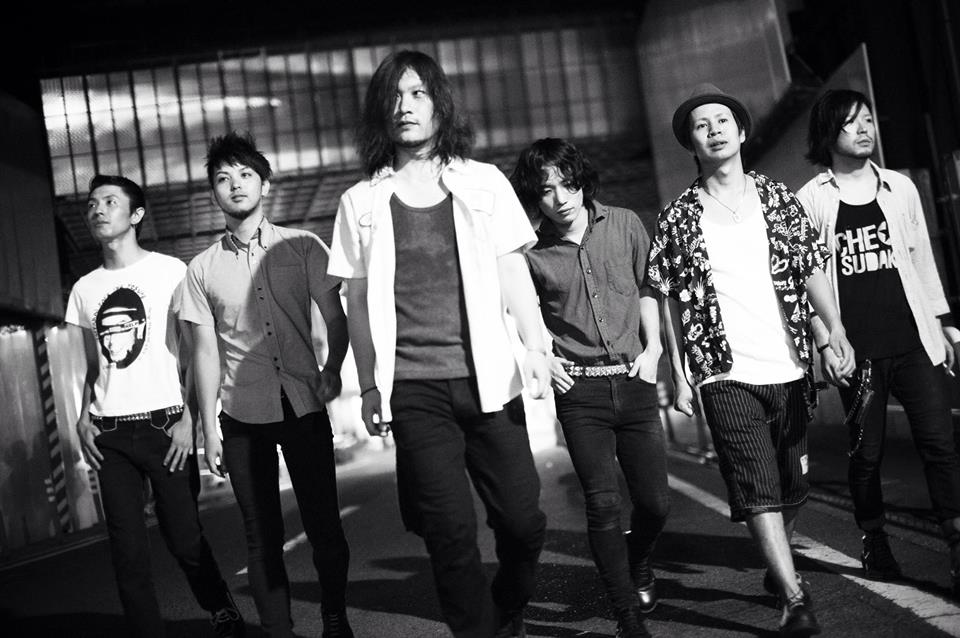 THE RODEOS/ザ・ロデオズ
THE RODEOS, a combat level music band that slams Russian folk, Irish, Mestiso, Gypsy, Ska, etc. into punk rock!
Singing, dancing and rampaging sound that combines punk rock and roots music.
Lyrics that make you feel like you are crying, vocals that shout like squeaking, and political nuances, but with life-size and sincere messages.
There is no doubt that there is THE CLASH in the roots, level music that blood will boil if you listen

THE RODEOS/ザ・ロデオズ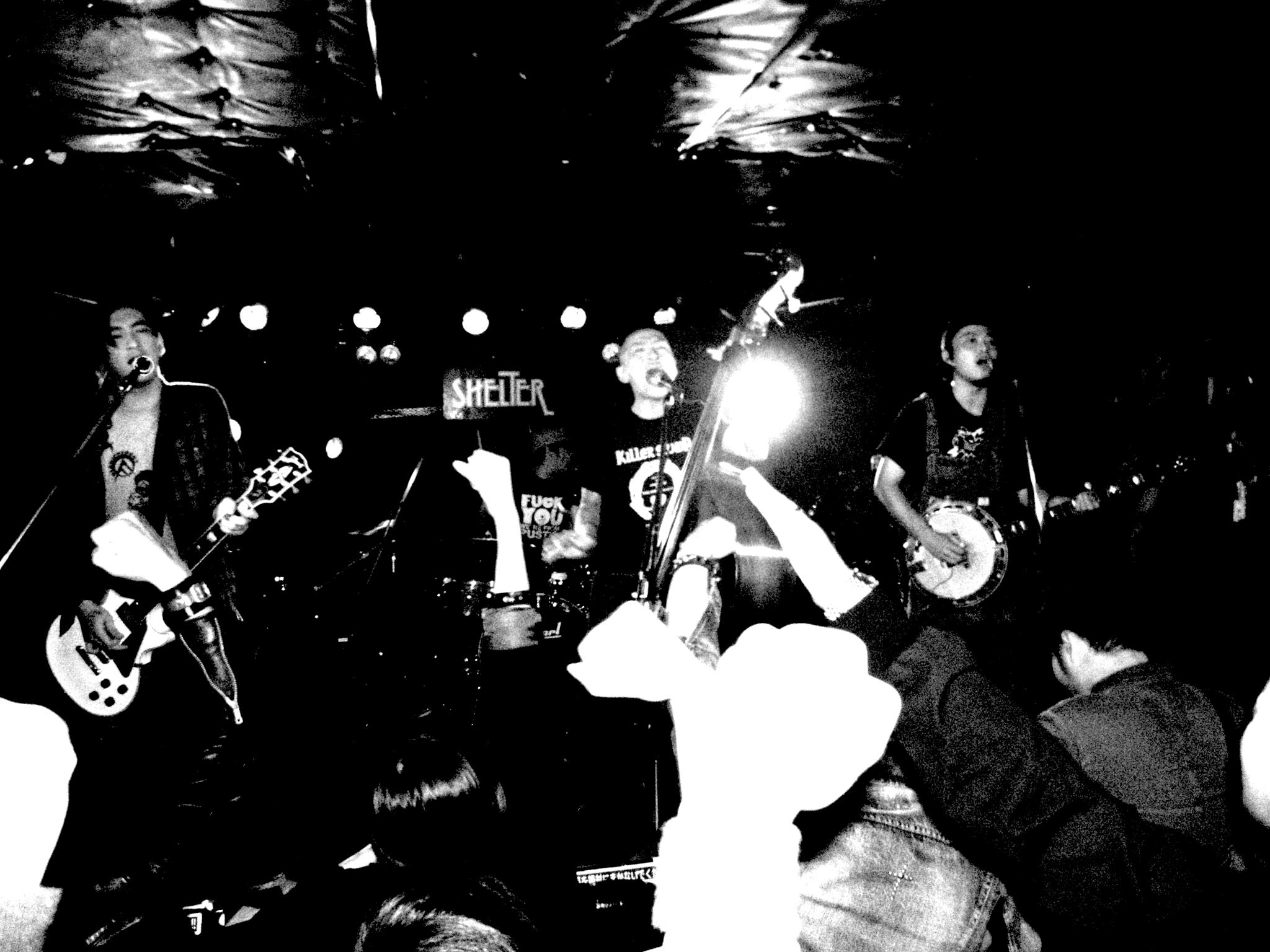 OINK/オインク
Yoh: vo & bass
So-Ne: drums
Sugi: guit
Kishi: banjo & bagpipe

In 2004, after the release of V.A "ROTAR ARE GO vol.3" (Rumbaral Rec) 7inch "Date / Monto" (Galactic), the Acoustic & Traditional Corps left.
Participated in 2005 V.A "Green Anthem" with three pieces of bagpipes. Participated in V.A "RUSTIC STOMP2009" in 2009 after further member changes.
Participated in V.A "Never trust a friend" (DIWPHALANX RECORDS) in 2010! The first album "RIN-KAKU" is also released from DIWPHALANX RECORDS! !
National tour with a rustic singalong number!
The last live of 2014.10.05 was dissolved.

OINK/オインク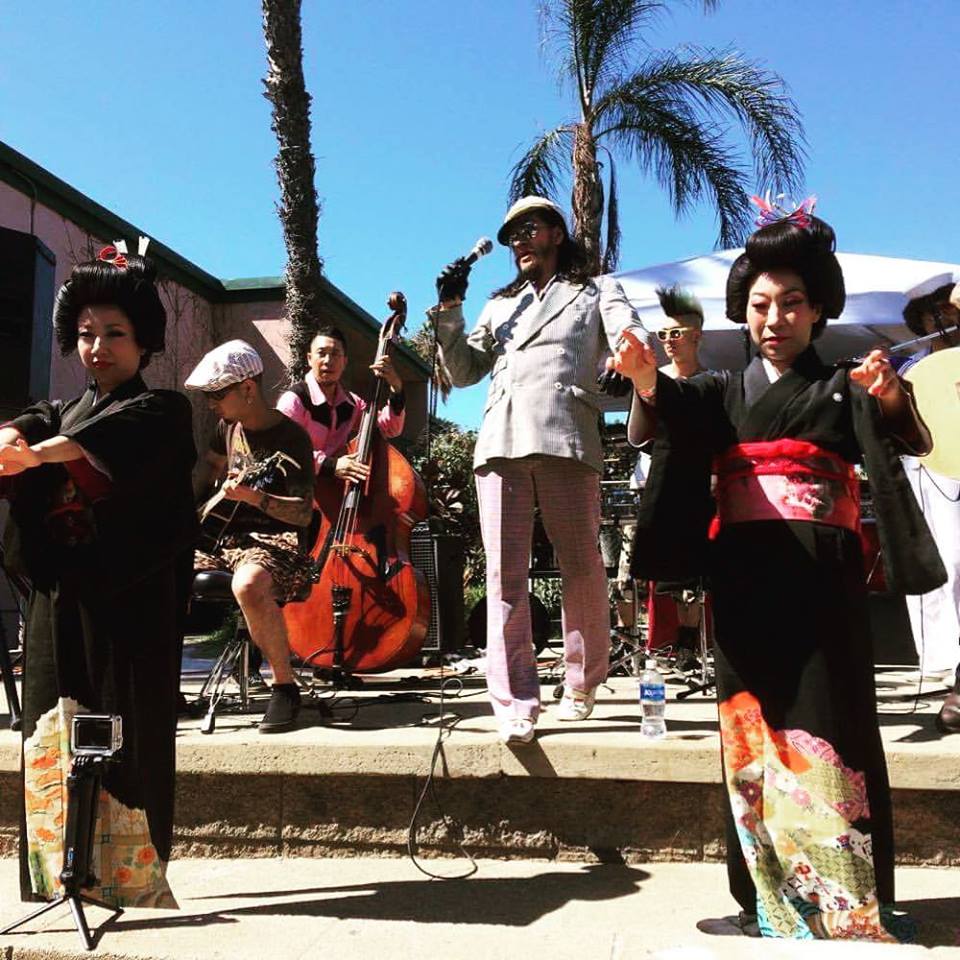 柳家睦&THE RAT BONES/ヤナギヤムツミ・アンド・ザ・ラットボーンズ
Outlaw folk! Japanese-style mestizo! Japanese-style Latin mood core song.
Samba style-Motown style-Bossa nova style-Latin style, rock and roll, rock fork, rockabilly etc
The latest Japanese style rock 'n roll that brushes up the music around here ...

柳家睦&THE RAT BONES/ヤナギヤムツミ・アンド・ザ・ラットボーンズ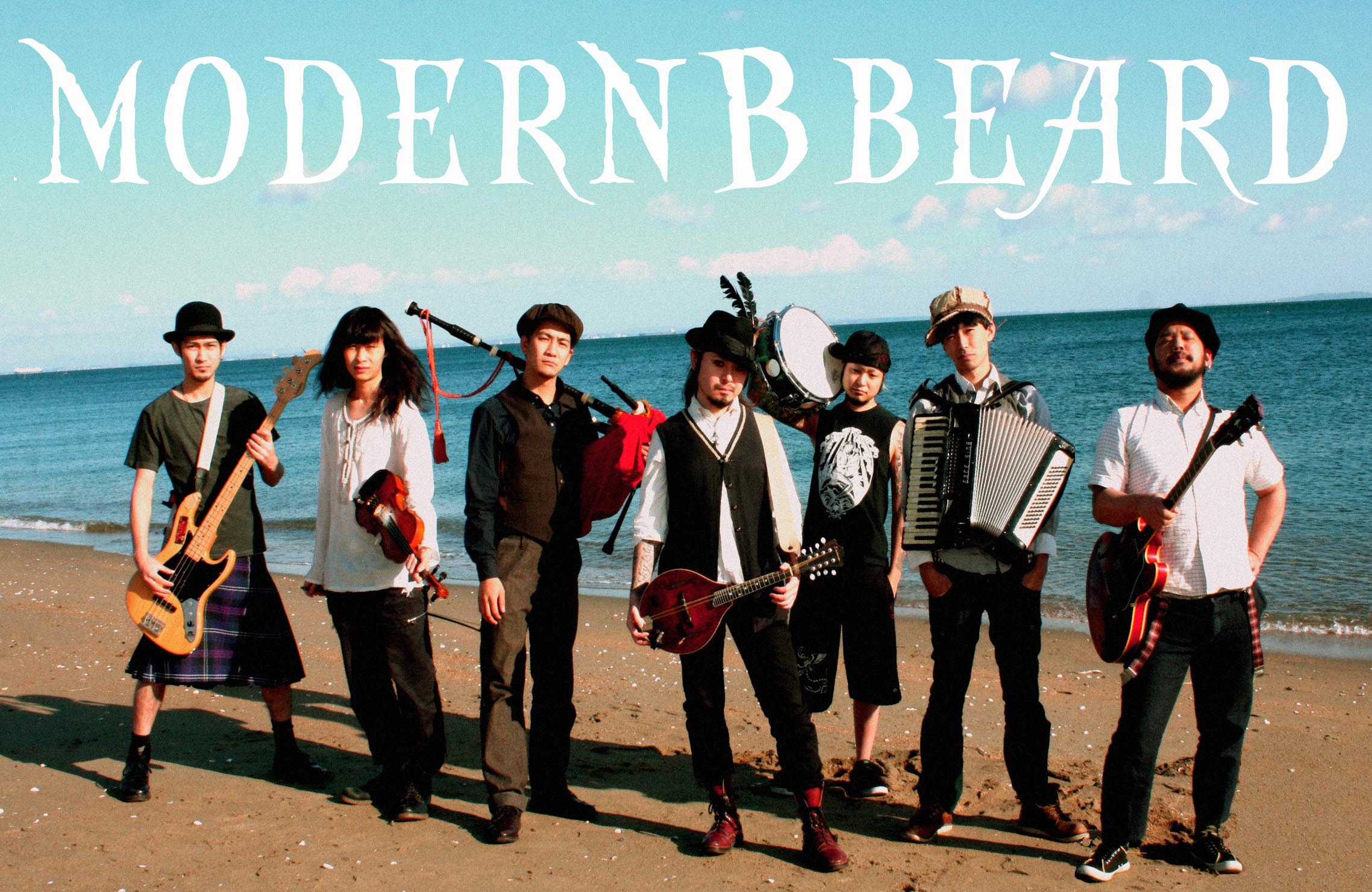 MoDERN B Beard/モダンブラックビアード
A seven-member Irish punk band formed in 2008.
The sound of MoDERN B Beard is a vocal and punk rock organization with vocals such as mandolin, fiddle, accordion, bagpipes, tin whistle, electric guitar, bass and drums.
Based on the concept of pirates and drunks, the Irish Trad is the basis, and all the original songs are tailored to pirate songs that describe the voyage.
The activity has so far centered on the Tokyo metropolitan area, and has traveled all over Japan. In 2011, from May to June, the 1st full album "1ST LOG BOOK" was pulled across Europe, crossing Germany, the Netherlands, Belgium and Switzerland. A tour is executed.
As an Irish punk band, all 11 performances including one-man were delivered in great success on the first European tour in Japan.
The following year, in November 2012, a Korean tour was also held. From 2013 to 2014, the range of activities has been further expanded, and the name has been expanding throughout the country through vigorous regional expeditions.
Currently, while continuing live activities, new songs are being produced for new album production. Scheduled to be announced within 2015.
A pirate ship of MoDERN B Beard, a seven-membered black panther pirate group who does not know the momentum, continues to make a leap forward in search of a new sea.
This voyage has just started

MoDERN B Beard/モダンブラックビアード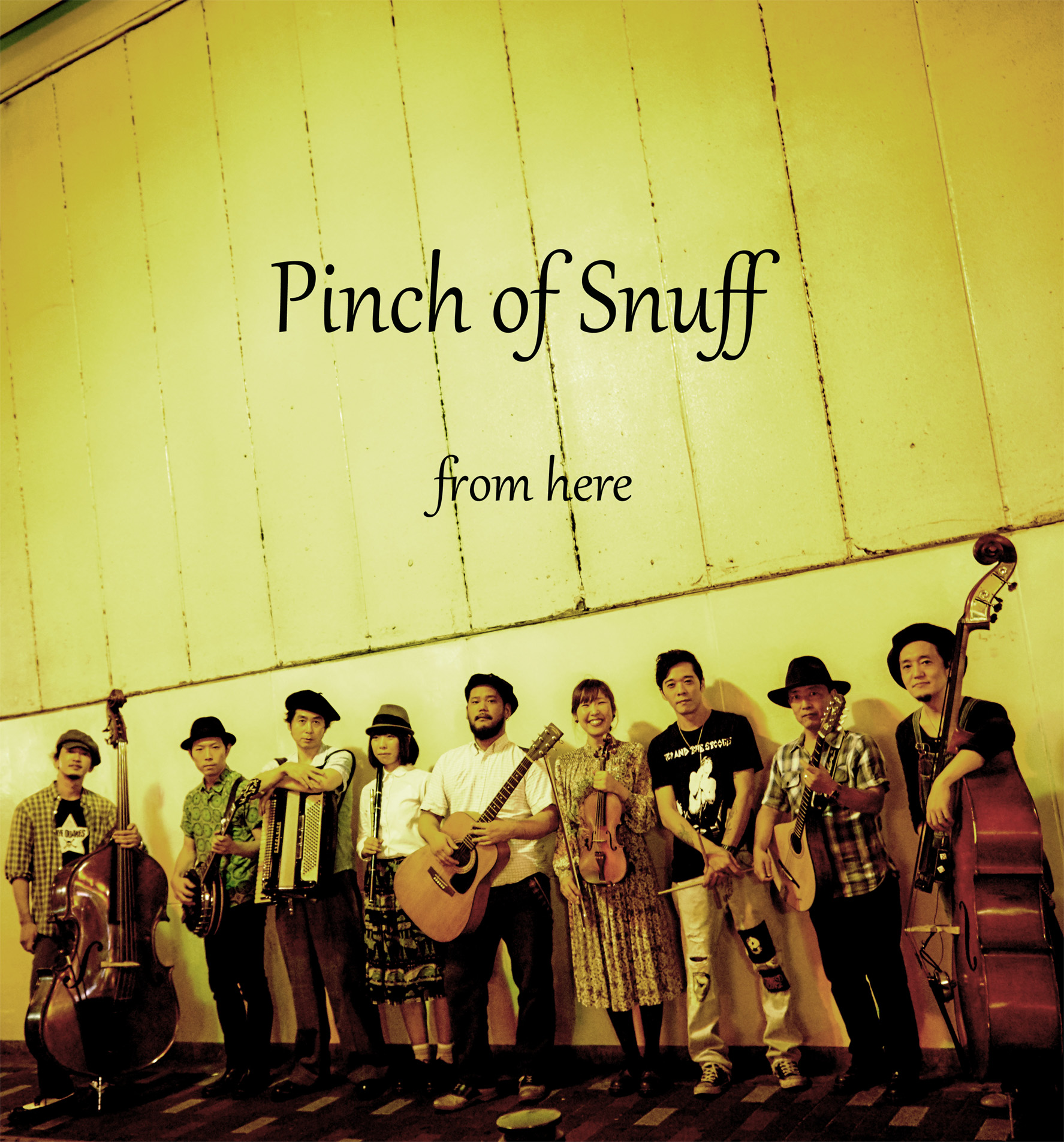 PINCH OF SNUFF/ピンチ・オブ・スナッフ
Pinch of Snuff is a mixed mix of Irish traditional music
A street band based. Members are Irish Bouzouki
Such as fiddle, tin whistle, accordion and banjo
It is a lively and sorrowful organization, and will be the first in February 2017
1st full album "from here" with 14 songs will be released.

PINCH OF SNUFF/ピンチ・オブ・スナッフ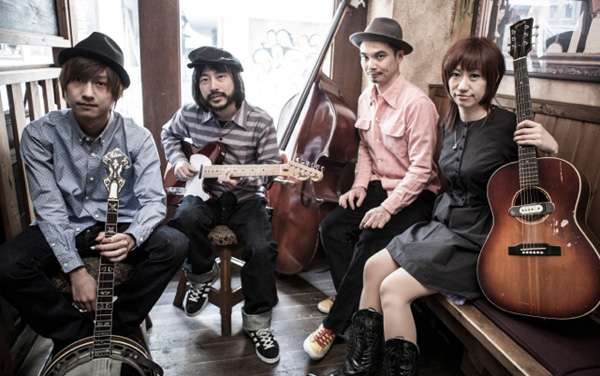 The Hot Shots/ザ・ホット・ショッツ
"A super cute and stylish road house jazz in the countryside! ]
There are sunny days and rainy days. And tonight, The Hot Shots' long-awaited new work that swings under the moonlight!
Chie, Shimomachi daughter, who loved 50 's R & R, formed a long-awaited band. Traveling in and out of the country by pulling a 7-inch board produced independently. Soon, NRBQ's Terry Adams caught his eye and made his national debut with his produce. While basing on roots music that he loves, he gradually opened up new fields.

The Hot Shots/ザ・ホット・ショッツ
O'Phan/オーファン
An Irish traditional music band based in Tokyo
members are
Aiko Otsuki (Fiddle / Vocal)
Daishi Nakamura (Bouzouki / Guitar / Accordion)
Takeaki Nagahama


A traditional Irish music group formed in 2012.
In addition to regular performance activities at the Irish pub in Tokyo, a group of talented artists who also back up Japan tours of overseas artists in bands.
In addition, each member has appeared in overseas festivals, etc., and is highly regarded not only in Japan but also overseas.

▶ Aiko Otsuki (Fiddle, Vocal)
I was shocked by the Irish Fiddle CD that I first heard when I was 17 years old and mastered by myself. Her style, which attracts audiences with outstanding sense and technology, has already been proven in numerous Irish music groups in the country. Her singing voices at pub songs and ballads that she began working on since O'Phan participated in 2012 are also highly evaluated.
▶ Dr. Nakamura (guitar, bouzouki, accoridon)
musician. Perform and compose using various musical instruments. As a member and individual of various groups, he is engaged in the performance and spread of Irish music. He performs a wide range of activities such as performing on stage, participating in recording of movies and TV anime music, and supporting performances by singer-songwriters and bands.

▶ Takeaki Nagahama (Bodhran)
In Ireland, where he first visited in 1992, he was fascinated by the music of Ireland and the unique percussion instrument Bauron. Since then, loved over a dozen times. He also studied local traditional music and experienced architectural space design. In addition to performing as a leading Bauron player in Japan, he also organizes concerts and workshops for Irish music native players and dancers as a producer.

[About Leucine Duff Production]
An Irish word for leucine-bara and duff-black, named after the song name of the Irish rock band "Sinligy". Since 1997, to spread Irish music and Celtic music in Japan, I have been planning, booking and managing performances at Irish pubs and live houses, and producing CDs since 1997.

O'Phan/オーファン

Revili'O/レビリオ
A folk rock band based on Irish, Old American trad and Alt.Country.
There are basically six members, but the organization is often changed by live performances.
With a small number of people, the rustic and earthy atmosphere has been pushed to the front, and the activities of 6 people are differentiated.
By the way, there are wide differences in age and place of residence among members.
Formed in 2012 after predecessor JAD, Thy County.
In 2011, two people, Takeshi Nohara and Jun Kanno, originally made songs and performed live performances. In the spring of 2012, Kiri Mochida and Daisuke Yamazaki (both former JAD) joined.
Taking this opportunity, the band is officially named Revili'O. The etymology is coined by Nohara.
A few months later, I happened to meet Daiki Takagi (former Haggis) who happened to meet after a live in Osaka, and joined on the spot.
For a while, he was active in the organization without percussion instruments, but soon after entering 2013, Masanori Yamamoto called out after performing at the Irish Pub. Join as it is.
To the present.

Revili'O/レビリオ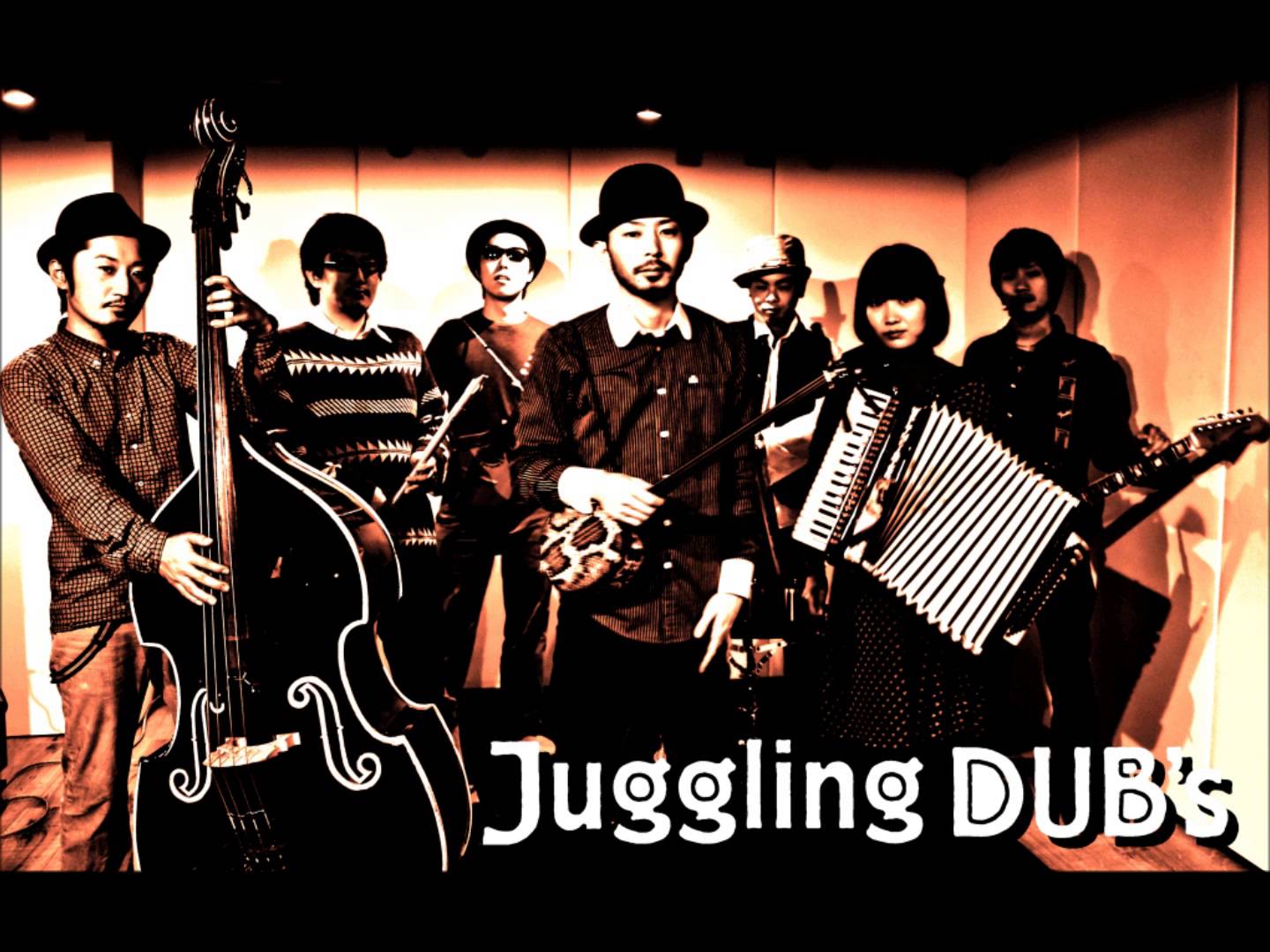 JUGGLING DUB'S/ジャグリングダブス
MEMBER
Vocal, Sansen: SHINYA YASUDA
Tin Whistle, E. Baggpipe: MASAHIRO AOKI
Accordion, Chorus: YUKO KATAYA
Guitar, Chorus: YU-KI SUGAHARA
W.Bass, Chorus: SINGO
Drums: MASATO HAYASHI


An omnidirectional lyrical acoustic band using traditional musical instruments such as sanshin, accordion, mandolin and tin whistle.
Activities started in 2008.
So far, the 1st single "Moonlight of the moonlit night / melody with wind" (2009) and 2st single "Treasure Island / Haguretori" (2010) have been announced.
With the singing mind in mind, we aim to be a progressive music while incorporating various music styles such as world folk songs, traditional music, blues, rock and pop, with Irish and Okinawan music as the axis.

JUGGLING DUB'S/ジャグリングダブス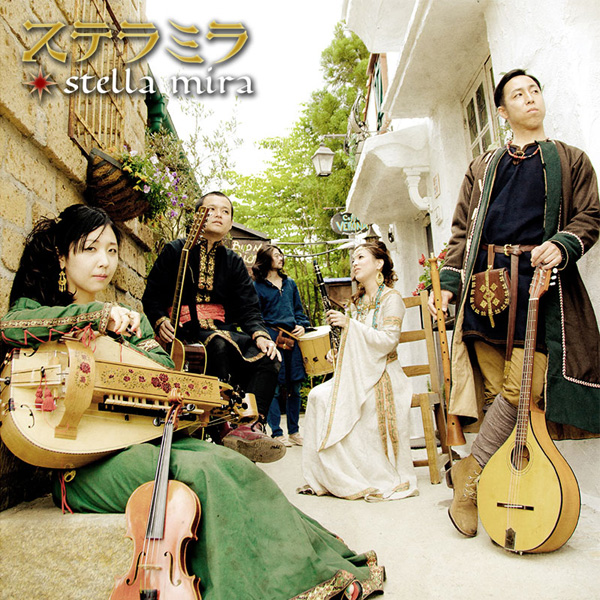 ステラミラ
This band, which means "mysterious star" in old Latin, is a collection of 5 medieval, renaissance and baroque era instruments, European and Middle Eastern folk instruments, and a wide range of general-purpose modern instruments currently used worldwide. Human multiplayer controls and plays a variety of tones.

I don't know if the name Medieval Folk / Early Folk is appropriate.
It may be easy to get rid of with Traditional Folk Rock.
However, the music of Stellamira colored by these many instruments does not "reproduce the music of some era in some country".
The scene you think of freely with your eyes closed is the country and era in which Stellamira's songs live.

It is somewhere old, somewhere new, somewhere weird and beautiful.
I don't know which country's music from which era,
It's a mysterious world music that seems to be everywhere and doesn't exist anywhere.
Error while parsing data!

ステラミラ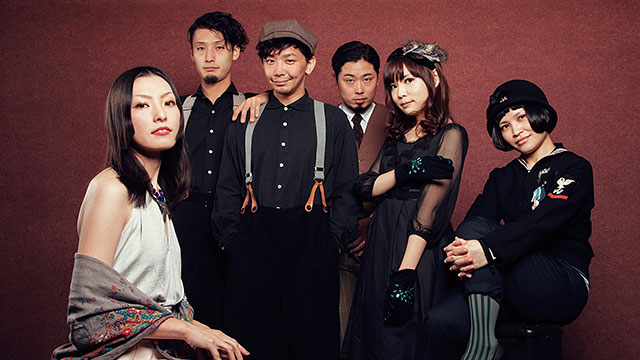 yashka/ヤーシュカ
While hijacking the rock band format, fiddle and clarinet with full of singing hearts blooms, why is Yoshika's hysterical but why?
A one-of-a-kind world view created by nostalgic singing voices and lyrics that are intriguingly drawn. Punk, garage, rock, etc.
The poor music of adults who have pop music such as soul, ska, latin and jazz while having roots!
"Now," country-like things "are more urban and" urban things "feel more odorous. Manu Chao, Gogol Boldero
Yes, there is no end to the list, but there are ethnic and mixed bands all over the world that have passed rock, hip hop, reggae and Latin.
I'm sorry, music that doesn't know what rhythm of the country, and what language it sings in. Because the attitude and
That's because these bands are much more locked than the so-called lockers. Great garage band
It is inevitable that Yoshika, who has been rocking with "six", will blend into the sound wave. The music inevitably born is decided to be delicious
There is. Hasehajimu

yashka/ヤーシュカ