Sukiyaki Meets the World is one of Japan's leading world music festivals that conveys music and culture from around the world under the theme of "Intercultural Exchange through Music."
my_location
Location
富山福野文化創造センターヘリオス
room
Address
富山県南砺市やかた100
turned_in_not
Advance Sale
3000
turned_in_not
Tickets for today
3500
description
Event Details
Location
ヘ リ Helios, Toyama Fukuno Cultural Creation Center
OPEN:-/ START:-
ADV:-/ DOOR:-
SUKIYAKI FESTIVAL 2010.8.20-22


Attention is "Ski Africa-Sukiyaki All Stars-". The artists I met in Sukiyaki form a unit across national borders. After a year of collaborative work, the song was decided and will be premiered at Sukiyaki 2010!
Three superstars leading the new generation of African music: Chiwaniso, Eric Ariana, and Peter Solo.
Charismatic percussionist "Jang Jae-Hyo" creates a new style with Korean percussion instruments.
The pioneering artists "Sakaki Mango" and "Dana" that send unique music from Japan to the world.
A special unit that miraculously meets these gorgeous members, using their creativity and experience on one stage to express a unique and new "world"!

This special unit made of sukiyaki will appear as a world-class "genuine product".


○ Ski Africa -Sukiyaki All Stars-
SUKIAFRICA -SUKIYAKI ALLSTARS-
● Chiwaniso (Zimbabwe)
CHIWONISO (Zimbabwe)

● Erik Aliana (Cameroon)
ERIK ALIANA (Cameroon)

● Peter Solo (Togo)
PETER SOLO (Togo)

● Zhang Ji-Hyo / Jang Jae-Hyo (Korea)
CHANG JAEHYO (Korea)

● Sakaki Mango (Japan / Tanzania)
SAKAKI MANGO (Japan / Tanzania)

● Dana (Japan / Africa)
N'DANA (Japan / Africa)

○ Debasish Batachalya (India)
DEBASHISH BHATTACHARYA (India)

○ La Gel (Madagascar)
RAJERY (Madagascar)

○ Mariana Barahu (Argentina)
MARIANA BARAJ (Argentina)

○ Mario Joseph (Trinidad & Tobago)
MARIO JOSEPH (Trinidad & Tobago)

○ Mohican Family (Japan)
MOHIKAN FAMILY'S (Japan)

○ Kindam ☆ Aphrox (Japan)
KINGDOM-AFROCKS (Japan)

○ Mountain Mocha Kilimanjaro (Japan)
MOUNTAIN MOCHA KILIMANJARO (Japan)

○ Roanvilla (Japan)
ROVAMBIRA (Japan)

○ Aperachako (Japan / Toyama)
APELLACHAKO (Japan / Toyama)

○ Sukiyaki Steel Orchestra (Sukiyaki)
SUKIYAKI STEEL ORCHESTRA (Japan / Sukiyaki)

○ Sara Marekum! (Sukiyaki)
SALAAM ALEIKUM! (Japan / Sukiyaki)

○ Guigi (Japan / Toyama)
GOUY-GI (Japan / Toyama)

○ African shop (Japan)
AFRICA-YA (Japan)

description
Performer details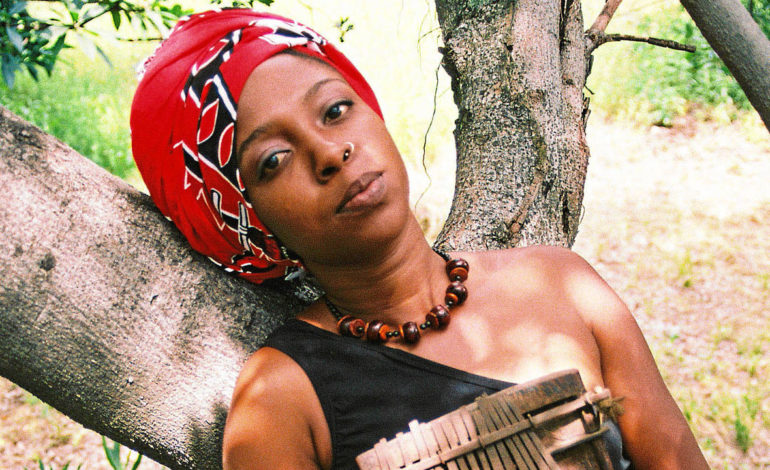 CHIWONISO/チウォニーソ
His father is Zimbabwean and Nunga Nyunga 's master Dumisani Maraire, and his mother is Zimbabwean.
He moved to the United States in 1972 and in 1976 Chiwoniso was born in Olympia, Washington.
When I was 4 years old, I played playing Nbira.
When I was nine years old, I participated in my parents' album.
In 1990 the family moved to Zimbabwe. Chiwonizo is a Zimbabwean but the holder of US Citizn.
Recently, I have stayed in Europe and the United States for a long time, but the base is located in Harare, Zimbabwe and plays music rooted in the tradition of Zimbabwe.
Major albums include 2001 "Ancient Voices", 2004 "Timeless", 2006 "Hupenyu Kumusha, Life at Home, Impilo Ekhaya. The Collaboration: Volume 1.", 2008 "Rebel Woman" and so on.
Performed at Sukiyaki Meets the World 2009 on August 23, 2009.
On July 24, 2013, she died in Chimungza, Zimbabwe, due to pneumonia. He was 37 years old.

CHIWONISO/チウォニーソ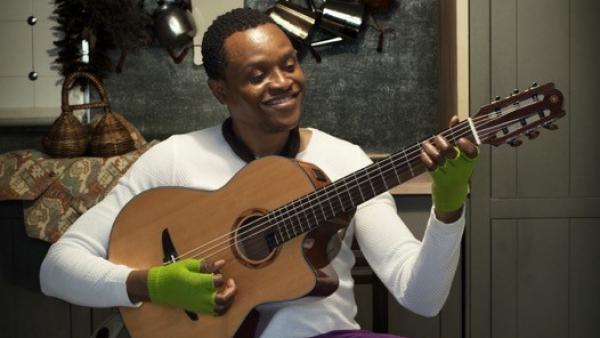 ERIK ALIANA/エリック・アリアナ
Meloon is influenced by cultural influences from African neighbors, which is reflected in their music. Their performance is expressed using traditional sounds, new sounds, and various instruments.

ERIK ALIANA/エリック・アリアナ
PETER SOLO/ピーター・ソーロー
In the 90s, he worked as a guitarist for Papa Wenba, Miriam Makeba, King Mensar and others, and in the 2000s, a Togo guitarist who led the French multinational band Kakaraco in France.

PETER SOLO/ピーター・ソーロー
CHANG JAEHYO/チャン・ジェヒョ
Jang Jae-Hyo (Korea)
CHANG JAEHYO (Korea)
One of the best percussionists in Korea who can express rhythm with tone, nuance, power and space, and a rare artist who continues to create original expressions using Korean percussion instruments. Developed global activities aiming to fuse traditional Korean music with various rhythms of the world. After working for "Puri" and "Vinalog", which have been active worldwide, he is now the leader of the "Sonagi Project" and has successfully performed in various parts of the world. As an actor and music director, I do not know that my talents such as appearing on the overseas stage remain.

CHANG JAEHYO/チャン・ジェヒョ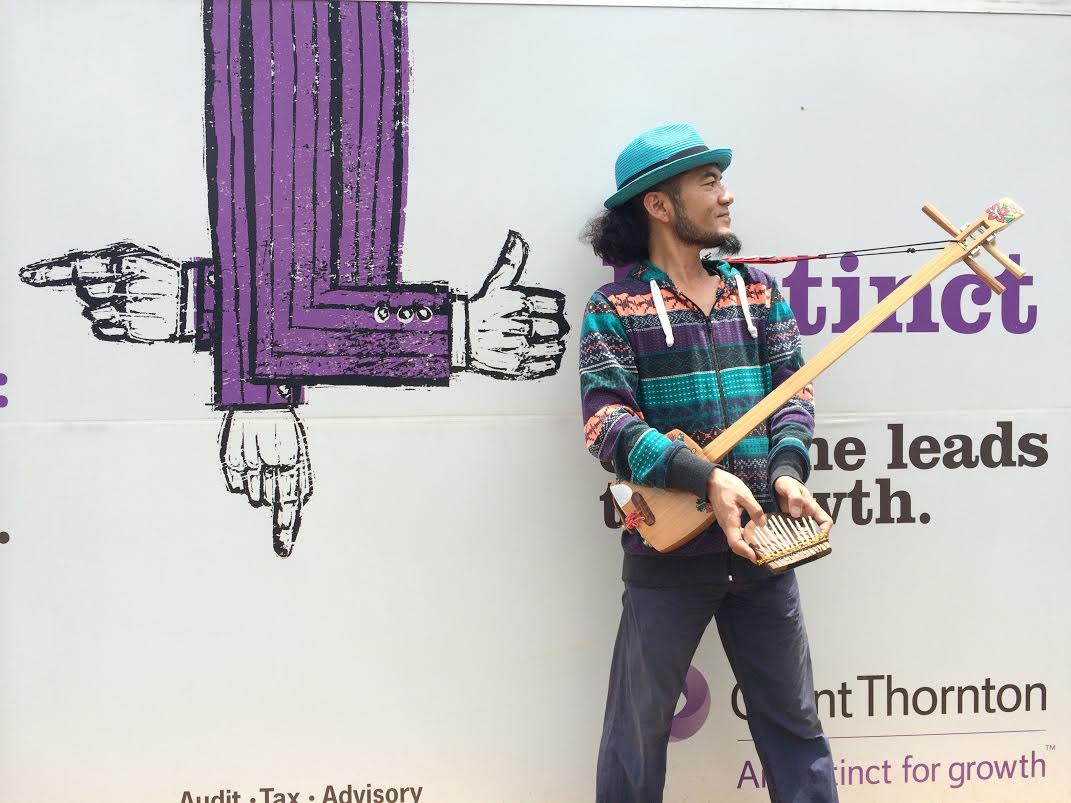 SAKAKI MANGO/サカキマンゴー
An African musical instrument / thumb piano and South Kyushu plate shamisen / Gottan performer. He majored in Swahili at university, and while he was practicing music in various parts of Africa, he opened up a unique world by electrifying traditional instruments independently. The activities were also introduced in French AFP and English BBC. He also worked on making music with local musical instruments Gottan and Kagoshima dialect. Last year, he performed with his band, Quattro Minimal, in nine locations in the Americas, including New York, Mexico City and Buenos Aires. In charge of theme songs for NHK "Delusional Japanese Cuisine" and MBC "Tegetegue".

● At Osaka University of Foreign Studies (currently Osaka University), majored in African regional culture and Swahili, and studied Tanzania thumb piano performance and tone. He studied Rimba in the late Fukuwe Zawose, who served as the principal performer of the Tanzanian National Dance Company, and Mbira in Zimbabwe's Garikai Tiricorti.
Even after graduation, he continued fieldwork related to thumb pianos, such as Electric Rikenbe (Democratic Republic of the Congo), Kalimba (Malawi), Rukeme (Uganda), and Cancobella (Zambia).

SAKAKI MANGO/サカキマンゴー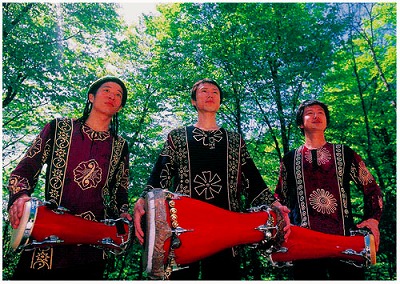 N'DANA/ンダナ
(African Percussion Unit)
Formed in 2001 in Hakodate, Hokkaido. Percussion unit by Yuto Kimura, Norihiko Yamakita, Kenji Mita. A percussion unit that plays original percussion instruments, as well as traditional African and Cuban music, as well as original Japanese songs. The rhythm that makes you want to dance, which is a feature of African music, and the chorus work that makes extensive use of [call and response] (interaction) are wonderful. 2001 [Japan archipelago longitudinal tour] from Hokkaido to Amami Oshima.
In 2002, a tour in Hokkaido was conducted with the group [Janagur] who came to Japan from Zimbabwe.
2003 Participated in [Indigenous Music Festival] in Taiwan as a back member of Ainu Music OKI.
In 2004, he toured Australia and the United States with OKI. Since then, he has been working nationwide based in Hokkaido.
*

N'DANA (Norihiko Yamakita / MASATO) mixi
Dongparaweb
Sound studio, Tsuchinoue
Tam-Tam lonlonke

N'DANA/ンダナ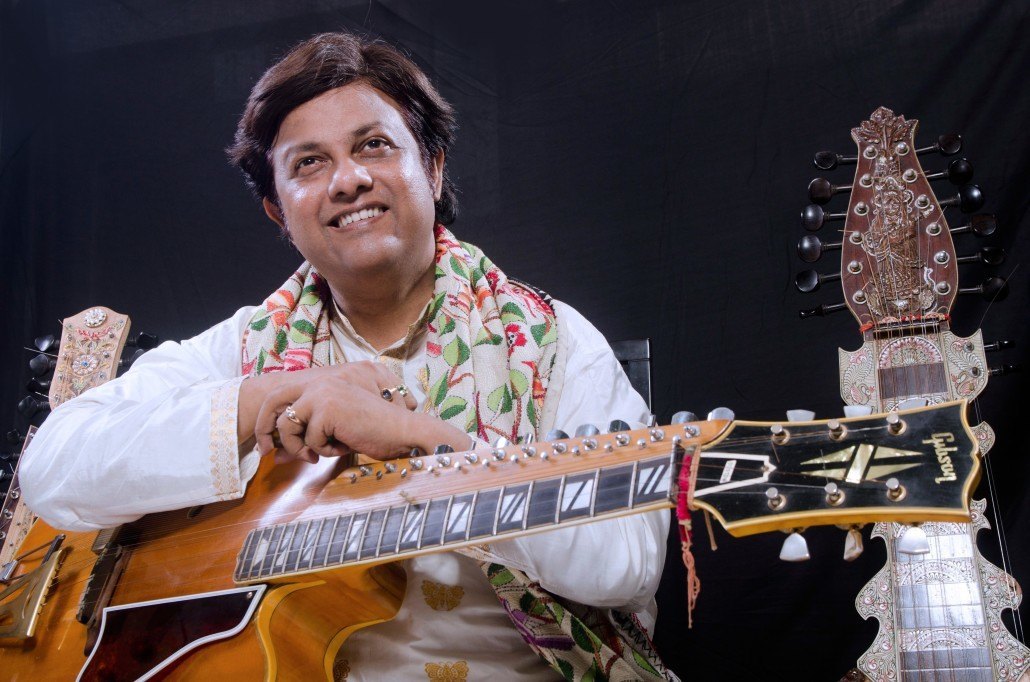 DEBASHISH BHATTACHARYA/デバシシュ・バタチャルヤ
New master of Indian classical music, Debasish Batacharya. Sula modified and developed by himself
Modern Indian classic with a flood of sounds reminiscent of sitars
Play music and originals with Gurungrun.

A thick 22-string guitar named "Chatrangi" or called "Anandi"
A traditional Indian instrument such as a four-string ukulele-type slide guitar, a Western guitar
Manipulate the original slide guitar that incorporates the features of. Sound, performance, visual
Al and eyes are wrong.
1984 Indian President's Culture Award, 2005 "Asiatic Society" Gold Medal,
Winner of the 2007 British Broadcasting BBC World Music Award.
2009 Grammy Award nominated as BBC Best Artist in the same year. From 2008,
It is appointed for CM of Kewpie Mayonnaise.

DEBASHISH BHATTACHARYA/デバシシュ・バタチャルヤ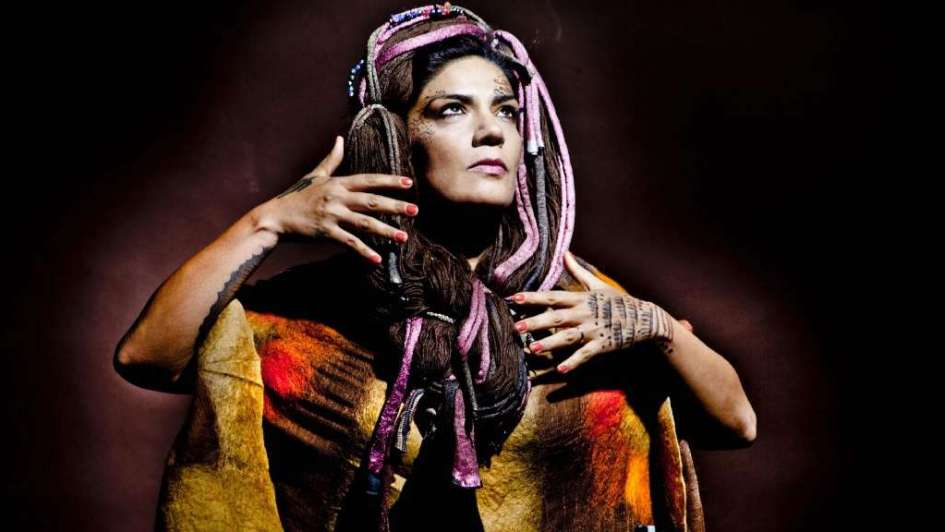 MARIANA BARAJ/マリアナ・バラフ
A female singer who has been active in the independent music scene of Buenos Aires since the 1990s.
Music that you want to call Argentine Folklore, or Roots Oriented Jazz.

MARIANA BARAJ/マリアナ・バラフ
KINGDOM-AFROCKS/キングダムアフロックス
Formed in 2006. Afro-beat band from Tokyo consisting of eight members with super-uniqueness, such as Senegal, Cuba, Brazil and New Orleans.
Along with Afrobeat's founder Blow Kuti, the legendary drummer Tony Allen, who supported the Genesis, performed live and on album and became the strongest Afrobeat band in Japan in terms of name and reality. , Established a unique style of music incorporating various elements such as Latin and rock.
In addition to outdoor music festivals such as `` FUJI ROCK FESTIVAL '', `` RISING SUN ROCK FESTIVAL '', `` SUNSET LIVE '', etc. from the beginning of the activity, also in various scene events such as `` TOKYO JAZZ CIRCUIT '', `` Gilles Peterson presents WORLDWIDE SHOWCASE '' Appeared and attracted the audience with stunning staging.
With many contacts from overseas music scenes such as Okayafrica sponsored by Giles Peterson and FRANCOIS.K and sponsored by QuestLove of The Roots, it is one of the world standard bands that has attracted the most attention in Japan.

4 albums will be released by 2014, and both will play an active role as a band leading the Japanese afro beat scene.
The final release of Zanpa JAM appearance in 2014 in Okinawa?
The curtain ends with about nine years of activity.

KINGDOM-AFROCKS/キングダムアフロックス

MOUNTAIN MOCHA KILIMANJARO/マウンテン・モカ・キリマンジャロ
A sprinting instrumental band. A super-attack type 6-piece that keeps respect for the manners and culture of the era, but does not stick to existing ones. Heavy Funk Force transforms all the audience seats into a dance floor, from domestic and foreign club scenes to outdoor festivals. A bold and elaborate musical approach based on the manners of soul music embodies a funk that penetrates black music for all ages, and is a new direction for instrumental funk.

MOUNTAIN MOCHA KILIMANJARO/マウンテン・モカ・キリマンジャロ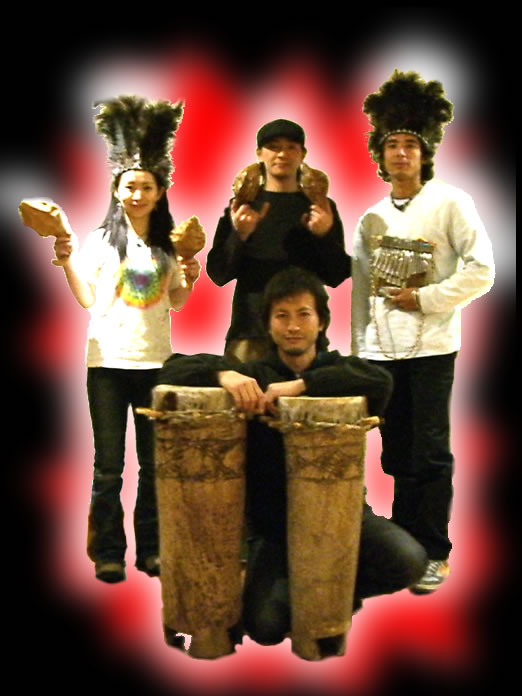 ROVAMBIRA/ロワンビラ
Afro J-POP band "Lowan Villa".
Formed in 2007 in Nagoya. Currently working with 7 people.

Afro J-POP band that makes full use of the national musical instrument "Nbira" from the Republic of Zimbabwe. Based on Zimbabwe's pop music and traditional music, it incorporates elements such as rock, reggae, and soul to create music that is familiar to Japan while having origins in Africa.

In addition to the band style with modern instruments, he also performs in the traditional acoustic style. In April 2009, we performed with Zimbabwean musician Lucen Pasipamire in Nagoya, Osaka and Yokohama. In the same year, a single CD "Speaking" was released.

Zimbabwe's traditional instrument, "mbira" (mbira), and a nice beat are comfortable.
I want you to listen to the music of Lowan Villa live.

ROVAMBIRA/ロワンビラ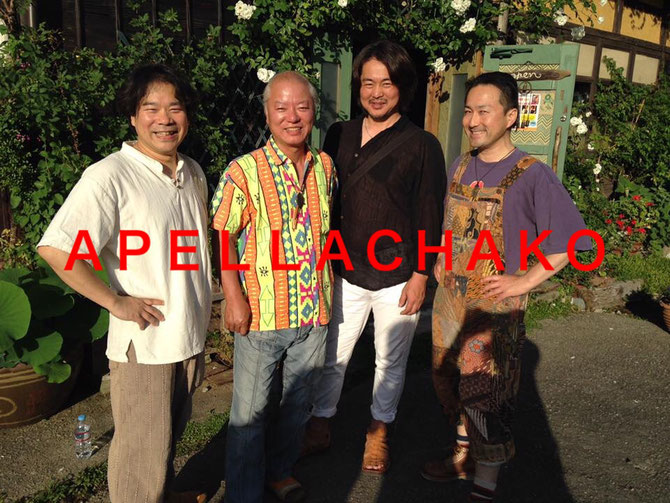 APELLACHAKO/アペラッチャコ
Aperachchaco (candlestick lighting in Ainu) was formed in 2000. An instrument group mainly composed of acoustic instruments. SASUKE (G) Shuji Yanaka (B) Rocket Makino (Ky) Yamadaben (Pr) members express a unique and unique world view with sounds. Live activities will be performed mainly in Toyama in Kansai, Kanto, Shikoku, Okinawa, New York, etc. 2008 Overhaul concert. Energetic activities such as live tour with Argentinian singer Maria Navaraf. Other members are working on various music scenes with domestic and foreign musicians. The long-awaited 4th NEW album from the 3rd album is "CHIKO" on vocals, and it is finished in the superb APELLACHIKO sound with more powerful and exciting African taste mixed!

Every Monday FM Imizu 79.3Mhz from 19:00 pm, the music program "Aperatcha Paradise" is being broadcast. Also available on youtube! !

APELLACHAKO/アペラッチャコ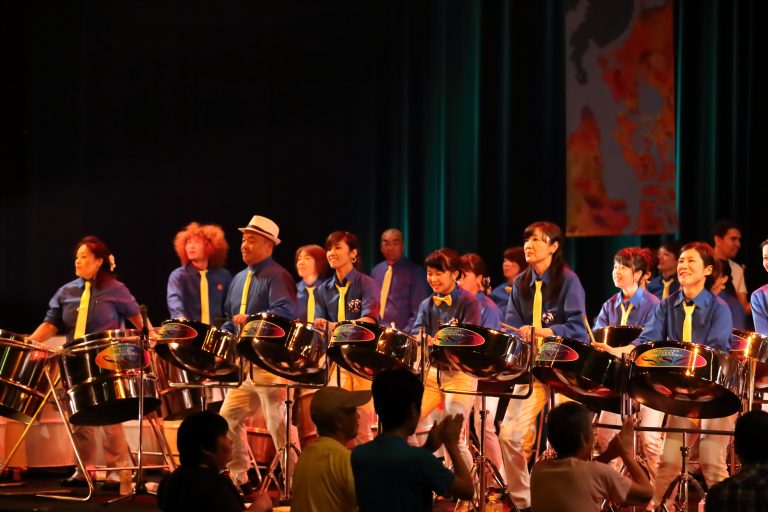 SUKIYAKI STEEL ORCHESTRA/スキヤキ・スティール・オーケストラ
Steelpan is born in Trinidad and Tobago, an island country floating in the Caribbean Sea, and is said to be the last acoustic instrument in the 20th century. It is formed by people who are fascinated by the tone that is so sweet and clear that you don't think it's made of drums. Members range from junior high school students to their 50s and families, and various occupations such as caregivers, childcare workers and carpenters gather. There is a reputation for a stage that is always conscious of "fascinating and listening", including choreography by music. Have a dedicated practice area (panyard) and improve your skills by improving your music every day. The 20th anniversary of its formation in 2015, it is not only the center of the Japanese scene with its high performance skills and expressiveness, but also a unique steel pan that has received high praise from the whole country for the achievement of steel pan in the region. ·orchestra.

SUKIYAKI STEEL ORCHESTRA/スキヤキ・スティール・オーケストラ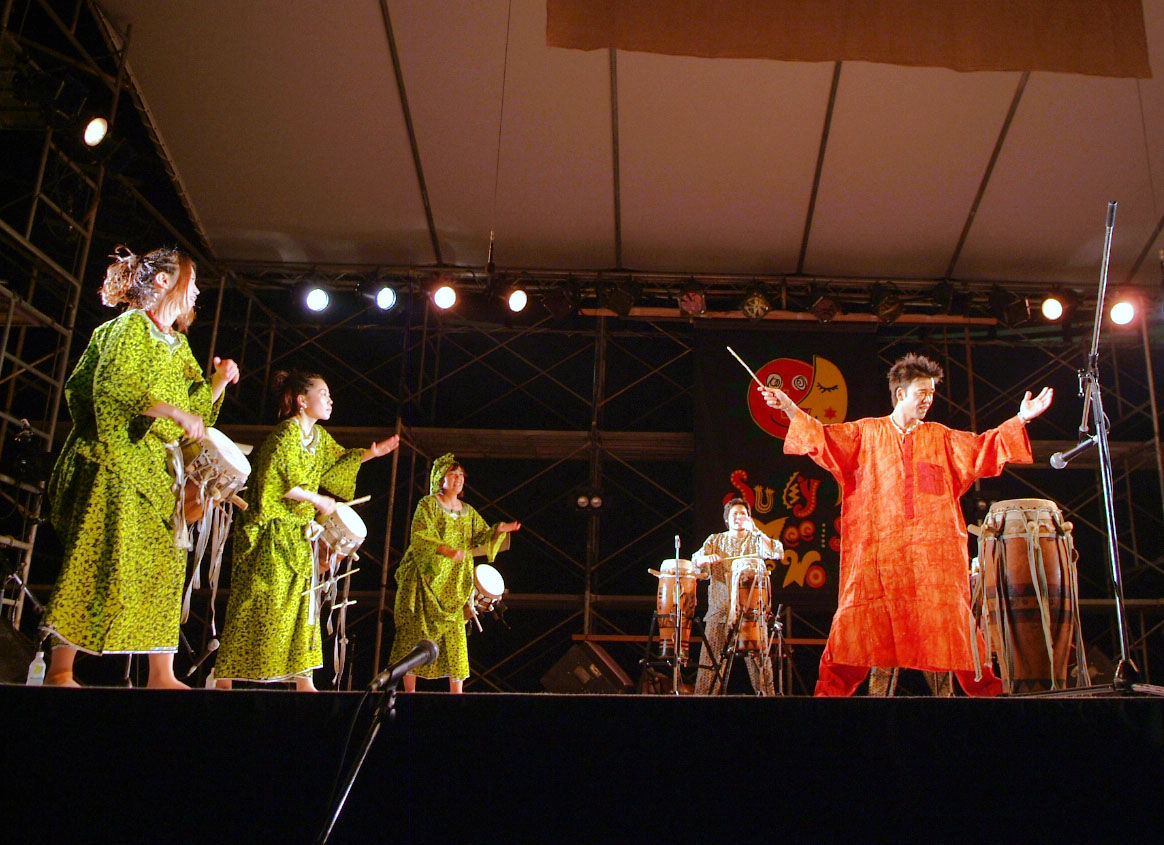 GOUY-GI/グゥイギ
A unique Senegal performing with hands and bees from Arona N'diaye Rose, the third son of Doudou N'diaye Rose, conductor of the percussion orchestra representing Africa Started activities in 2000 following the introduction of a traditional drum [Sabar] and a typical West African drum [Djembe].

The name of the band named Gouy-Gi, named in July 2001 by Arona, is derived from Senegal's word for "strong, energetic, life-dwelling wood baobab".

Currently, he promotes Savart through international exchanges, concerts and workshops through Senegal's music culture.

GOUY-GI/グゥイギ