Rock and Tasko Roll & The Captain Swing Music Event
room
Address
大阪府大阪市北区大淀南1-1-14
turned_in_not
Advance Sale
2500
turned_in_not
Tickets for today
3000
description
Event Details
Location
Umeda Shangri-La
OPEN: 16: 30 / START: 17: 00
ADV: 2500 / DOOR: 3000
[Date]
2015/10/10 [Sat] OPEN / 16: 30 / START17: 00

[Price]
adv ¥ 2,500 door ¥ 3,000 (both 1 drink separately)

【ticket】
Lawson Ticket (L code: 52305). Ticket Pia (P code: 271-454).

【band】
GAROTA
JUGGLING DUB'S
MOHIKAN FAMILY'S
Revili'O
Rock and Taskoroll & The Captain Swing
Trickster Goonies (Okinawa)
VOOOLLTA

[DJ]
Aji (A.J.sable)
NAKANO (Drink'em All)
SHINGO (ROYAL CROWN).
SHINJI (Rocket Launcher / Drink'em All)
TAKAO (GRUMBL)

description
Performer details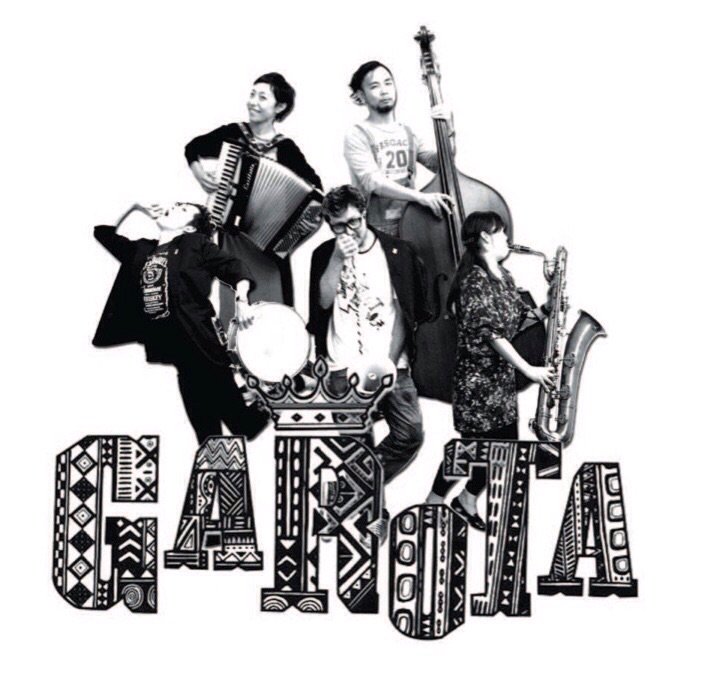 GAROTA/ガロタ
GAROTA .... 5 people formed in 2011
Girl in Portuguese and hanged in iron in Czech.
Based on gypsy and folk music,
Exotic alley, dim bar, breathing at midnight ...
Play the scenes and everyday life of the city with unique sounds.
A music brigade that travels by ear from Osaka.

 member
Eiichi Kishimoto ... guitar, vocal, turntable etc
Takaomu ... wood base, chorus, synthesizer etc
Ryohei Toda ... drums, chorus
Kayoko Matsumura ... Accordion
Shinobu ... Baritone Sax

GAROTA/ガロタ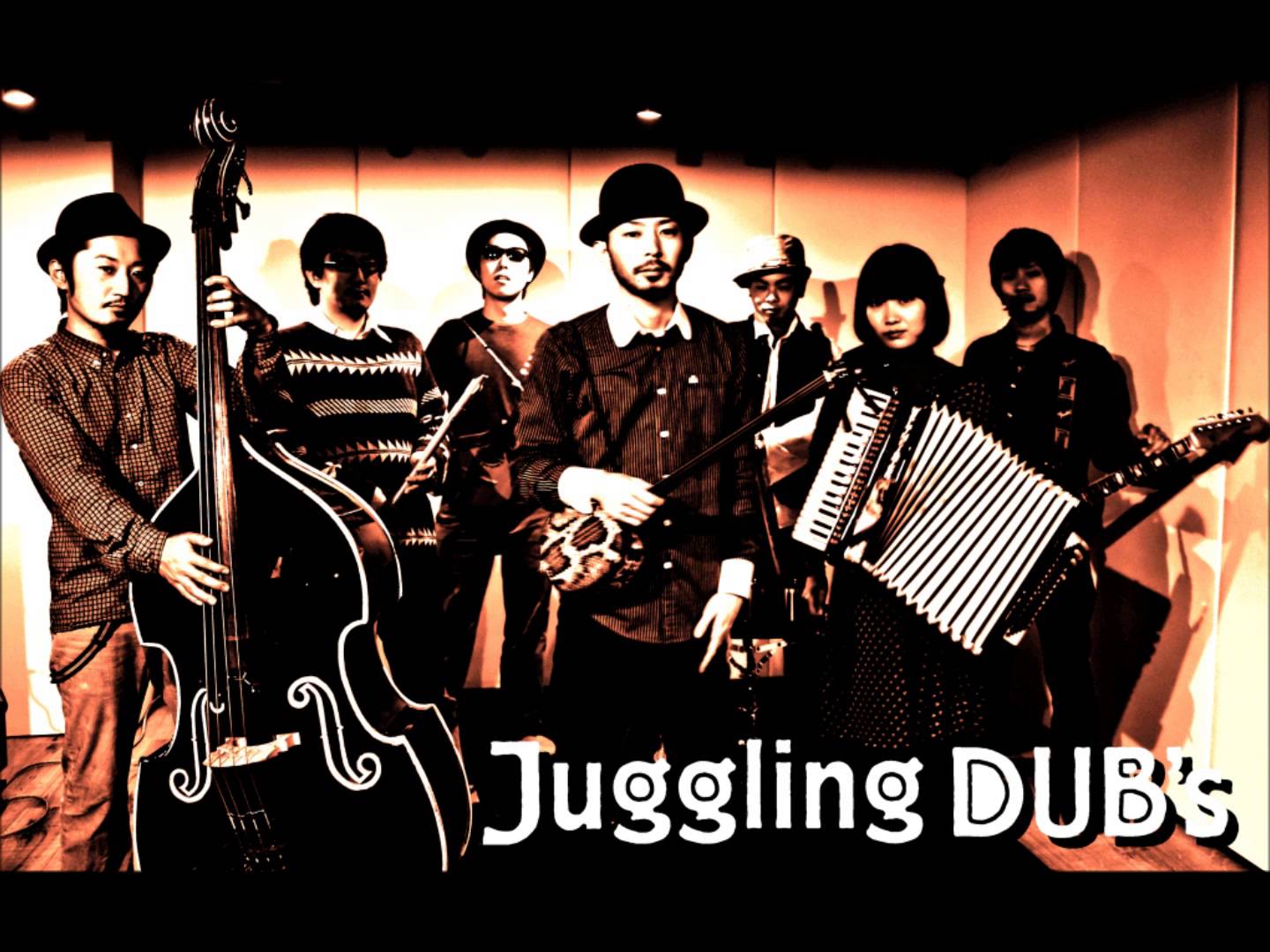 JUGGLING DUB'S/ジャグリングダブス
MEMBER
Vocal, Sansen: SHINYA YASUDA
Tin Whistle, E. Baggpipe: MASAHIRO AOKI
Accordion, Chorus: YUKO KATAYA
Guitar, Chorus: YU-KI SUGAHARA
W.Bass, Chorus: SINGO
Drums: MASATO HAYASHI


An omnidirectional lyrical acoustic band using traditional musical instruments such as sanshin, accordion, mandolin and tin whistle.
Activities started in 2008.
So far, the 1st single "Moonlight of the moonlit night / melody with wind" (2009) and 2st single "Treasure Island / Haguretori" (2010) have been announced.
With the singing mind in mind, we aim to be a progressive music while incorporating various music styles such as world folk songs, traditional music, blues, rock and pop, with Irish and Okinawan music as the axis.

JUGGLING DUB'S/ジャグリングダブス

Revili'O/レビリオ
A folk rock band based on Irish, Old American trad and Alt.Country.
There are basically six members, but the organization is often changed by live performances.
With a small number of people, the rustic and earthy atmosphere has been pushed to the front, and the activities of 6 people are differentiated.
By the way, there are wide differences in age and place of residence among members.
Formed in 2012 after predecessor JAD, Thy County.
In 2011, two people, Takeshi Nohara and Jun Kanno, originally made songs and performed live performances. In the spring of 2012, Kiri Mochida and Daisuke Yamazaki (both former JAD) joined.
Taking this opportunity, the band is officially named Revili'O. The etymology is coined by Nohara.
A few months later, I happened to meet Daiki Takagi (former Haggis) who happened to meet after a live in Osaka, and joined on the spot.
For a while, he was active in the organization without percussion instruments, but soon after entering 2013, Masanori Yamamoto called out after performing at the Irish Pub. Join as it is.
To the present.

Revili'O/レビリオ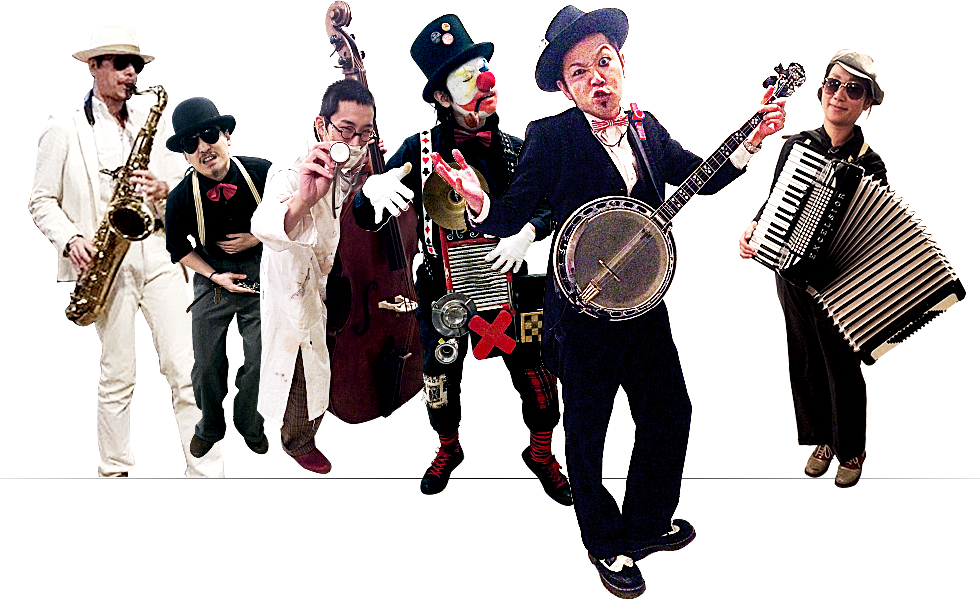 ロックンタスケロール&ザ・キャプテンスウィング
A clown flies out of the circus hut and sings.
Vaudville is a funny and entertaining mix of roots and future.
Once you have all the taste and taste of fine sake and music, the showtime starts!

Using acoustic instruments such as banjos, washboards, and clarinets, the 1900-born jug band style has been completely renovated in a modern style, and has been developed into a liquid food that can be enjoyed gently by infants and the elderly!
Eventually, a gangster circus band raised in Osaka who plans to make space food!

Founded in 2003 with the idea of ​​Tasukeroll.
Since then, while repeating various encounters and farewells, he has been doing about 100 shows a year and has released 4 original CDs so far. 6 omnibus participation.
Since 2015, he has planned and held the annual big circus music show "OSAKA HELL'S CIRCUS".
From the personal birthday party to the year-end party of companies and organizations, the appearance of FUJIROCK FESTIVAL (2009/2014), and the national anthem singing in the professional baseball game (at Kyocera Dome Osaka / 2013) Regardless, always looking for big opportunities with tiger vision!

Where will it appear from tonight, and smiles will disappear?

Let's sing with your tears hidden tonight.
The rock circus team from the hell, Rock and Tasko Roll & The Captain Sweeung! !

■ Member

Taskel (Vo.Banjo.)
Mr. Pano (Washboard)
Demon Monster (T.Sax)
Keigo (Clarinet / support)
Dr, Site (Woodbass / Support)
Iori (Accordion / irregular participation)

ロックンタスケロール&ザ・キャプテンスウィング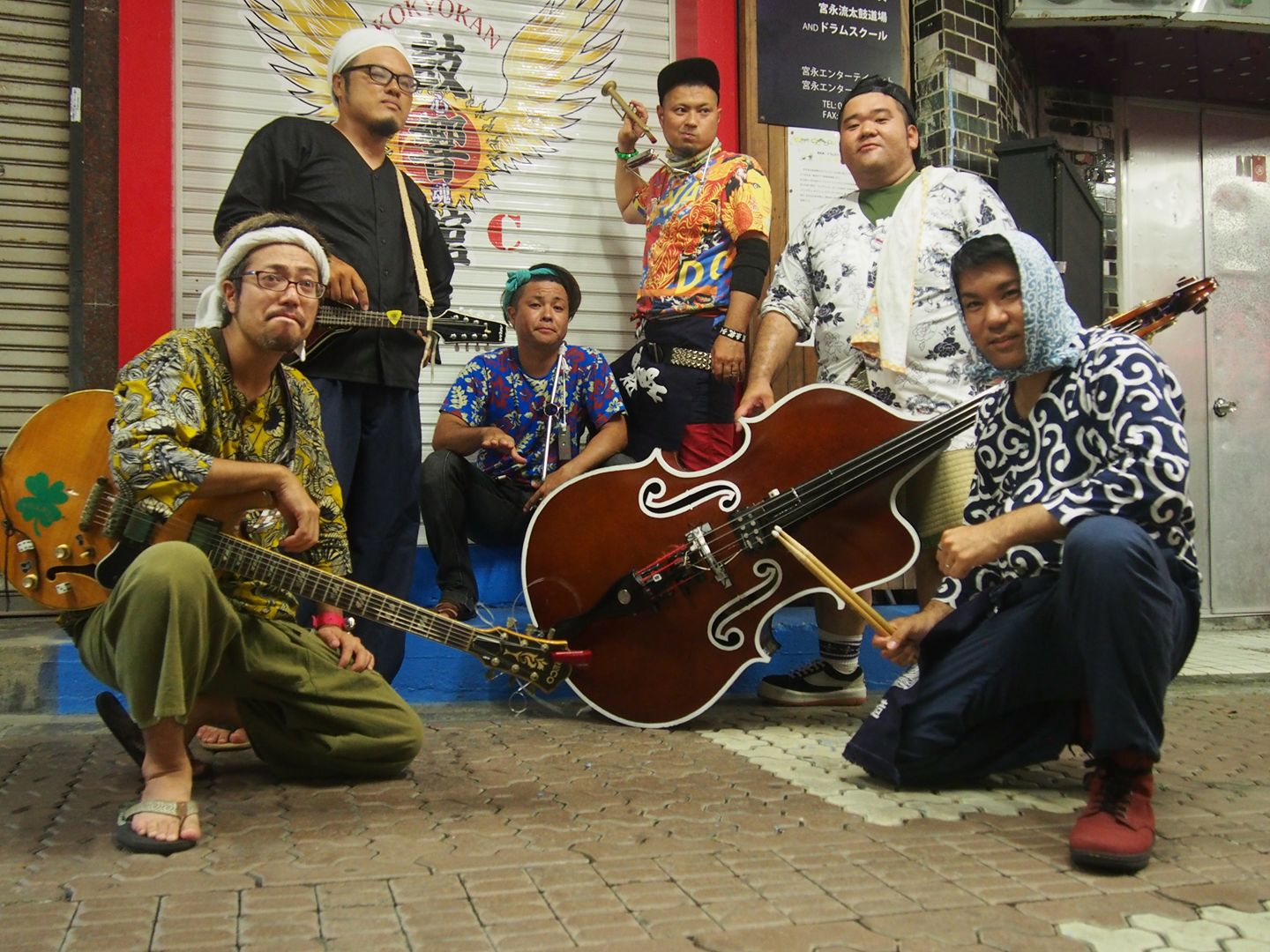 トリックスターグーニーズ
trickstargoonies
 
Formed in 2007. I will be active in a punk style, but gradually change to a style that incorporates rockabilly, rustic, etc. into a punk.
The indigenous existence of wood bass, banjo, mandolin, guitar, trumpet, and standing drums, with vocals that emphasize performance over songs, is also drawing attention in the Okinawan indies world.
 
Co-starring with artists from outside the prefecture and overseas, nursery / city hall, and collaborating with strips and SM shows.
In 2011, the first sound source "The Best" was released.
Appeared in Tokyo Rustic Jamboree at "Shinjuku Loft" in 2011 and 2012.
In 2014, she appeared at the Peaceful Love Rock Festival 2014.
 

Curry: Vocal Mandolin Banjo
Ken: Vocal guitar, abacus
Satori Penn: percussion, kazoo, whistle, wood base (rehab)
Yokomi: Trumpet, Flute (during childcare leave)
Yoshiki: accordion, whistle, washboard
Hero: Cocktail Drum
Shanghai: Wood base

トリックスターグーニーズ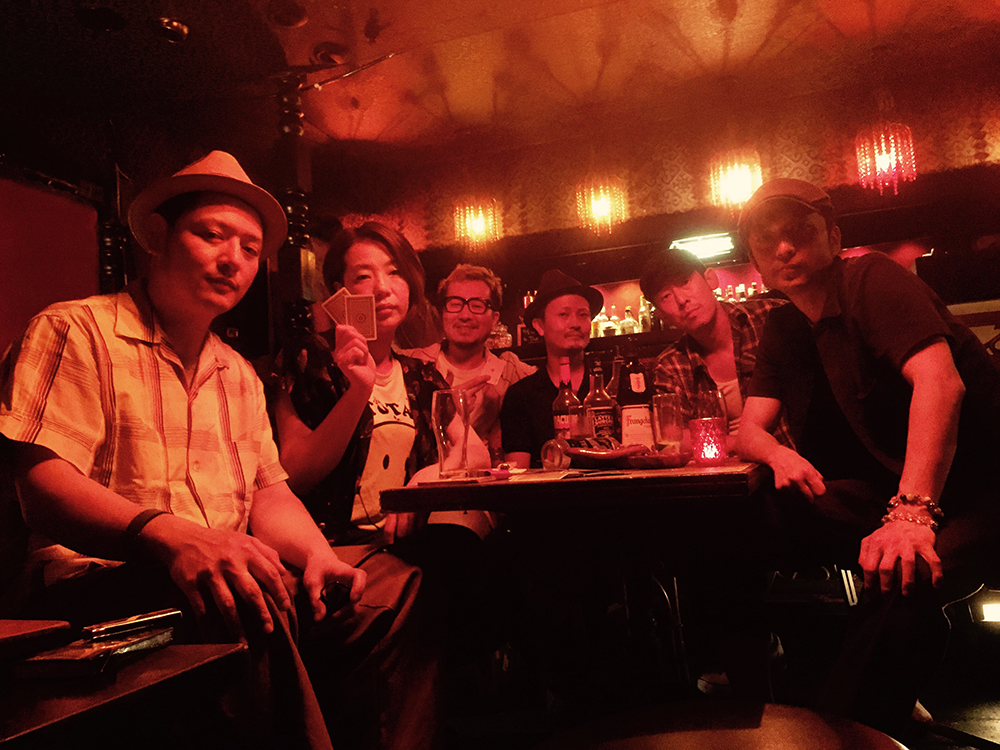 VOOOLLTA/ヴォールタ
2015 formed. An avant-garde, world-class rustic band formed from members based in Osaka and active in different fields.

Vocal: Takeshi Okada (ex.Classic Chimes)
E.Guiter: Eiichi Kishimoto (Garota)
Violin: REN (Accovio)
G.Guitar: KEISUKE (Mohikan Family's)
WoodBass: Koichi Tsutsushita (Sweet Hollywaiians)
Drums: KATSU (Mohikan Family's)

VOOOLLTA/ヴォールタ