room
Address
大阪府大阪市東成区中本1-11-14 ギャレ緑橋
turned_in_not
Advance Sale
1500
turned_in_not
Tickets for today
2000
description
Event Details
Location
Sengoku President
OPEN: 17: 30 / START: 18: 00
ADV: 1500 / DOOR: 2000
MOHIKAN FAMILY 'S
YAHMAN BAND
Naked picture cards
THE Cigars
GANG ★ SKA ★ STERS
THE DISTORTION BABYZ
Really SKA !?

description
Performer details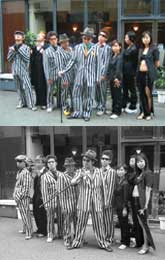 GANG★SKA★STERS/ギャングスカスターズ
In 2003, he gathered at the call of Vo Sonic to establish RUDY CITY in Osaka, which is raging. Eight black cats who are crazy tonight SKA BATTLE LIVE !!

VO: Sonic A.K.A
GT: MATUDA
GT: TEDDY
BS: 隼
DR: PO-3
T-SAX: Earl
TB: Dorami
TP: MAIKO
[Thanks to ...]
SAX: MAY
Dr: KAZ & YABE
◆ Key: Jama
Bagpipe: show!

GANG★SKA★STERS/ギャングスカスターズ