Omnibus release commemoration event of drink M oar
room
Address
東京都新宿区歌舞伎町1-12-9タテハナビルB2
turned_in_not
Advance Sale
2000
turned_in_not
Tickets for today
2500
description
Event Details
OPEN: 23: 30 / START: 23: 30
ADV: 2.000 (+ 1D) / DOOR: 2.500 (+ 1D)
DJ:
・ Drink'em All (SHIGEKI / INAOKA / YAZAKI / FUMINN / MILKY / TOBITA / NAKANO)

[HP] http://www.drinkemall.com/
[Twitter] http://twitter.com/KILLERSTOMP
[BLOG] http://ameblo.jp/drinkemall/

・ Shinji (ROCKET LAUNCHER)
・ WHO (Chibikko ★ Gang)

Band:
・ Caballero Polkers
・ GOOFY KINGLETS
・ MOHIKAN FAMILY'S
・ OINK
・ Rock'n'TASUKE'Roll & THE CAPTAIN $ WING
・ Banquet main office
・ Space people
・ Wakaba
・ ▲ s
and… .. ???
・ BLUEBELL WORK-SHOPPERS

SHOP:
・ BEAT.F.P.G / HIGH FIVE SYNDICATE
・ MEZLAD PSYZYE
・ RIDICULE


RUSTIC STOMP. IRISH. COUNTRY. GYPSY. BALKAN. KLEZMER. CARIB. LATIN. BASQUE. MESTIZO. OLD TIME JAZZ ...
NEW WAVE OF WORLD MUSIC for YOUNG PUNK GENERATION


"V.A. / KILLER STOMP" Now On Sale !!!
* Venue limited "Drink'em All Goods" sold at the event venue !!!

TICKET INFO:
Drink'em All drinkemall2001@gmail.com
LOFT store 03-5272-0382
2/1 ~ ON SALE !!!!!


1. This performance is not open for those under the age of 18 and who are still in high school.
2. ID check is performed at the time of admission. Please bring an ID with a photo of your face and your date of birth.
(Driver's license / student card / employee card / passport / taspo / basic photo issued by a public institution such as Basic Resident Register Card B)
Please bring an ID with a photo of your face.
Commuter passes / membership cards are not accepted. If you do not have a photo ID issued by a public institution on the day of the performance,
Please note that you cannot enter.
3. The sale of tobacco and alcohol to anyone under the age of 20 is strictly prohibited.

description
Performer details

CABALLERO POLKERS/キャバレロポルカーズ
Active in Tokyo (Shinjuku, Shibuya, Shimokita). However, when called, the weapon is the lightest footwork going anywhere in the country. Rustic-stomp band with mandolin, bouzouki, banjo, accordion, wood bass and drum organization.
Stir the elements of folk music such as Irish, Gypsy, Middle East, Mestiso and so on!

CABALLERO POLKERS/キャバレロポルカーズ

GOOFY KINGLETS/グーフィー・キングレッツ
A world music mixture band based in Niigata.
Instrumental band.
Incorporating elements such as big beats and punk into folk music such as Andean, Celtic and Uyghur music.
In addition to the guitar, bass, and drums, the mandolin, whistle, synthesizer, etc. are played by changing each song.
Produces and plays music based on the theme of "smelly inorganic music" and "music that makes you want to travel".

GOOFY KINGLETS/グーフィー・キングレッツ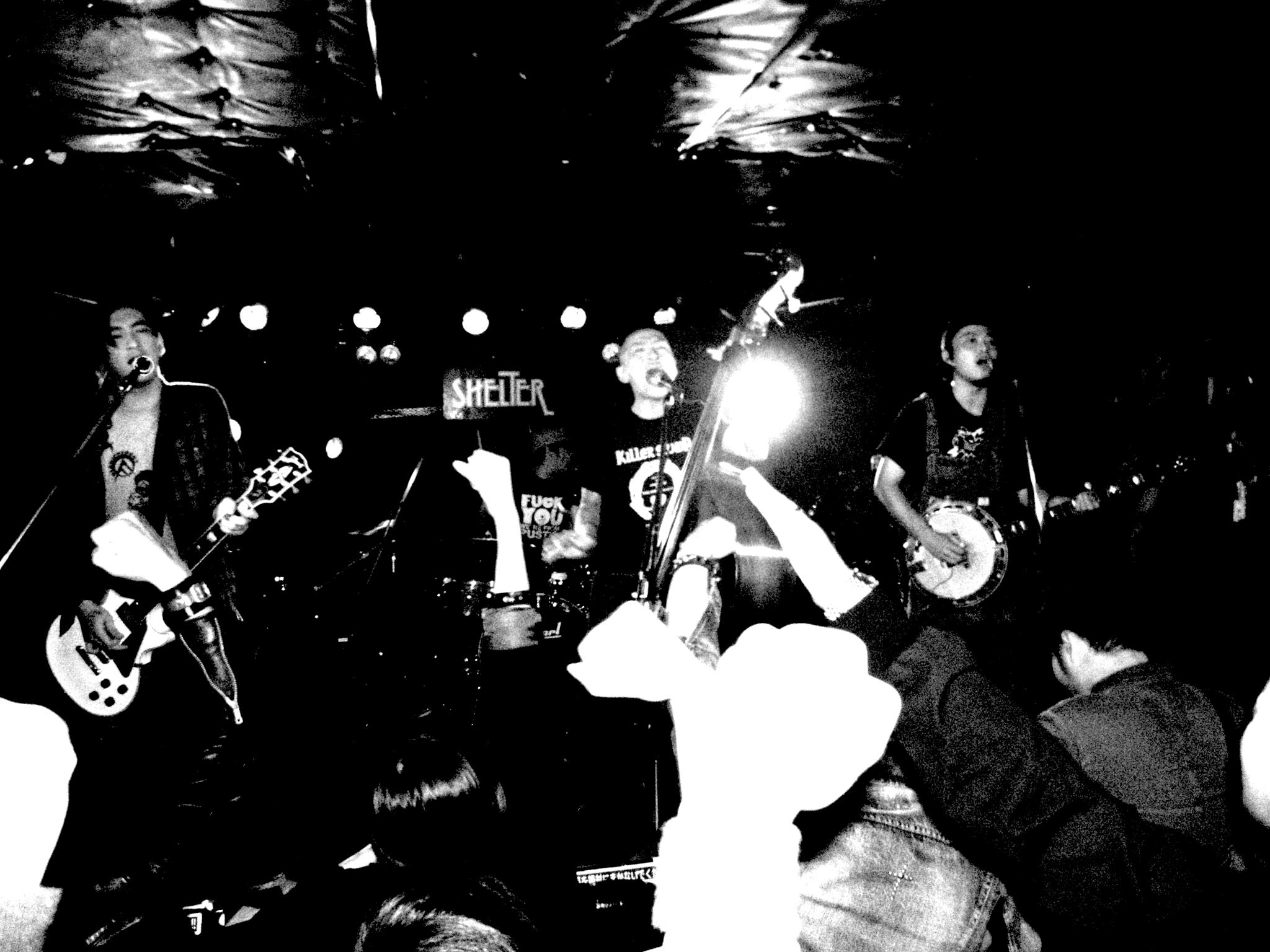 OINK/オインク
Yoh: vo & bass
So-Ne: drums
Sugi: guit
Kishi: banjo & bagpipe

In 2004, after the release of V.A "ROTAR ARE GO vol.3" (Rumbaral Rec) 7inch "Date / Monto" (Galactic), the Acoustic & Traditional Corps left.
Participated in 2005 V.A "Green Anthem" with three pieces of bagpipes. Participated in V.A "RUSTIC STOMP2009" in 2009 after further member changes.
Participated in V.A "Never trust a friend" (DIWPHALANX RECORDS) in 2010! The first album "RIN-KAKU" is also released from DIWPHALANX RECORDS! !
National tour with a rustic singalong number!
The last live of 2014.10.05 was dissolved.

OINK/オインク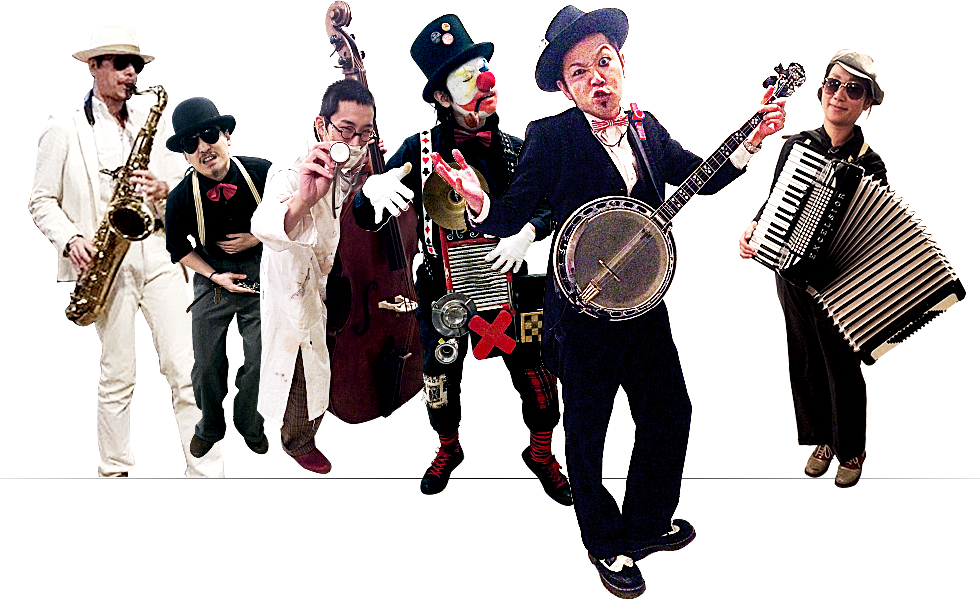 ロックンタスケロール&ザ・キャプテンスウィング
A clown flies out of the circus hut and sings.
Vaudville is a funny and entertaining mix of roots and future.
Once you have all the taste and taste of fine sake and music, the showtime starts!

Using acoustic instruments such as banjos, washboards, and clarinets, the 1900-born jug band style has been completely renovated in a modern style, and has been developed into a liquid food that can be enjoyed gently by infants and the elderly!
Eventually, a gangster circus band raised in Osaka who plans to make space food!

Founded in 2003 with the idea of ​​Tasukeroll.
Since then, while repeating various encounters and farewells, he has been doing about 100 shows a year and has released 4 original CDs so far. 6 omnibus participation.
Since 2015, he has planned and held the annual big circus music show "OSAKA HELL'S CIRCUS".
From the personal birthday party to the year-end party of companies and organizations, the appearance of FUJIROCK FESTIVAL (2009/2014), and the national anthem singing in the professional baseball game (at Kyocera Dome Osaka / 2013) Regardless, always looking for big opportunities with tiger vision!

Where will it appear from tonight, and smiles will disappear?

Let's sing with your tears hidden tonight.
The rock circus team from the hell, Rock and Tasko Roll & The Captain Sweeung! !

■ Member

Taskel (Vo.Banjo.)
Mr. Pano (Washboard)
Demon Monster (T.Sax)
Keigo (Clarinet / support)
Dr, Site (Woodbass / Support)
Iori (Accordion / irregular participation)

ロックンタスケロール&ザ・キャプテンスウィング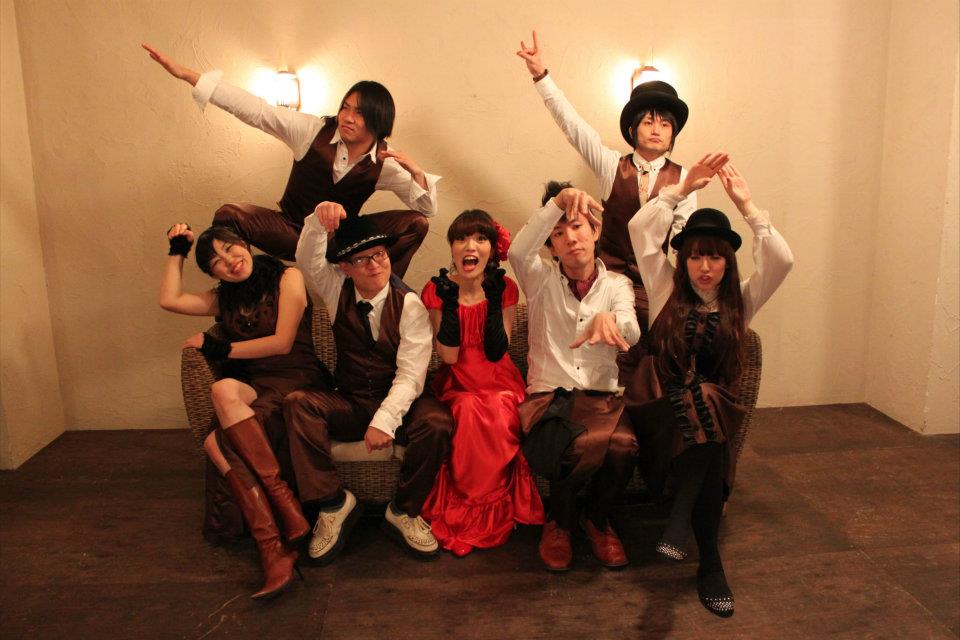 宴屋本舗
Formed in 2007

SKA, rock steady, Latin, jazz etc. based on Japanese folk songs
Swallow elements of all genres and keep moving forward

Matsu / Ba
Gobo Demon Tea / Gt
keico / As, Cla
Saru / Vo
Akira Kubo / Dr
∀ ○! / Ts
Tatsuya / Tp

宴屋本舗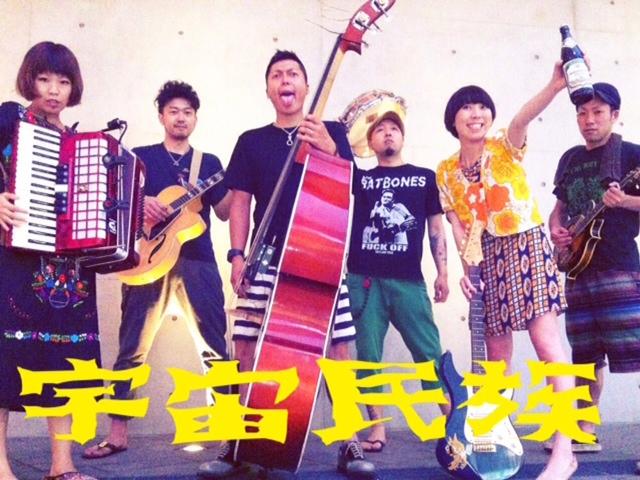 宇宙民族
A rustic stomp band based in Akita, composed of vocals, mandolin, accordion, tin whistle, wood bass, guitar, piano and drums.

宇宙民族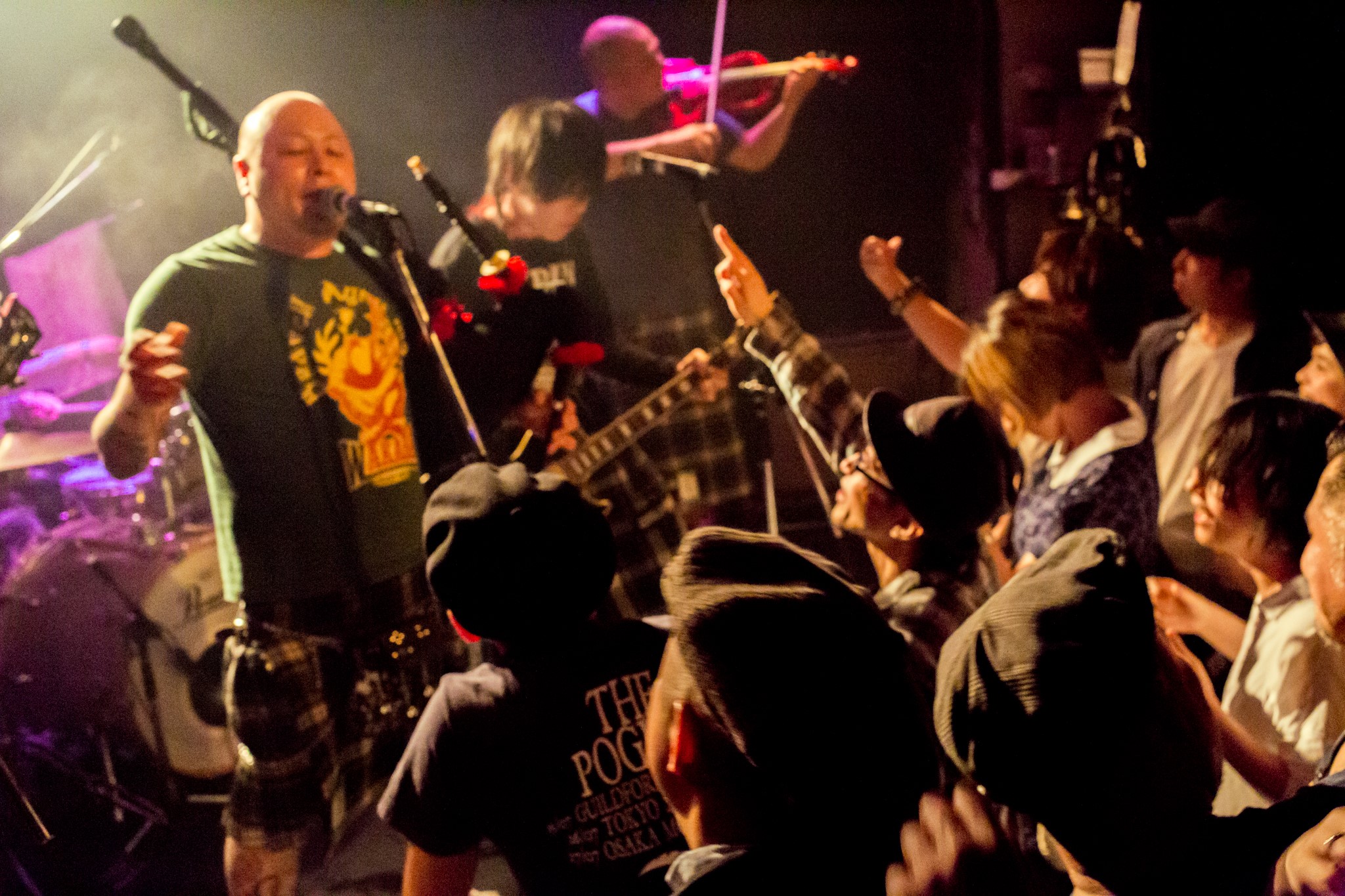 若葉
"Moeizuru, the color of young leaves, beautiful"
Rustic, Ska, Scottish, Oi !, PUNK, and even Chin Dong!
This is their traditional art! Really CRAZY TRAD! !
A feast of banquets with music that you can't help dancing without singing!

Formed in 2003
January 2011
The song "poro-pet" will be selected as the 2011 Consadole Sapporo Official Support Song

若葉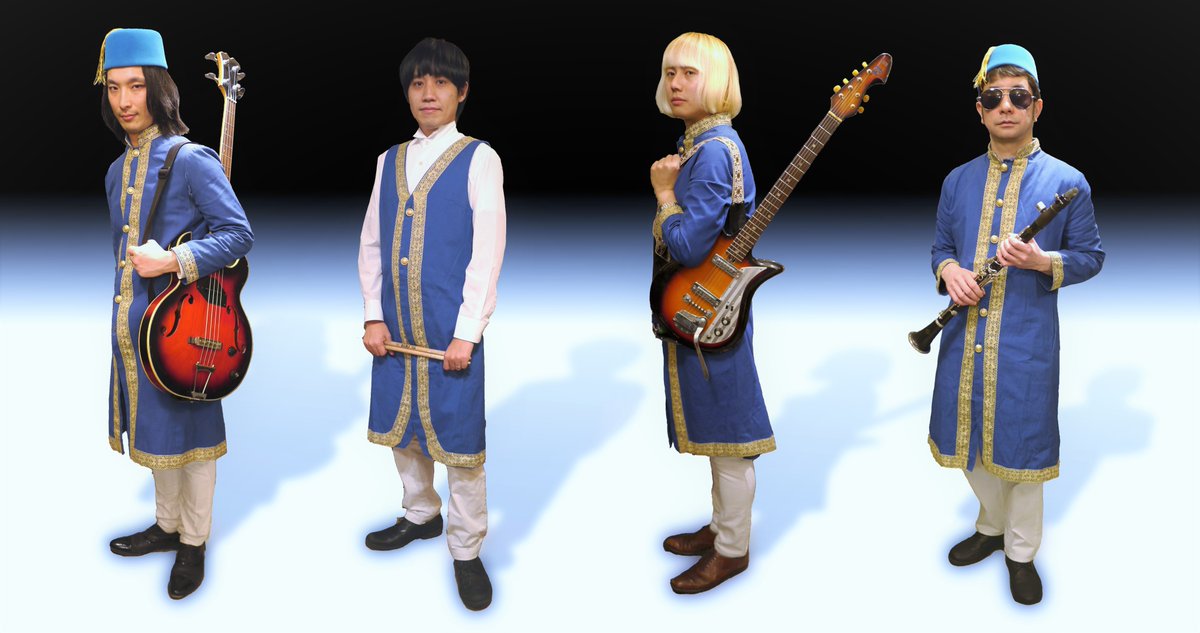 ▲s/ピラミッドス
Started in 2009, the Japanese gypsy band Pyramids. Summer Sony 2011 appearance.
Two successful Vulcan live tours in 2012 and 2014.
NHK BS1 "El Mundo" appeared in Greek national TV program "Fotis & Maria".
Playing the world's fastest and most progressive Vulcan music with a unique arrangement.

▲s/ピラミッドス