Wild Rover will appear in 2020!
room
Address
東京都渋谷区 円山町1−8
turned_in_not
Advance Sale
4500
turned_in_not
Tickets for today
5500
description
Event Details
St. Patrick's Day
THE WILD ROVER
3/22 (sun)
clubasia / VUENOS / Glad / LOUNGE NEO
Simultaneous holding of 4 venues

OPEN & START 14:00
Ticket adv.4500yen (excluding drinks) / door.5500yen (excluding drinks)
Electronic ticket benefits
※ JAMESON T-shirt present (When the wristband is exchanged on the day of the event, the first 200 people are limited!)
Pass Market (electronic ticket)
Error while parsing data!
STORES (electronic ticket)
Error while parsing data!
Lawson ticket (L code: 73000)
e + @ http: //eplus.jp/

◆ U-22 split
Those under the age of 22 can enter for 1000 yen (excluding DRINK) by presenting a student ID card or identification card with a face photo at the reception.
Please note that cashback is not available after wristband exchange.
◆ Irish citizens can enter for 1,000 yen (excluding DRINK) by presenting their passport or residence card at the reception.
Please note that cashback is not available after wristband exchange.
We are offering a special discount for Irish Citizens! Entry is only ¥ 1000 when you present your Passport or Alien Registration Card as proof of Nationality at the door!

BAND
--clubasia--
JUNIOR
LEARNERS
Mutsumi Yanagi & THE RAT BONES
JOHNSONS MOTORCAR
THE RODEOS
MOHIKAN FAMILY'S
Pinch of Snuff

--VUENOS--
16TONS
Young leaves
The € rexionals
CABALLERO POLKERS
The Emmanuelle Sunflower
TANA⚡︎GATA

--Glad--
THE TOKYO LOCALS
Codex Barbès avec Akino Arai‬
Puddle D'Addle
Zydeco Kicks
videobrother
GOOFY KINGLETS

--LOUNGE NEO--
SuperBears
camp
Eskimos
TADPOLE SPLASH
Moret attack

--Performance--
BAGPIPE BLASTOS

--DJ--
THE WILD ROVER
(HIDETO / KAKEI / YASU)

--GUEST DJ--
INAMI (Tokyo London plan)
MICCYAN (FRANTIC BROWN BEAT!)
YOSSY (NEVERTRUST)
OKADA (Original John)
Sakapo (Ueno's Rock and Roller)
Reiko (BRACES SOUL CLUB)
KONPEX (Salud !!)
NAKANO (Drink 'em All)
DJ Uncleowen
YAGI (PLEASURE SPACE)
BU $ HI (PLEASURExSPACE / CRUNX81)
Shiobara Ippe (Version City)
Keita Matsuzaki (FiVE)
shima (Alegre)
mina (TOO.MUCH.XXX)

Support
Embassy of Ireland

Cooperation and support
Kirin Diageo Corporation (GUINNESS, BAILEY'S)
Pernod Ricard Japan Co., Ltd. (JAMESON)
Irish Network Japan
NEVERTRUST
Original John
Uncleowen
Clam-Bake
MOONSTOMP
Irish Pub THE CLURACAN

Notes
■ Free entry and exit at each venue.
■ Because all venues are held at the same time, it is not possible to see all the performers.
■ Entrance restrictions will apply if the number of guests exceeds the capacity of each venue.
■ Exchange tickets and wristbands at the wristband reception desk from 13:00 on the day of the performance.
■ When replacing wristband, drink fee ¥ 600 will be charged.
■ You cannot accumulate on roads, facilities, etc. around the venue. Follow the instructions of the staff.
■ Entrance order will be on a first-come, first-served basis at each venue after wristband exchange.
■ Exchange of wristbands on the day may be crowded. Please exchange as soon as possible.

description
Performer details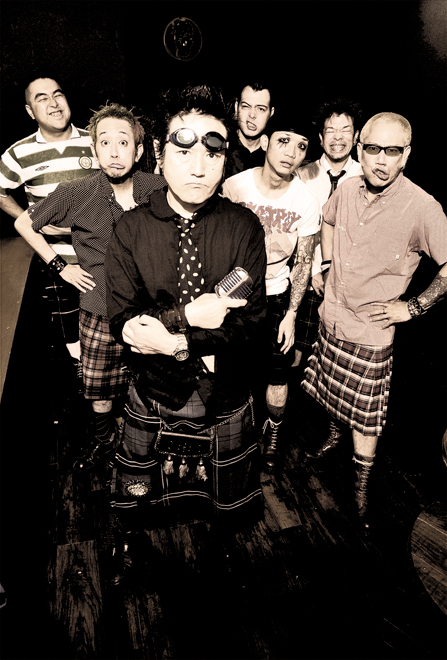 JUNIOR/ジュニア
Formed in 1996.

A pioneer who boldly incorporates Irish music taste in Japanese punk rock.

A fascinating world where one song and one song written in Japanese on Irish folk and Scottish folk melody and delightful melody are depicted as a story with a story.

Pay attention to the world of lyrics drawn by vocal KAZUKI! Add stage and sound!

Plays a variety of unusual instruments such as bagpipe, accordion, tin whistle (Irish whistle), bowlon washboard, banjo, mandolin, etc. on the existing band form, and all members wear themselves in quilt skirts Wrapping colorful and fun, sometimes awkward, adults and children (a lot of children come to the live venue) is a must-see live!

Celebrating the 20th anniversary of this year's formation, participating in events such as Shinjuku LOFT One-Man and various events, and working actively at their own pace!

JUNIOR/ジュニア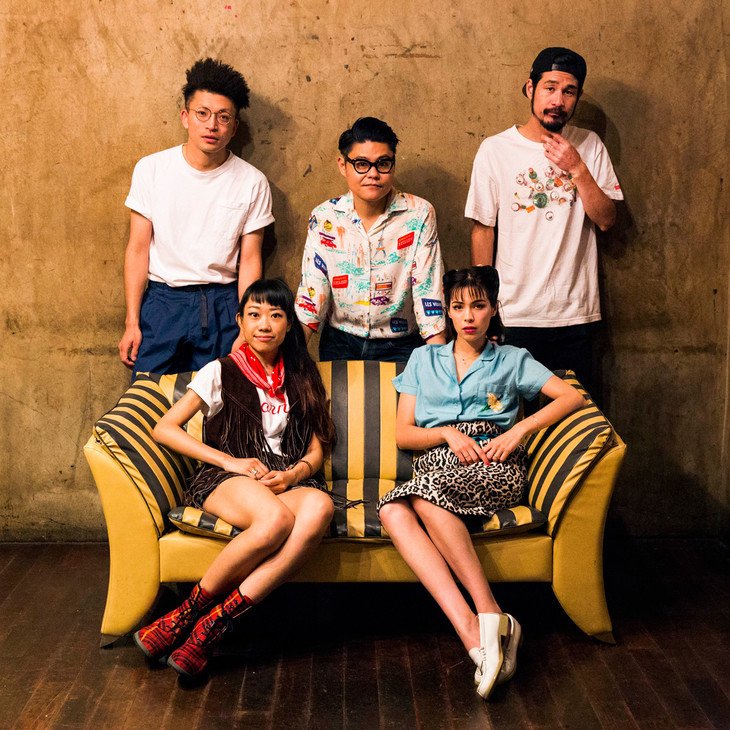 LEARNERS/ラーナーズ
LEARNERS is a five-person rock and roll band that has evolved from a unit to model and singer Mandala Marie and Matsuda "CHABE" Takeji.
In June 2015, after collaborating with BLACK LIPS, etc., Taichi Furukawa, Masamitsu Bashama and Chie Horiguchi were invited as members to start a full-fledged band.
Error while parsing data!

LEARNERS/ラーナーズ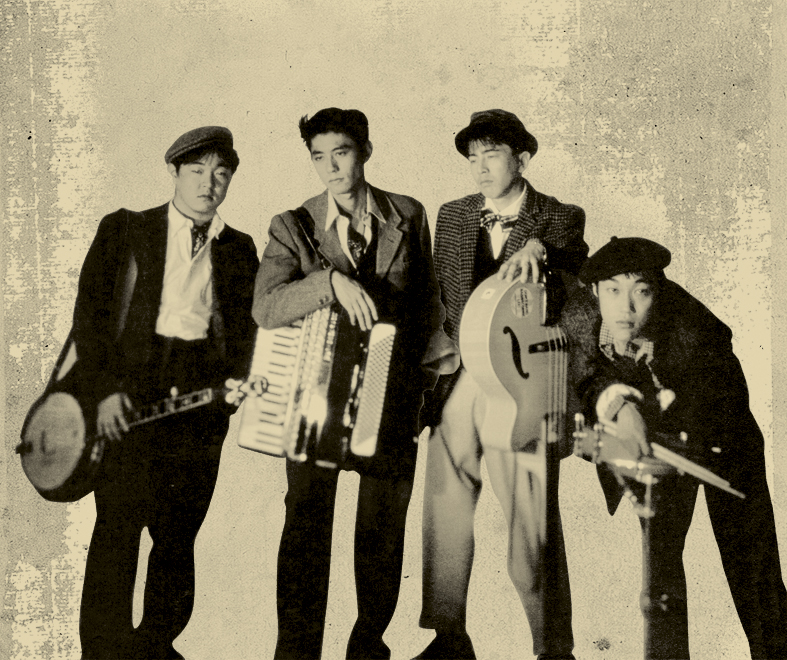 16TONS/シックスティーン・トーンズ
1986 16TONS formed. 1989 "Adventurers" released from UK label Edison.
1990 "Mountain Christmas" release from UK project.
1991 Epic Sony released "16TONS", major release, 1992 2nd album "SURF" released. Moved to MCA Victor and released "Skater's Waltz" in 1993.
1994 7inch single "Psycho Boogie Woogie" 1996 album "GET THE TONS" released from UK project.
2008 16TONS reorganization label "Adventurers" reappears from LOVE 2 SKULLS.
In 2013, the label CHAOS & ANARCHY released "16TONS with ally" as a "16TONS with ally" label, and released a 7-inch record "Rentan Locomotive" CD album "Safari" CDsingle "Last Birth and Darkness".
On March 26, 2017, THE WILD ROVER reunited with members of 1st ALBUM for the first time in 20 years.

16TONS/シックスティーン・トーンズ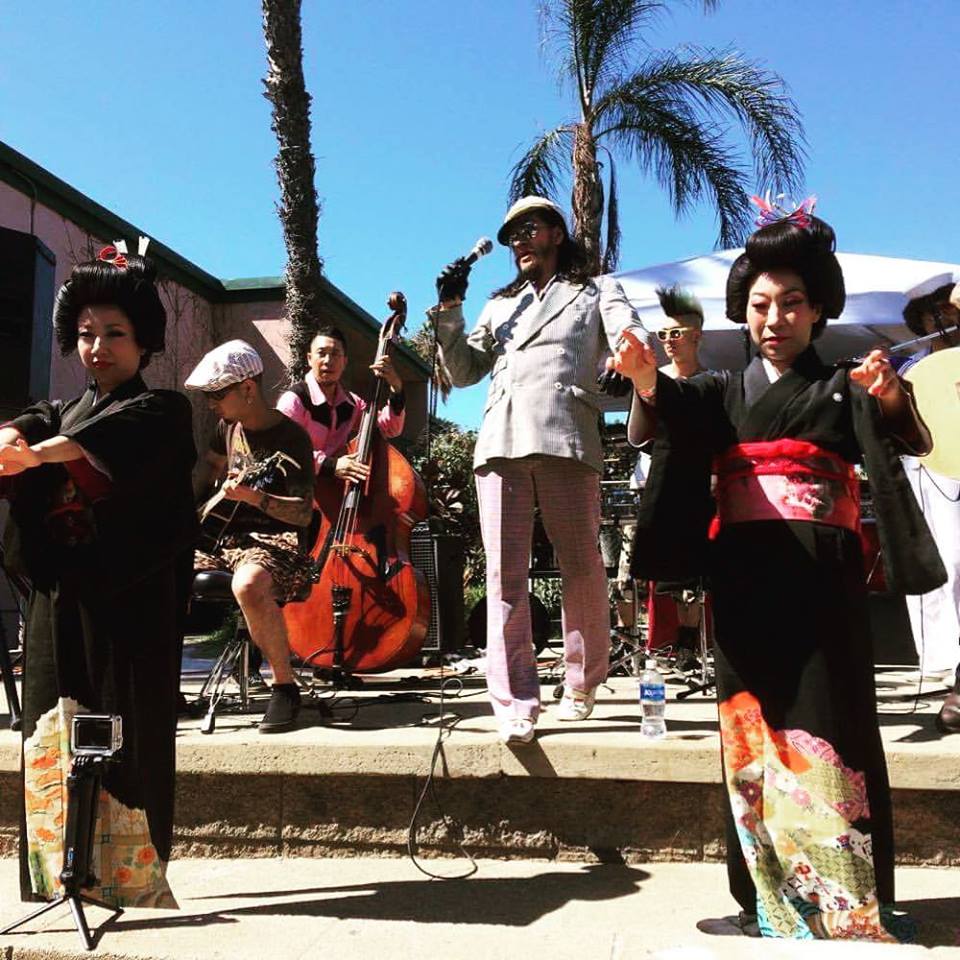 柳家睦&THE RAT BONES/ヤナギヤムツミ・アンド・ザ・ラットボーンズ
Outlaw folk! Japanese-style mestizo! Japanese-style Latin mood core song.
Samba style-Motown style-Bossa nova style-Latin style, rock and roll, rock fork, rockabilly etc
The latest Japanese style rock 'n roll that brushes up the music around here ...

柳家睦&THE RAT BONES/ヤナギヤムツミ・アンド・ザ・ラットボーンズ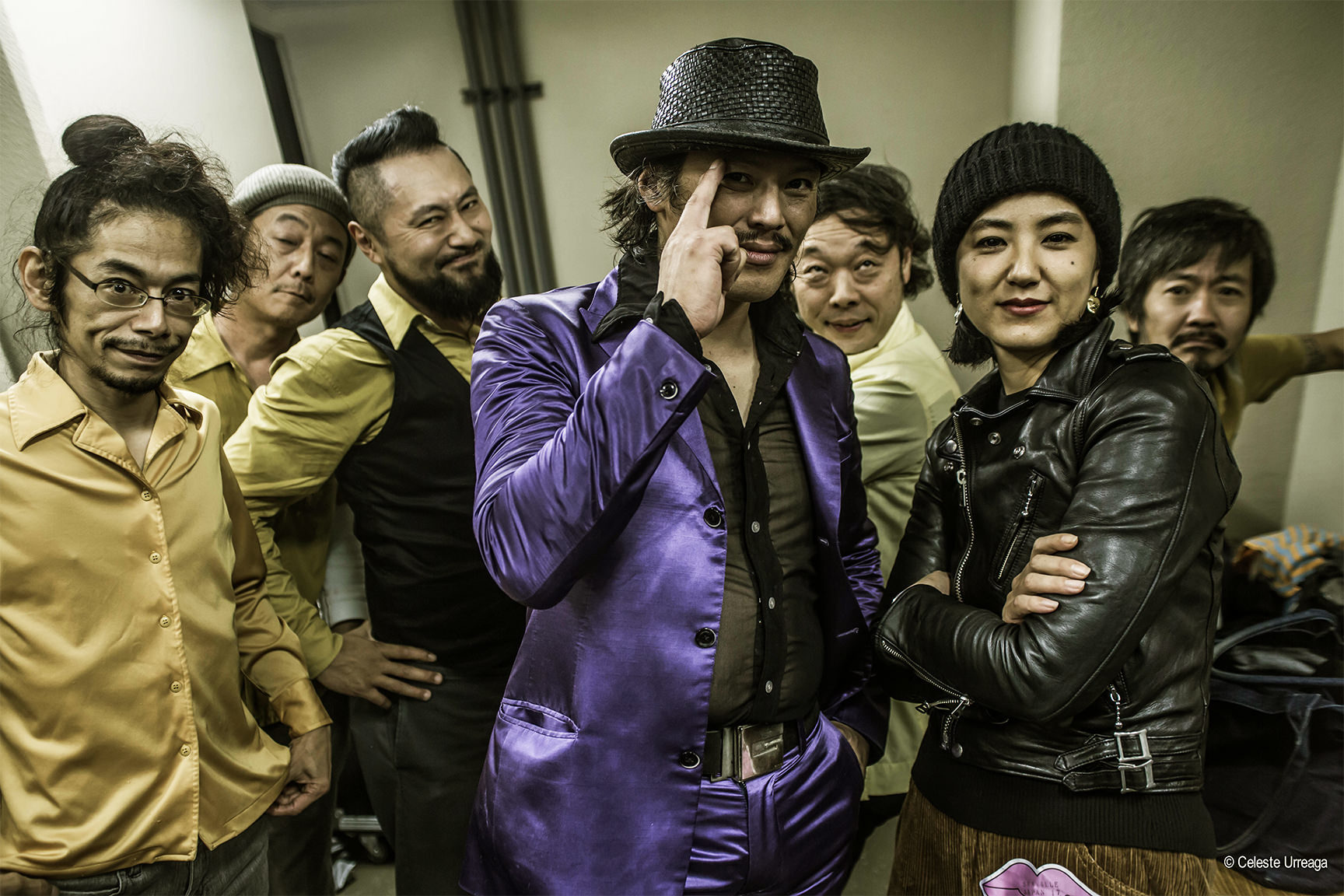 THE TOKYO LOCALS/トーキョーローカルズ
LUI BLUESFACE forms THE TOKYO LOCALS through THE HAIR and THE LOCALS
To members

Vocal LUI BLUESFACE
Drums Hasegawa Naoya
Guitar Isao Tsukamoto
Guitar Ippei Shimizu
Harp HIROKING

Support Member
Bass MAH
Wood Bass Toneero


Guerrilla activity in search of freedom and BLUES and freedom in the city of Tokyo.

THE TOKYO LOCALS/トーキョーローカルズ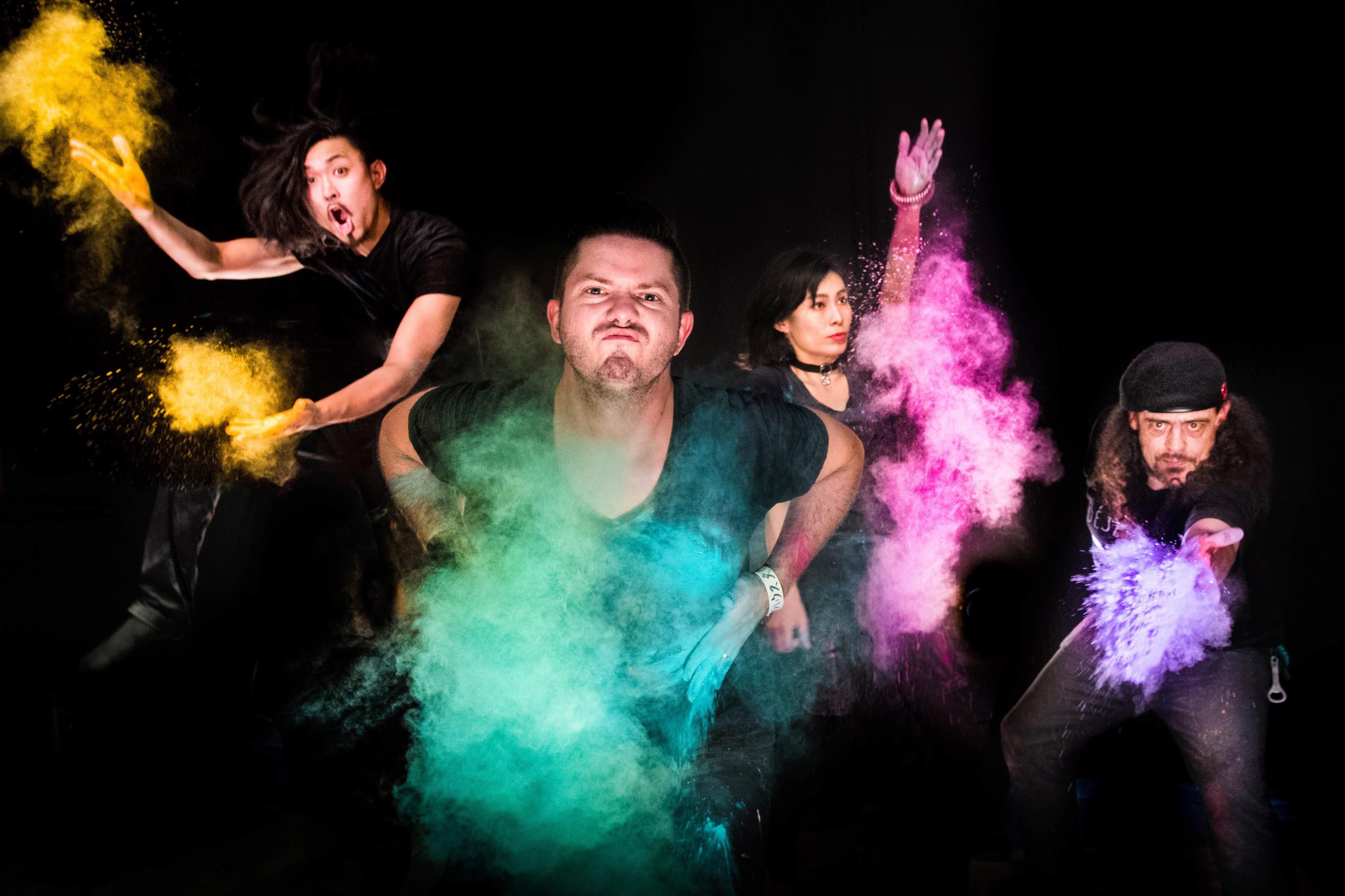 Johnsons Motorcar/ジョンソンズモーターカー
BLACKO: GUITAR / CHORUS
MARTIN: VIOLIN / VOCAL
RINAMAME: DRUMS / CHORUS
COLEMAN: BASS / CHORUS

American MARTIN who grew up in a music family and Scottish blood and a cheerful and pure liquor-like Irish BLACKCO, Australian COLEMAN with a quiet appearance and punk spirit behind it, a small but powerful Japan that binds big men Man woman RINAMAME. "Johnsons Motor Car" is a multinational band born in Tokyo that combines these four super personalities. They blast out on the stage with a celtic, gypsy tic, and free traditional rock that mixes many traditionals! Even a girl, a grandmother, a working bartender, a kitchen chef, and dancing with the music of a Johnson's motor car will undoubtedly dance with singalong! !
 
Released his first full album "Hey Ho Johnny !!" in 2014. In addition to activities at the live house, he has appeared in many festivals including FUJI ROCK FESTIVAL. From the spring of 2016, the drum RINAMAME will be maternity leave, and BRAHMAN's RONZI will temporarily participate as a support drummer. The second full album "ROCKSTAR CIRCUS" will be released in spring 2017.

Johnsons Motorcar/ジョンソンズモーターカー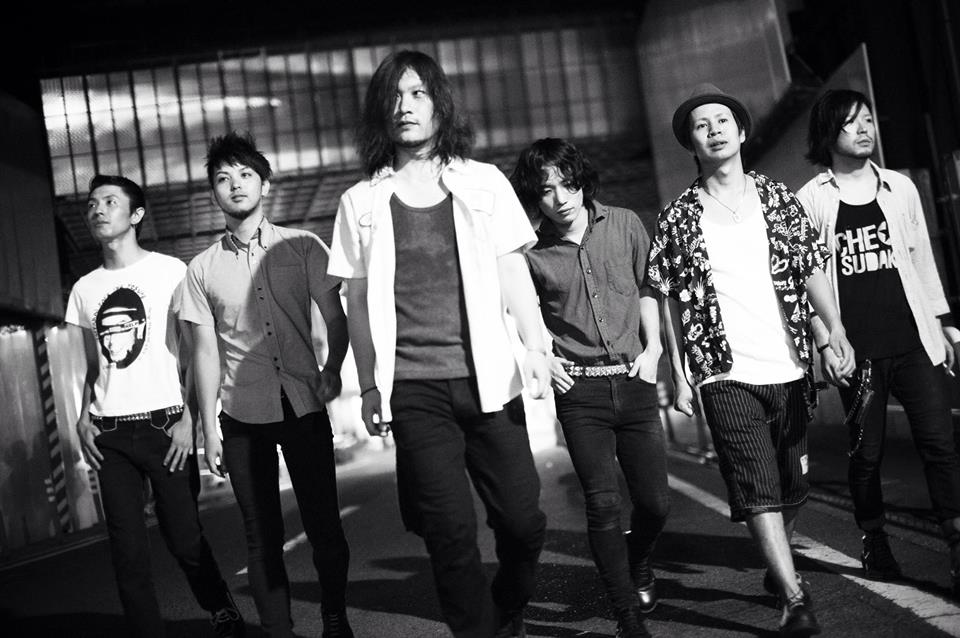 THE RODEOS/ザ・ロデオズ
THE RODEOS, a combat level music band that slams Russian folk, Irish, Mestiso, Gypsy, Ska, etc. into punk rock!
Singing, dancing and rampaging sound that combines punk rock and roots music.
Lyrics that make you feel like you are crying, vocals that shout like squeaking, and political nuances, but with life-size and sincere messages.
There is no doubt that there is THE CLASH in the roots, level music that blood will boil if you listen

THE RODEOS/ザ・ロデオズ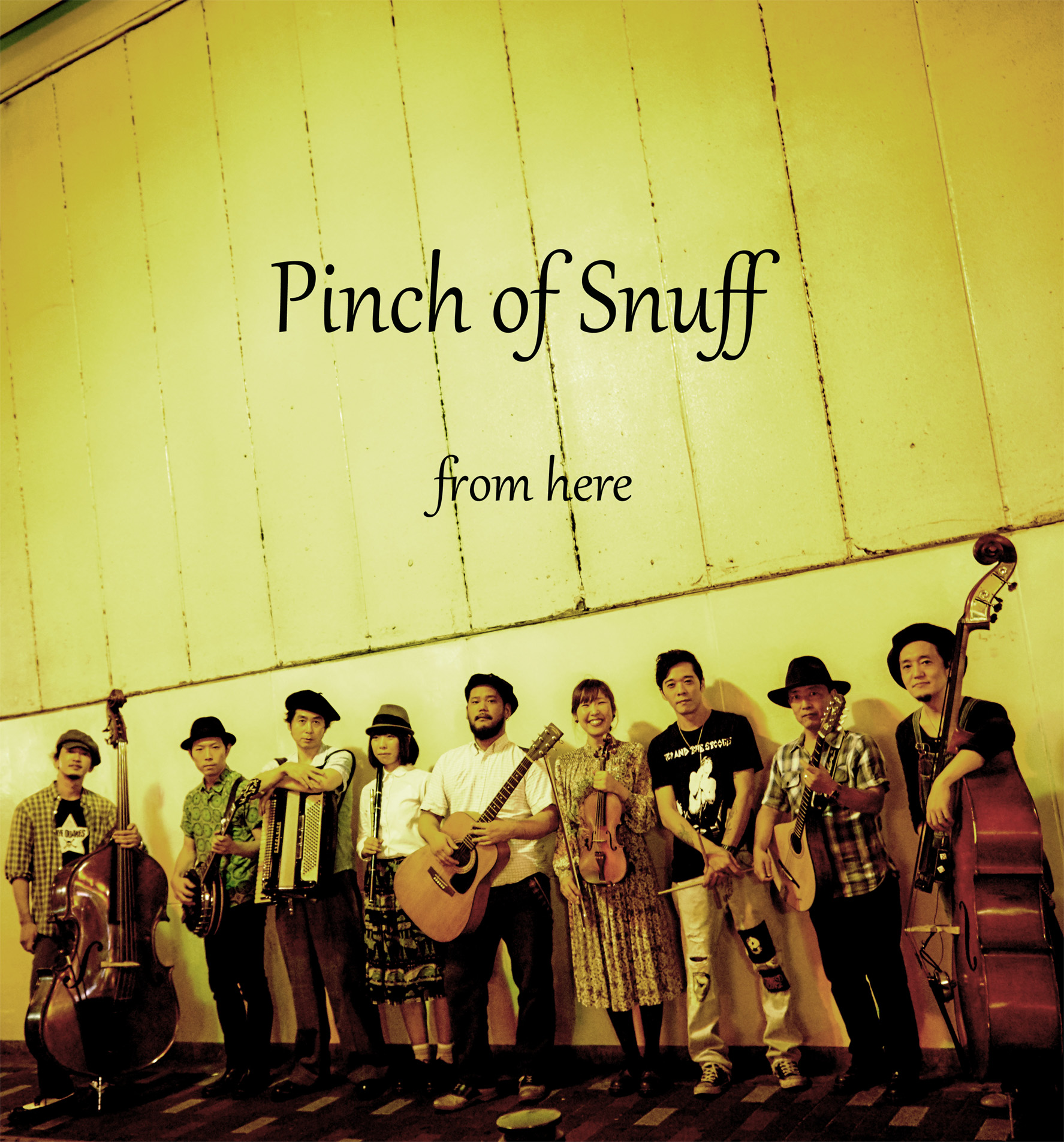 PINCH OF SNUFF/ピンチ・オブ・スナッフ
Pinch of Snuff is a mixed mix of Irish traditional music
A street band based. Members are Irish Bouzouki
Such as fiddle, tin whistle, accordion and banjo
It is a lively and sorrowful organization, and will be the first in February 2017
1st full album "from here" with 14 songs will be released.

PINCH OF SNUFF/ピンチ・オブ・スナッフ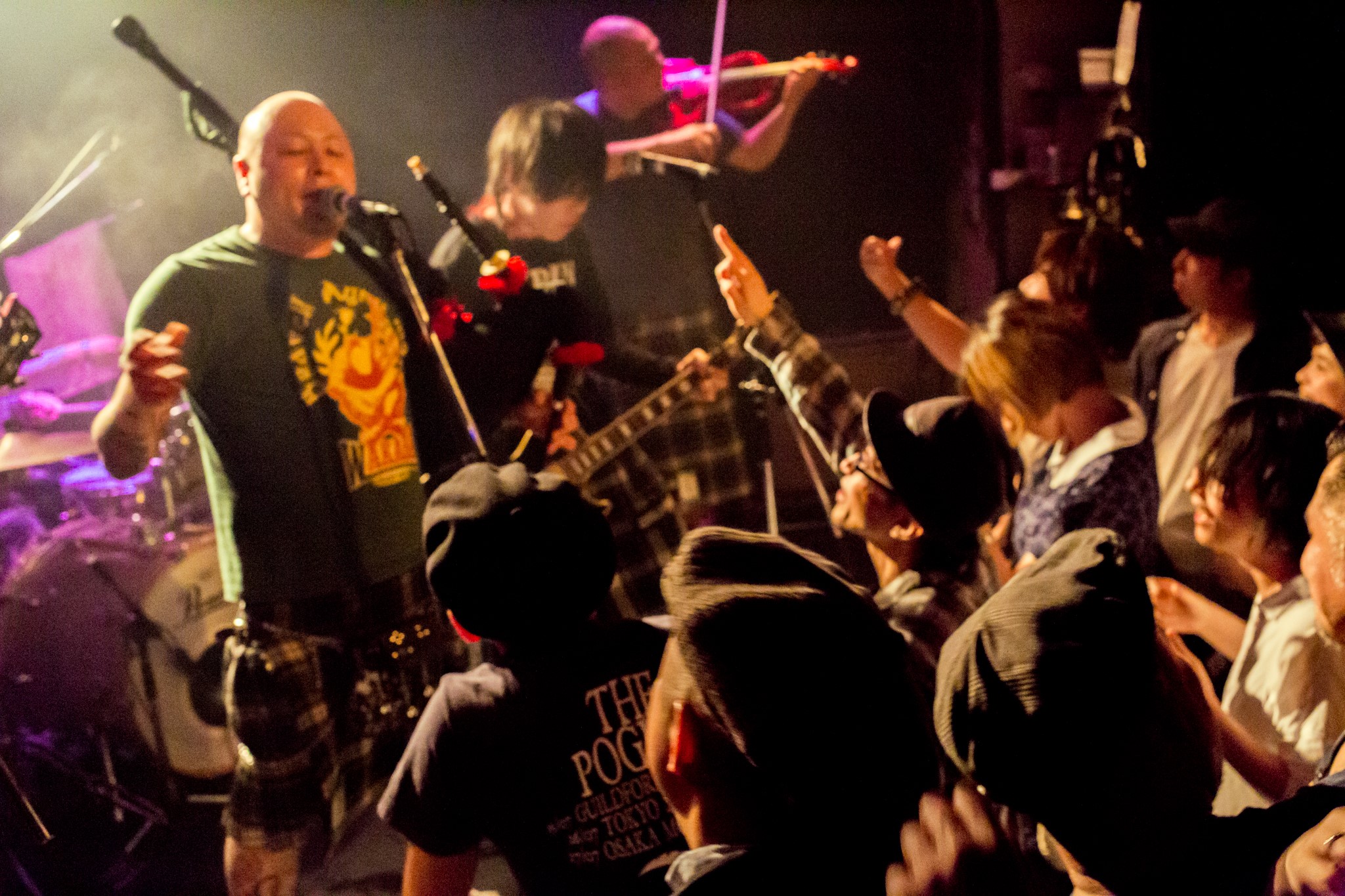 若葉
"Moeizuru, the color of young leaves, beautiful"
Rustic, Ska, Scottish, Oi !, PUNK, and even Chin Dong!
This is their traditional art! Really CRAZY TRAD! !
A feast of banquets with music that you can't help dancing without singing!

Formed in 2003
January 2011
The song "poro-pet" will be selected as the 2011 Consadole Sapporo Official Support Song

若葉

CABALLERO POLKERS/キャバレロポルカーズ
Active in Tokyo (Shinjuku, Shibuya, Shimokita). However, when called, the weapon is the lightest footwork going anywhere in the country. Rustic-stomp band with mandolin, bouzouki, banjo, accordion, wood bass and drum organization.
Stir the elements of folk music such as Irish, Gypsy, Middle East, Mestiso and so on!

CABALLERO POLKERS/キャバレロポルカーズ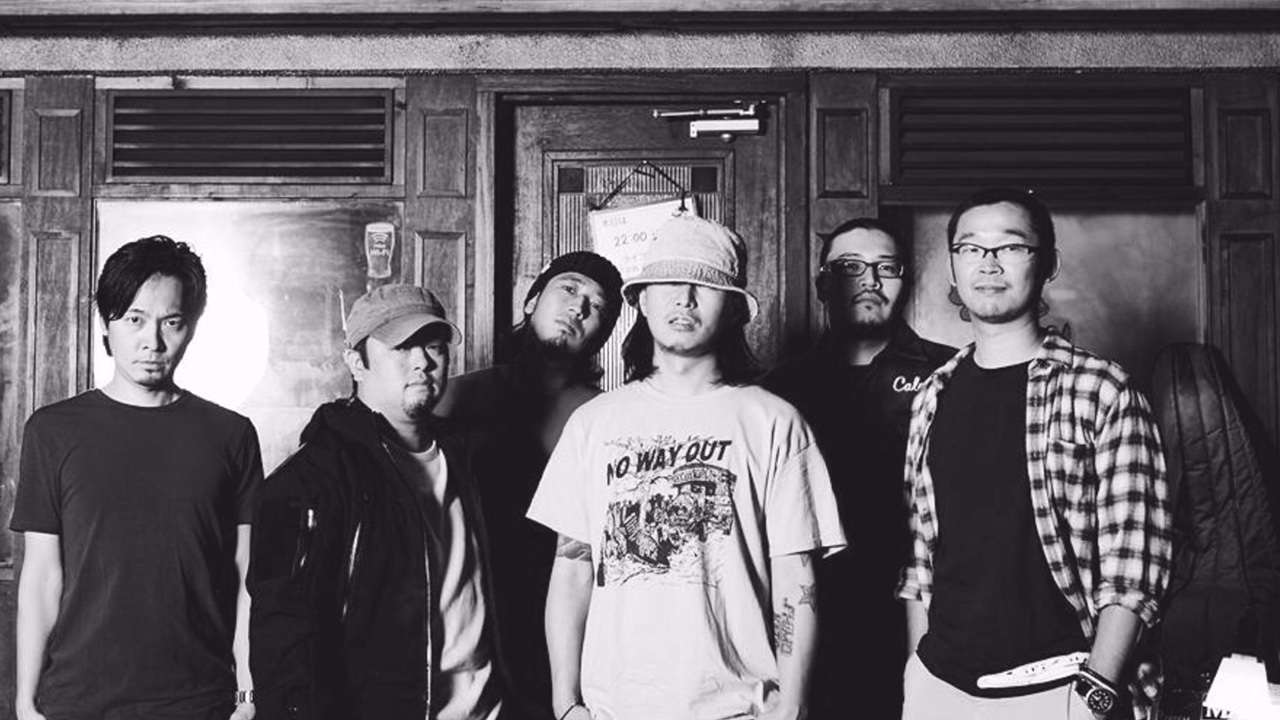 The €rexionals/エレクショナルズ
A Celtic fusion band! Unique blend of Irish scotish HIP HOP and more arranged and composed for whistle melodeon mandolin
D B G, Pipes.

Arikazu Inoue (vocal, whistles, melodeon)
Hajime Nakayama (Drums)
Hara chan (mandorin)
Meidai Obese Takahashi (Bass)
Yoshio Matsumoto (Uilleannpipes, whistles)
Lionel Yamabuki (Guitar)

The €rexionals/エレクショナルズ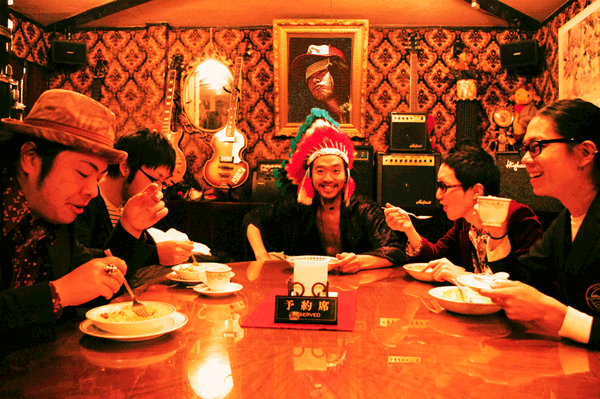 The Emmanuelle Sunflower/エマニエルサンフラワー
Dokadoka noisy Indian gypsy Irish ska reggae festival punk traditional funky rock and roll band.
We are The Emmanuelle Sunflower!
 
The Emmanuelle Sunflower
 
Sing-Along Miyashita: vocal
 Hiroshi Iga: guitar
 Brian: guitar
 Yuta Hosoya: bass
 Odori Nenbutsu Shige: drums
 Pan: keyboards

The Emmanuelle Sunflower/エマニエルサンフラワー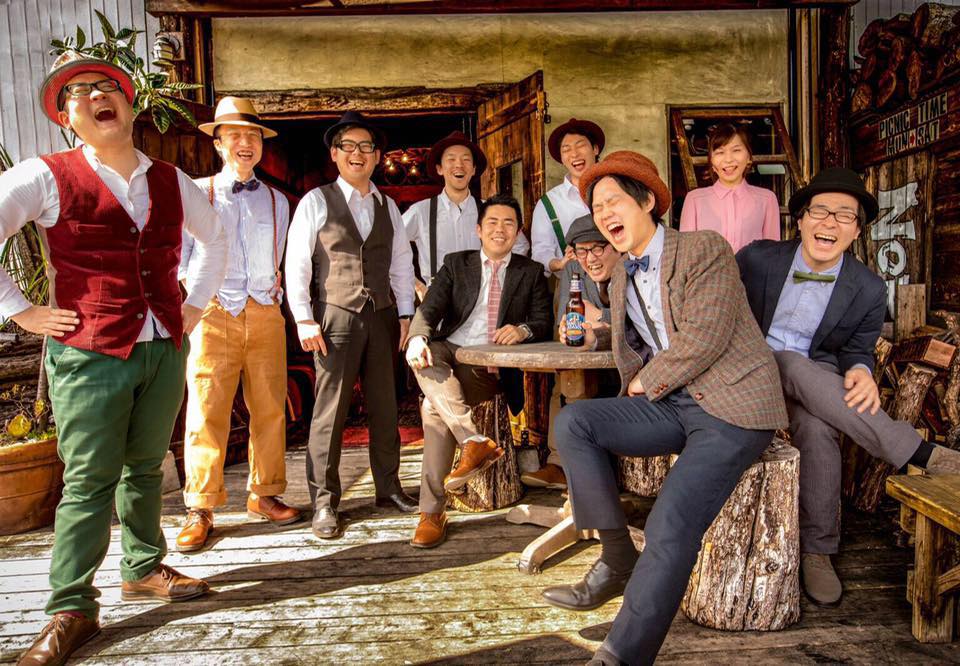 SuperBears/スーパーベアーズ
SuperBears was formed in 2014. A group of 10 active around Shimokitazawa in Tokyo. Oldies spinning from a total of 10 people are somehow humane and somewhat ephemeral. The attitude of connecting sounds in all worldviews, from oldies sound to north and south, is unique.

member
Tb: Nozomu Sato
As: Mamami Arai
Ts: Nozomu Uchida
Gt: Tetsujiro Tanaka
key: Tomoko Goto
Ba: Ryohei Takebayashi
Per: Keisuke Suzuki
Dr: Ryo Yamashita

SuperBears/スーパーベアーズ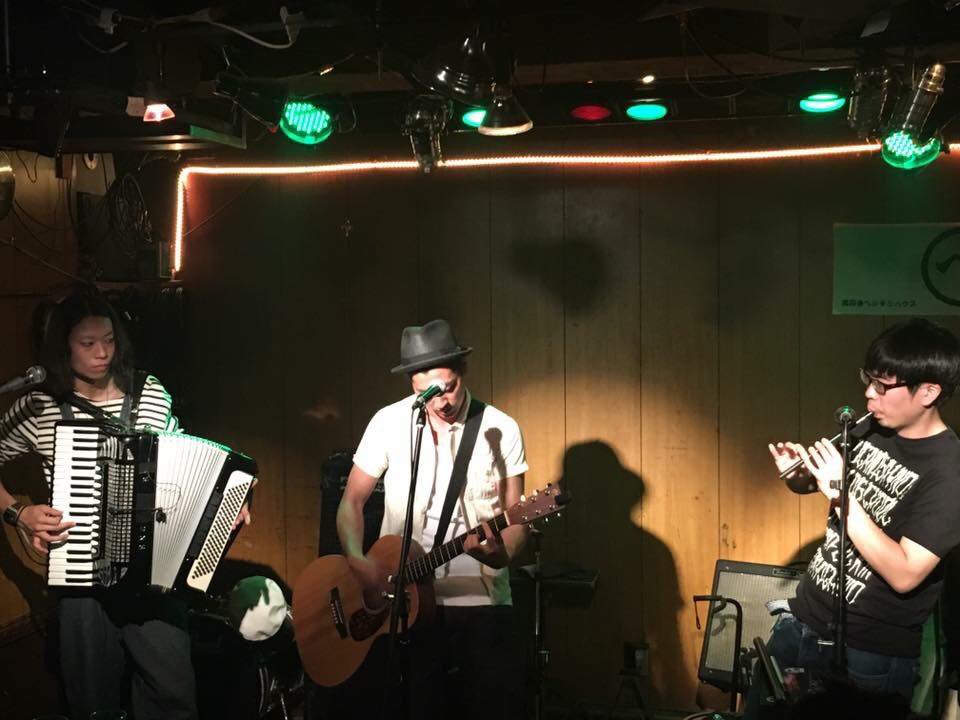 TADPOLE SPLASH/タッドポールスプラッシュ
TADPOLE SPLASH

TATSUUMI [Vocal]
YUTA [Whistles]
KEITA [Accordion, Chorus]

TADPOLE SPLASH/タッドポールスプラッシュ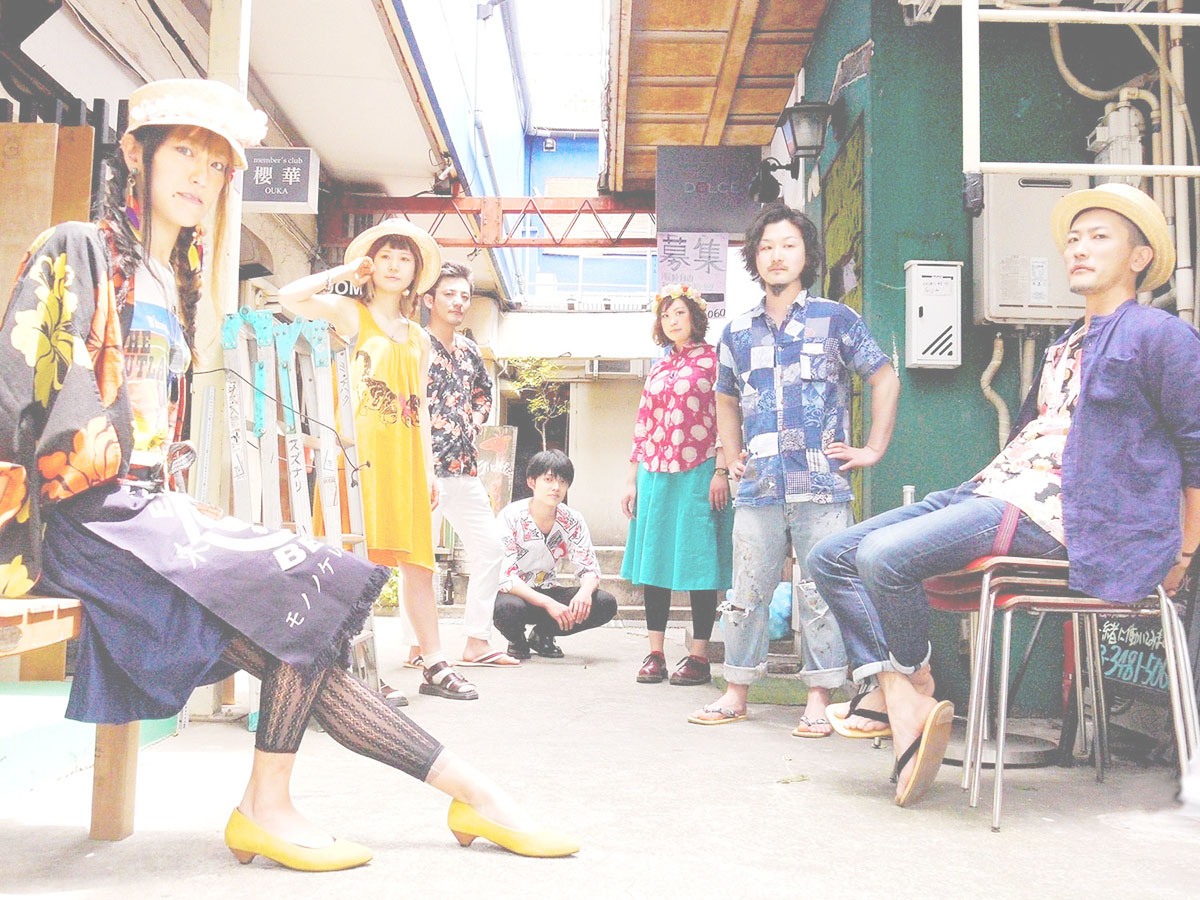 エスキモーズ
Eskimos is active mainly in Tokyo.
Music like Irish, nursery rhyme, ska, reggae, etc. that incorporates all sorts of music and filtered with its own filter, comes into Japanese hearts with a nostalgic melody.

エスキモーズ

GOOFY KINGLETS/グーフィー・キングレッツ
A world music mixture band based in Niigata.
Instrumental band.
Incorporating elements such as big beats and punk into folk music such as Andean, Celtic and Uyghur music.
In addition to the guitar, bass, and drums, the mandolin, whistle, synthesizer, etc. are played by changing each song.
Produces and plays music based on the theme of "smelly inorganic music" and "music that makes you want to travel".

GOOFY KINGLETS/グーフィー・キングレッツ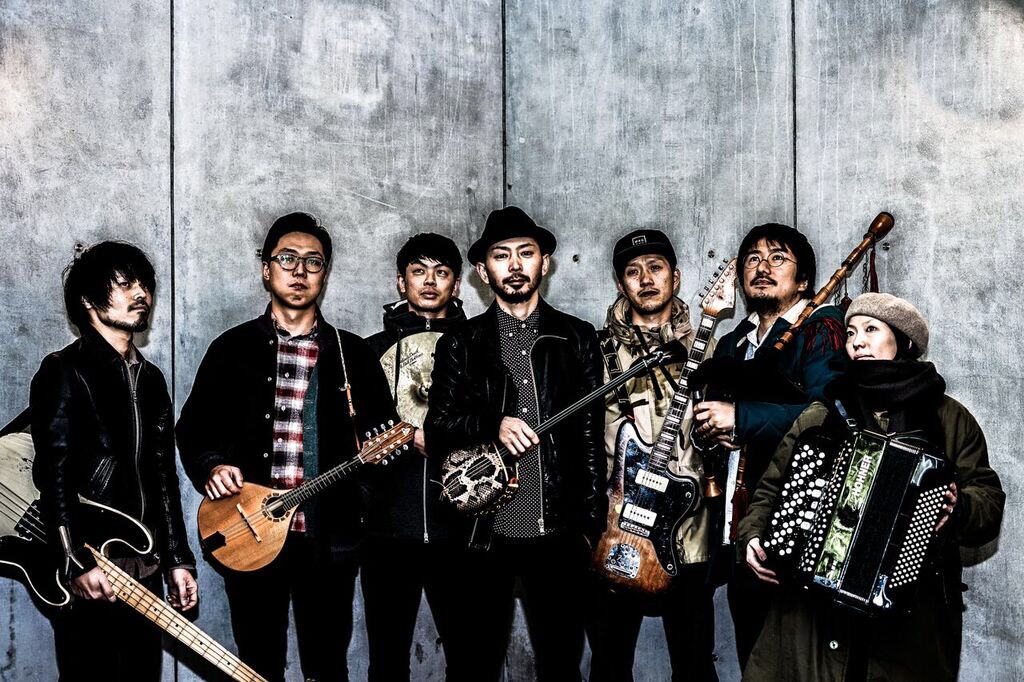 Puddle D'Addle/パドルダドル
A folk rock band consisting of seven members, including an electric guitar, electric bass, and drums in addition to an acoustic organization such as vocal sanshin, accordion, tin whistle, and mandolin.
Playing original music that mixes the essence of various folk music with original interpretation, centering on Okinawan music.
In addition to activities at live houses, he has a wide range of activities from street live on acoustic versions to taverns.

Vocal, three lines: Shinya Yasuda
Tin Whistle, E. Baggpipe: Masahiro Aoki
Mandolin, Chorus: Tsuneyasu Hiromura
Accordion, Chorus: Yuko Fujikawa
Guitar, Chorus: YU-KI Sugahara
Bass, Chorus: Noboru Fujie
Drum: Satol

Puddle D'Addle/パドルダドル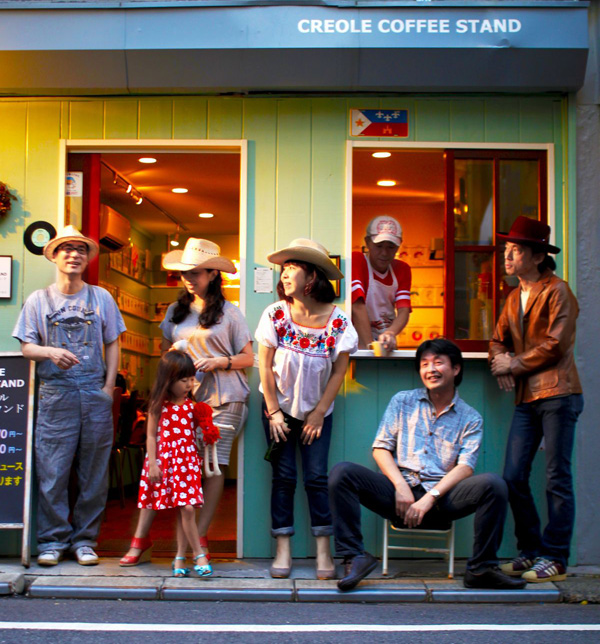 ZYDECO KICKS/ザディコ・キックス
"Zydeco", a button-type accordion and a loveboard that squeals wavy iron plates with a fork.
Zadico Kix is ​​Japan's first Zedico band that plays this music that has developed in Southwest Louisiana.
The self-produced 1st album has a high reputation in the hometown as it was recommended for the Grammy Award through his local Zedico site.
 
About Zydeco
Happened in the southwestern part of Louisiana in the early 20th century,
Folk music performed mainly by French-speaking Creole blacks.
A button-type or keyboard-type accordion is used as the main instrument, and in addition to drums, a love board (a wooden washing board changed to a metal instrument) plays a major role as a percussion.

Yoshi-take / Accordion, Vocal
Keke / Bass, Fiddle
Nishida / Guitar, Fiddle
Moro / Drums
Fumica / Rub board
Marico / Rub board

ZYDECO KICKS/ザディコ・キックス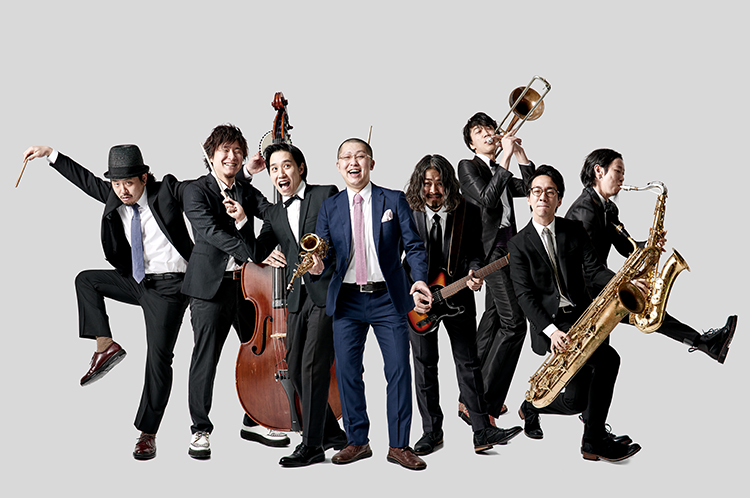 videobrother/ビデオブラザー
Videobrother, a paradise jazz orchestra who spins eloquent instrumentals at ease.
In 2008, I would like to reconstruct the nostalgic music of Japan and the world that Yamada (ts.ss), who is the representative, has as an original experience, with arbitrary interpretation! Formed with the thought.
The parent body is Waka University's jazz lab "Green Caterpillars Jazz Orchestra" which discharged Kenta Hamano and Gentle Kubota in Japan.
In 2012, he became a good member and performed numerous live shows and events around Shibuya and Shimokitazawa in the area of ​​club jazz and world music. The performance becomes a topic.
Since 2016, released two full albums.

The second full album "Yuki Yoshiki" hits No.1 at the tower record Shinjuku store.
* Soon to be overtaken by black jazzmen.
Error while parsing data!

videobrother/ビデオブラザー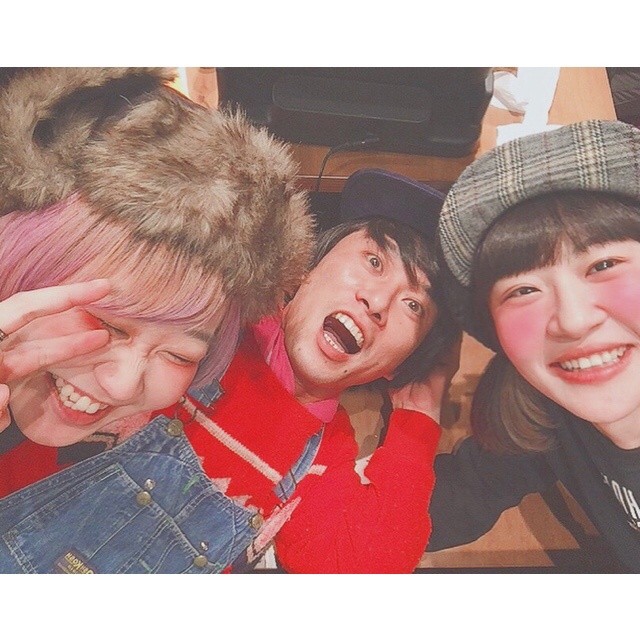 モーレツアタック
Moret attack
Flying around the country, based in Chiba !!!

Gt. & Vo. & Vn. Shigeru Country
Eternal moless attacker !!
Heideho !!!
twitter: @ mattack40s

Key. & Vo. & Acc.
Next to Kujukuri, the spirit of Oami!
Heideho !!!
twitter: @chii_bobo__

Dr. & Vo. & Tp.
It's that girl of Okappa Monpo !!
Heideho !!!
twitter: @ mamm__12

モーレツアタック